Eventprofs 'scared' of tech? Here's how it's an opportunity
Eventprofs are "scared" of technology despite it being an "incredible opportunity" for our industry in 2023, according to an expert panel.
Recent findings from the Event Tech Forecast 2023 revealed how digital tools will be utilised in the coming months, as well as what challenges need to be overcome.
Luke Bilton, Chief Growth Officer at ExpoPlatform, chaired a panel of industry experts to pore over the figures from our report – and what they mean for eventprofs.
You can download the Event Tech Forecast in full here.
Speakers included Skift Meetings editor-in-chief Miguel Neves, Waves Connect copywriter Matt Coyne, Messe Frankfurt North America director of data and digital services Chris Pendley and Dahlia El Gazzar, of DAHLIA+Agency.
The role of technology was painted as an "incredible opportunity" for eventprofs, however it presented a challenge for our industry to get to grips with over the next 12 months.
Miguel said: "It's going to be a tough year – we ended last year with kind of a pent up demand and a lot of events going on so everybody's happy.
"This year, we're going to figure out where the industry is really at and technology is definitely on everybody's mind.
"Everybody feels a little scared of technology – so it's an incredible opportunity, but also a big challenge."
Eventprofs from around the world tuned in for this deep dive into how technology will impact our industry – pinpointing opportunities and challenges to overcome. Read on for our report on the discussion.
What are your key event tech features?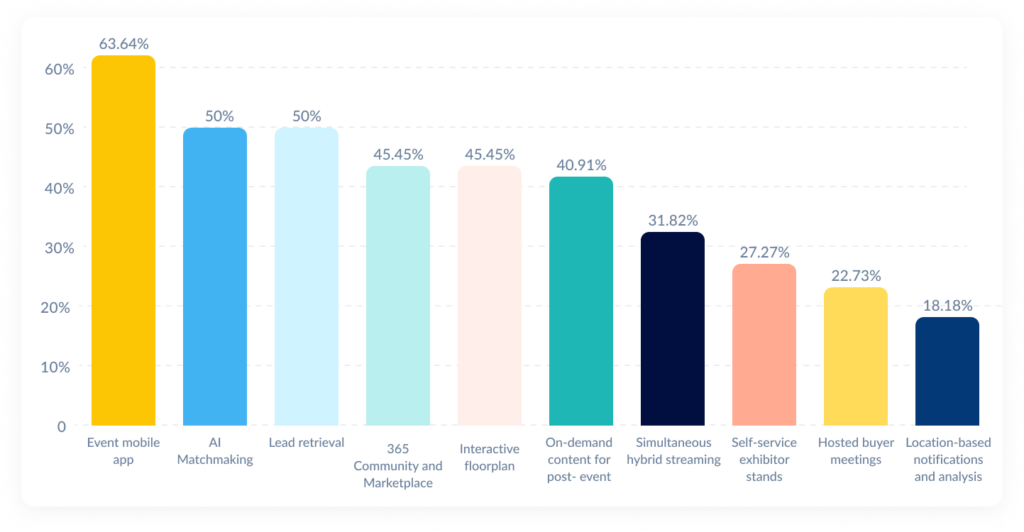 An event mobile app came out on top as one of the key technology features for our industry, with 64% of respondents choosing it.
That's no surprise when we are now so used to having a personal computer in our pocket helping us with every part of our personal lives – including banking, communication and travel.
Research from ExpoPlatform suggests mobile app adoption is at a rate of up to three times that of 2020.
AI Matchmaking and lead retrieval both scored 50% of respondents, which a 365 Community and interactive floorplan both received 45%.
Estimates from ExpoPlatform put mobile app adoption at up to three times the levels of 2020.
Dahlia set out what it will take to make that even higher – with a seamless experience being crucial.
She said: "Truly take out all the challenges and the obstacles of having the mobile app easy to use – that's first and foremost.
"Number two is being very transparent on what type of data they're putting in the mobile app, what's going to be shared and what's not.
"Right now, everybody is really protecting their data, so privacy settings are a must.
"Number three, you have to figure out what you are going to put in that mobile – that is just going to be essential for any stakeholder of any event to have a great experience."
Audience members were polled for their views on what makes a mobile app, with 37% rating matchmaking and networking as the most important feature.
This was followed by floorplan navigation at 22%, while exhibitor lead retrieval and behavioural analytics both received 11% of votes.
Matt said: "I was a complete anti app person in terms of event apps – and it's for many points.
"In your trend report, you say the AI Matchmaking is the second-highest rated.
"So if networking and meetings is the thing, why isn't that facilitated more easily in the app where someone can do it on their downtime?"
Chris set out how Messe Frankfurt North America has managed to increase adoption "tenfold".
They introduced an initiative at one of their New York events where all products had QR which could be scanned and linked to exhibitors – saving from having to write information down.
He said: "Now we've seen the adoption rates have gone up tenfold since pre-pandemic for that show.
"We went badgeless with that show as well, meaning they were paperless so you needed the app to get onto the floor. So I think a lot you have to things like that and I'm also going to show your sample sustainable, not having something different
Where are the biggest opportunities for event technology to develop?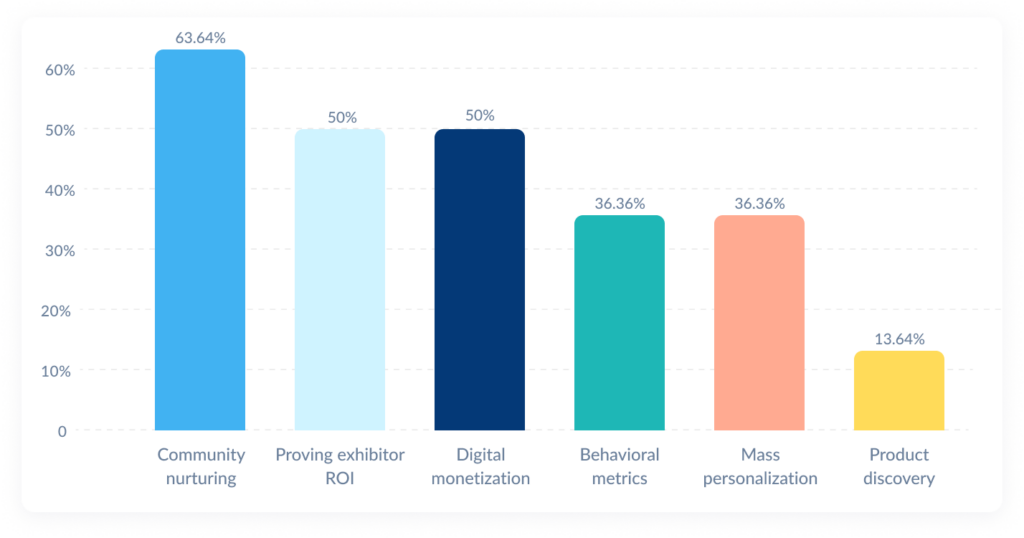 Nurturing a community around your event offerings was highlighted as one of the biggest opportunities for eventprofs in 2023, with almost two thirds choosing it at 63%.
Meanwhile, digital monetization and proving exhibitor ROI both came out with 50% of respondents saying it offered room for growth.
A Community came out second in our audience poll of where the best opportunities for digital revenue lie, with 18% of respondents choosing it.
Chris highlighted how this 365 approach leads to better engagement, making it easier to get sign-ups to your live event.
He said: "When you have that, you've got these people engaged year-round – they've already signed up for the content that you're putting out, even if there are many events a week that will really be doing pop ups and more localised smaller events.
"Doing things like that throughout the year, when it comes time for the big exhibition, the barrier of entry is going to be a little bit lower."
But Dahlia warned organizers not to approach this model with money as the main focus from the beginning.
She said: "You have to think of it in the sense of how you're building this group of people that have something in common, that have an emotional connection of some kind.
"You bottle that energy and then you promote it, that's how you build the community – not thinking that you're going to make $10 million from the get go."
What are the key challenges facing eventprofs?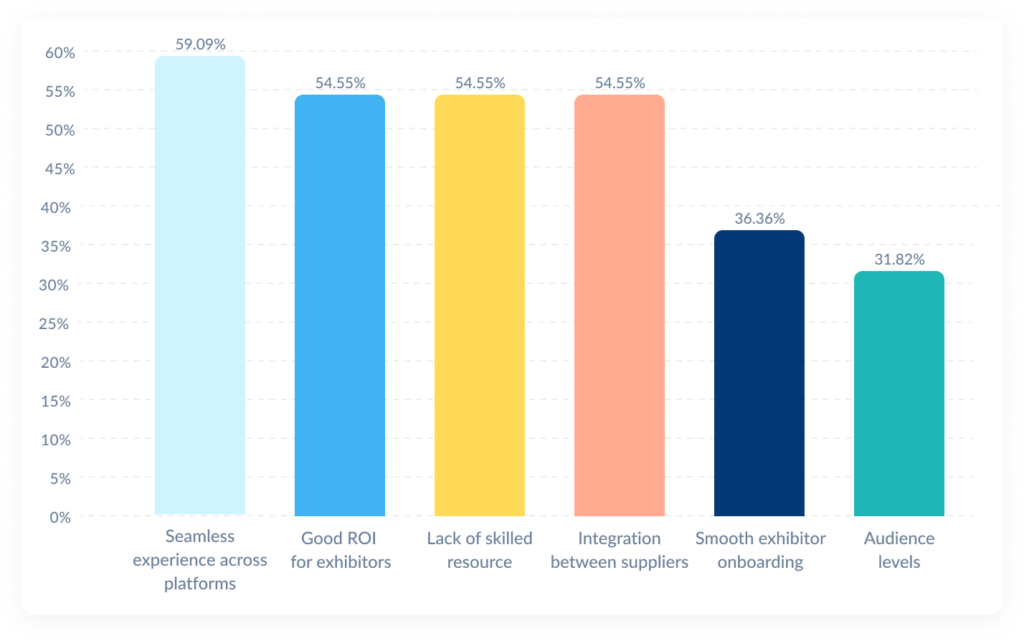 A seamless experience across platforms was chosen as the biggest challenge facing eventprofs, with 59% of respondents choosing it.
This was followed by good exhibitor ROI, integration between suppliers and a lack of skilled resource – all at 55%.
Achieving good exhibitor ROI got the second highest number of responses in this study, having been top of the list in our previous research from July.
How much of your annual revenue do you expect to come from digital channels?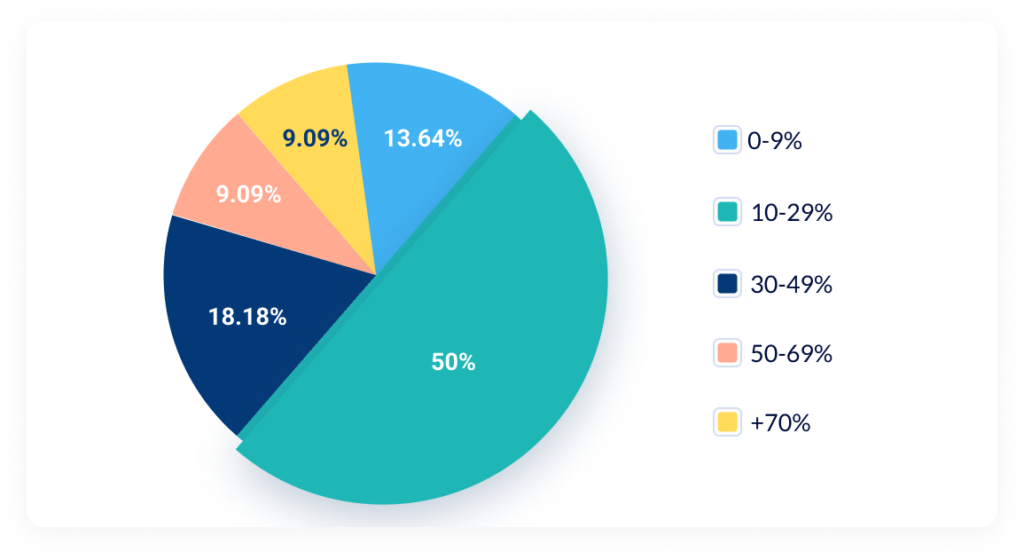 Digital revenue has become an increasingly important component of an organizer's business model.
Half of eventprofs now expect between 10 and 29% of their annual revenue to come from these channels in 2023.
That's an increase of more than 10% compared with our previous research in July.
Meanwhile, 9% believe it will be 70% or more while 9% said it would be between 50% and 69%.
Matt pointed out how digital specialists should be able to take the lead in getting new contracts which highlight the role of technology.
He said: "Sales teams who are used to selling stands, are very good at selling stands.
"They would quite often bundle in something on the digital side, which suddenly meant those selling the digital side had a really tough job pushing that value back up when they needed to rebook.
"Get those teams talking better together and working harder together – so that if a new contract came in on the show floor, then the digital expert was able to pick up the phone and talk to those people about how else they can reach that audience in a more direct way."
Chris added: "You do have to take time and show we're giving better lead retrieval, where they're at the show and they can scan that in real time versus the clunky gun that they were paying $300 to the registration company to before anyway – you can show those guys value."
How will the digital component of your budget compare with previous years?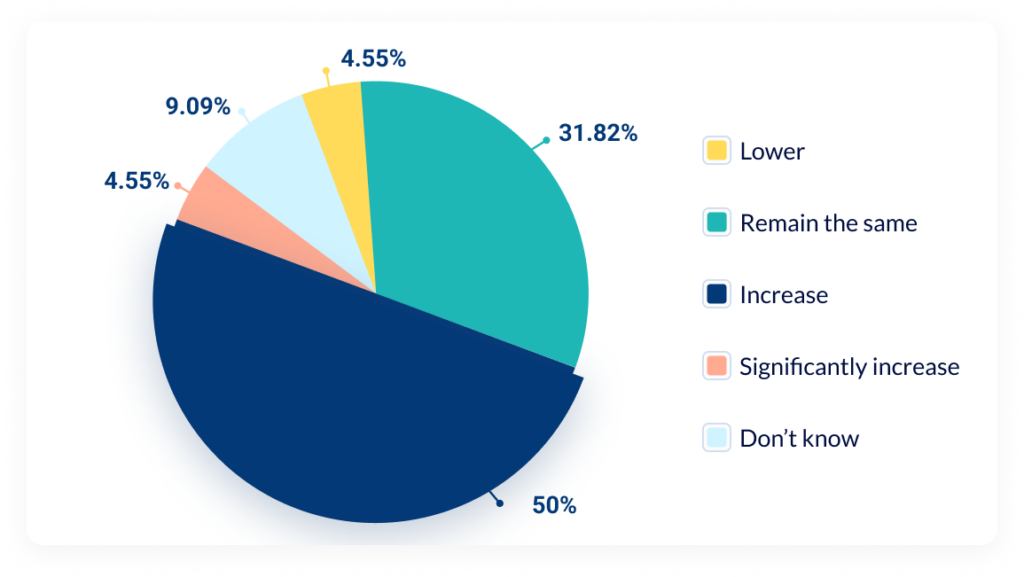 A total of 55% of respondents predict digital revenue will increase in 2023, while 86% believe it will at least remain the same.
Only 5% of those who took part in the survey said they think this component will be reduced.
This forecast further reveals how important digital channels have become to an organizer's revenue model.
The webinar audience chose content marketing as the area where they are seeing most success with digital monetization, with 29% of respondents choosing it.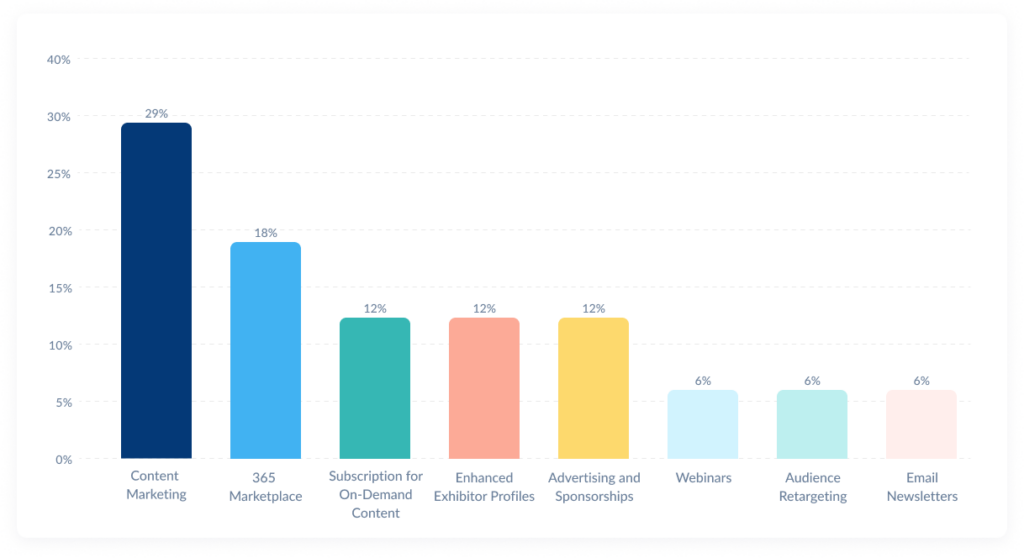 Dahlia said: "The low hanging fruit – the content – can be sold differently, but it has to be designed and produced differently in order for it to gain more revenue for an organisation.
"We need to ask and do better on how content is being produced. We've all been we're all content connoisseurs now and critics to no end.
"We need to do better with the design of the content, the delivery of the content, as well as the repackaging of the content – I think there's missed revenue opportunities there."
We hope you enjoyed reading this article and found it useful. At ExpoPlatform, we want to help you build better events and communities. Please get in touch and ask for a demo here. Thank you 😀