Six questions before picking an online event platform
Online event platforms are speeding up digital transformation in the business events industry. Organisers have moved away from tools like Zoom and Webex towards feature-rich virtual and hybrid platforms that can support large-scale conferences and exhibitions. 
With so many options available, here are some questions to ask before choosing an online event platform:
#1 What is the online event platform's data policy?
The shift to virtual events has led to an explosion of event data. Organisers are now able to monitor attendees' digital footprint before, during and after the event. But it also means businesses have become more concerned about the use of this attendee data information.
Aside from complying with privacy laws such as the General Data Protection Regulation (GDPR), it is important to clarify who controls the user information – the organiser or the online event platform?
Here are some insights into the data policies of leading virtual event platforms: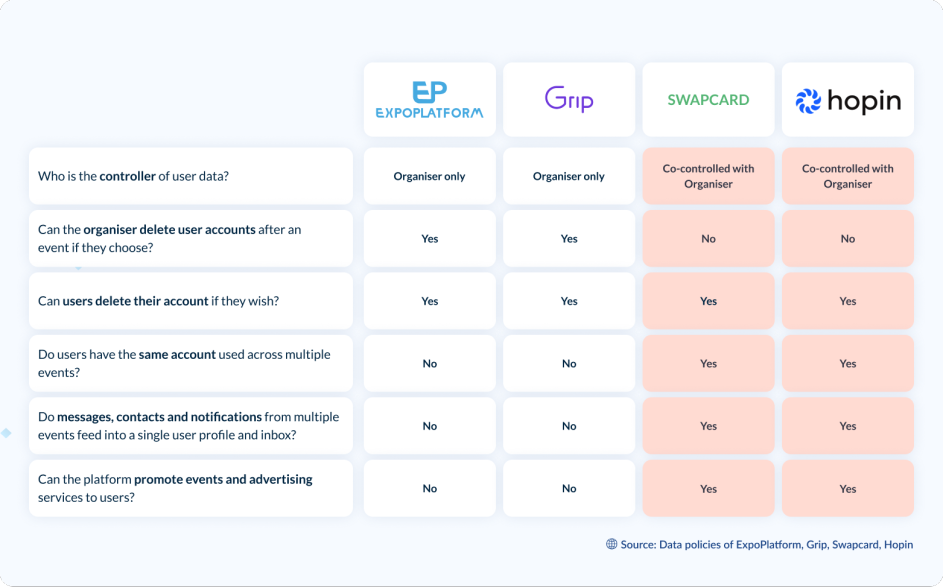 #2 Does the online event platform have the right features?
Not all virtual event platforms will have the features required for your event. This could be for a single or multi-day conference, exhibition or trade show.
List everything you need, then shortlist the platforms that fit your budget.
You could be looking for networking features like AI matchmaking, one-one-one meeting schedulers, online chat, built-in analytics and social media integration, lead capture, floor plans and a lot more.
Once you have chosen the right online event platform, schedule a demo with the provider to get more details.
#3 Is there a 365 community option?
Digital transformation of B2B events has significantly changed the expectations of attendees.
Conversations, networking and business decisions no longer happen during a limited timeframe of an annual event, but throughout the year.
Find out if your event platform provides 365 community solutions so attendees, exhibitors, and sponsors can be remain connected 24/7 and start conversations whenever they want.
#4 Is the online event platform scalable?

Digital events are versatile. They provide attendees with multiple opportunities for networking and connection. Some can replace a traditional three-day event, while others can be spread over several weeks.
In the latter scenario, you want a platform that can handle the complexities and personalisation required of a large-scale event.
Put your time and money into a platform that allows you to grow your event at any time.
#5 What level of integration is offered?

It is essential that event data can be integrated with different marketing and sales tools.
This helps deliver insights to build richer attendee profiles, improve engagement and capture quality leads.
Check with prospective vendors whether their platform can easily integrate these services. This could be whether  it has an open API, requires web hooks or if it is a new, out-of-the-box solution.
Additionally, data exchange between platforms should be as smooth as possible.
#6 Does the provider have a training and support system?
There can be a steep learning curve when it comes to virtual event platforms. There can also be risks of service interruptions or technical glitches.
When choosing a vendor, find out what level of training and support you will receive.
Are there guides, videos and walkthroughs to help users understand the platform better?
Are there any community forums where you can share best practices with other customers and discuss concerns?
Real-time customer support is important. Is there a number you can call to get support whenever you may need it? Is immediate assistance available through online chat?
As with any software, the quality of its support is almost as important as the software itself. Ineffective help could mean your investment ends up wasted.
Conclusion
Your choice of virtual event platform can make or break your event. 
If everything goes well, it will be a great success, but if there are glitches or not enough tools to involve your audience, it might fall flat. 
Find answers to these questions before making a decision to make sure you are best prepared to make a success of your event.