Sustainable events in focus as energy concerns continue
A range of moves to improve sustainability in events have been announced as fears continue over energy prices.
German exhibition industry association AUMA has announced a slow recovery from the pandemic, but raised concerns about rising costs.
Organisers have already been putting their energy use in focus to reduce their carbon footprints and the impact on the climate.
ExpoPlatform, isla and Italian Exhibition Group are among those to recently announce moves to highlight the importance of green credentials.
Find out how we are helping event organisers offset carbon output by getting in touch here. Read on for your full event industry news roundup.
Fears remain over energy as German industry bounces back
The German tradeshow industry is "slowly regaining its rhythm again" but fears remain over energy hikes, according to AUMA
Figures from the association show at least 340 events are planned between Husum and Friedrichshafen in 2023.
It means almost 25% more trade fairs will take place in the new year than were possible in the country this year. 
Die #Messewirtschaft in Deutschland ist auf dem Weg der Erholung: Wenigstens 340 Messen sind 2023 geplant. Berechnungen für 2022 zeigen: Seit Herbst steigen die Zahlen bei Besucher:innen und ausstellenden Unternehmen.https://t.co/MFBUPqsaxV#wirtschaftbrauchtmessen #messeerfolg pic.twitter.com/LEkXVY5AO3

— AUMA e.V. (@AUMAeV) November 30, 2022
Philip Harting, chairman of the association of the German trade fair industry AUMA, said: "The trade fair industry in Germany is slowly regaining its rhythm again. Two years of trade fair bans are still putting a strain on the industry, which accounts for 230,000 jobs.
"We expect the support of the Federal Minister of Economics, not any new obstacles. Stability will do a lot to benefit the trade fair industry.
"Then 2023 can be the first better year since the beginning of the pandemic. Then trade fairs can play to their strengths as part of the solution to many problems.
"Then Germany will once again live up to its reputation as a top location for trade fairs. However, concerns over affordable energy dim the first outlook into the new year."
It comes as energy prices have been raising concerns for organisers across Europe as costs surge amid Russia's war in Ukraine.
AUMA's projections for 2022 show that 65% of visitors are back at German trade fair venues.
The average number was still a good 55% of pre-pandemic levels by summer, while figures have been rising since autumn.
The exhibitor figures are similar: on average, 70 percent are back on average over the year – with a similar upward trend since autumn.
AUMA is the Association of the German Trade Fair Industry nationally and internationally – representing the interests of 70 members.
Sustainability in focus for events
Greener events have been put in focus with action-focused plans, support schemes and new certifications
Among the moves is a publication from isla which aims to encourages venues to review their sustainability progress and enable them to develop short to mid-term goals.
Sustainability in Practice: A Pathway for Venues was created in partnership with VisitBritain Business Events and supported by three leading industry associations: the Association of Event Venues, the Meetings Industry Association and beam.
isla has launched its comprehensive new e-guide Sustainability in Practice: A Pathway for Venues in partnership with @VisitBritain Business Events & supported by AEV (@AEVnews),@WearebeamUK & @MIAuk. Download and level up your sustainability journey here: https://t.co/xs0sBiZtiE pic.twitter.com/T2Hjqjv1KR

— isla (@weareisla_uk) November 29, 2022
Anna Abdelnoor, CEO & co-founder of isla, said: "Against the backdrop of the climate crisis venues understand, and acknowledge, the part they have to play in creating a net zero future.
"This pathway gives venues of all sizes the guiding light they need to get there, in a way that is practicable, actionable and transformative for the industry. 
"We're delighted to share the pathway with venues today and help them start, or continue, their sustainability journey to meet the needs of a rapidly changing world and an ever-more discerning and environmentally-conscious visitor, client and investor base." 
The news comes as ExpoPlatform launched its Meetings Make Trees carbon offsetting initiative.
It aims to help reduce an event's footprint, while encouraging visitors and exhibitors to engage more with the mobile app.
Every meeting confirmed will see ExpoPlatform plant a tree on the participating organiser's behalf, in partnership with reforestation gurus at Ecologi.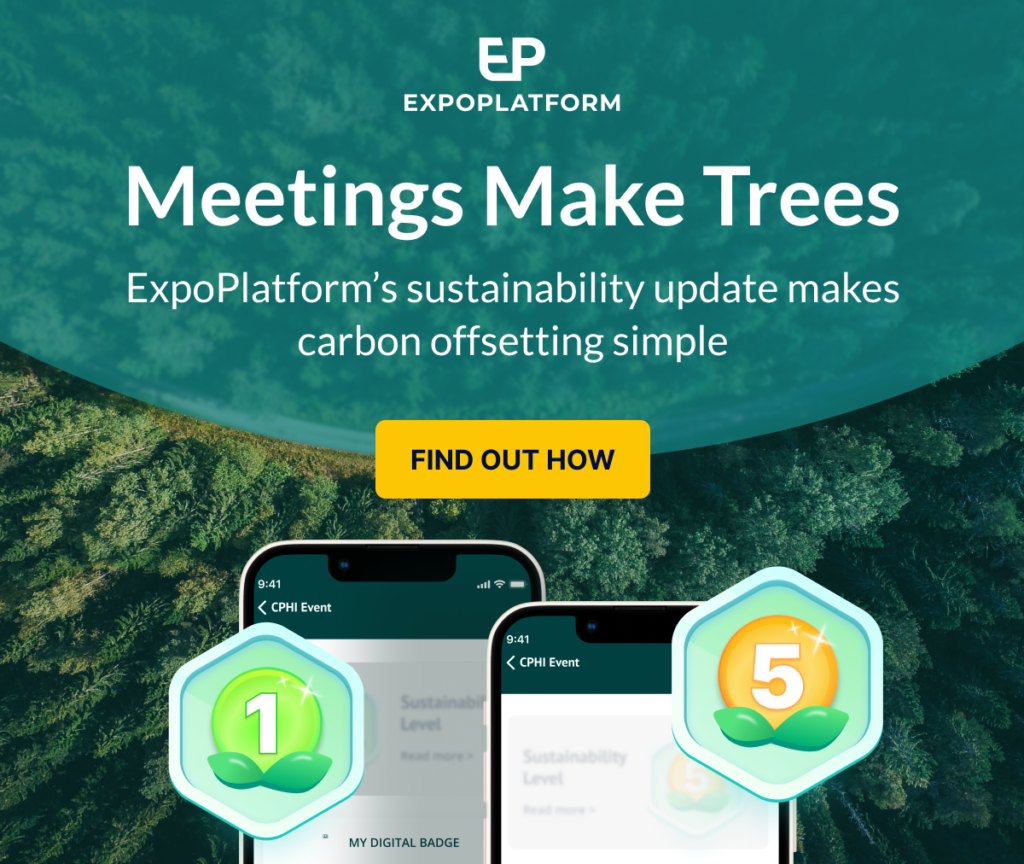 Get in touch to find out more about how this scheme works.
Meanwhile, Italian Exhibition Group has announced the Rimini and Vicenza expo centres and the organisation of Ecomondo as among first in Europe obtain ISO 20121 certification.
It marks another in a long series of records in the environmental safety, health protection and sustainability fields for the organiser.
Automechanika Shanghai postponed amid Covid measures
Automechanika Shanghai has been postponed amid ongoing stringent Covid-19 measures in China.
Shenzhen Edition organisers will put the show, originally scheduled from December 20 to 23, on pause while prevention measures related to the pandemic consolidate across the country. 
The decision comes in view of securing stronger onsite participation in order to generate more valuable experiences for exhibitors and visitors alike.
New arrangements for the 17th edition will be announced in due course, according to organisers Messe Frankfurt.
Easyfairs marks 25 years in business
Easyfairs is celebrating its 25th anniversary of business in the events industry.
The leading organiser started trading under the name Artexis in Belgium in 1997, before rebranding in 2004.
Is is now one of the world's top 20 events companies by revenue, which grew to near pre-pandemic levels of €163 million in 2021/22.
Co-CEO Anne Lafère said: "There has been plenty of evolution over the past quarter of a century. Today, we have a strong focus on the digital transformation within our communities and their journey to a net-zero future, for example.
"We were ahead of our time with the offer of time and cost-effective trade shows with a low carbon footprint and we have enhanced that further through digital technologies and by bringing communities together online."
Easyfairs organises 200 events in 14 countries, gathering 22,500 exhibitors and 1,100,000 visitors each year.
The group, based in Brussels, counts 700 employees spread over 20 offices and also manages eight venues in Belgium, the Netherlands and Sweden. 
Freeman extends UFI sponsorship deal
Freeman has recommitted to supporting the future development of the exhibition industry through its global work with UFI.
The brand experience and marketing firm has announced it will extend its Diamond Sponsorship deal with the association.
This agreement initially started in 2019, being the the highest tier of UFI funding support available.
Kai Hattendorf, UFI CEO, said: "It is wonderful that Freeman has decided to continue their support for UFI on the highest level.
"This allows us to drive activities on areas like advocacy and the Net Zero Carbon Events initiative to name but a few where Freeman are very active as well."
Bob Priest-Heck, Freeman CEO, said: "We've been a proud sponsor of UFI for a number of years and understand their importance and impact on our industry.
"As a Diamond sponsor it gives Freeman global involvement and the ability to play a key role in their events and ongoing programs."
We hope you enjoyed reading this article and found it useful. At ExpoPlatform, we want to help you build better events and communities. Please get in touch and ask for a demo here. Thank you.