How to make your live events more sustainable
The live events industry faces a crucial challenge – how to make their shows more sustainable while delivering value to their clients. 
A report by AMEX revealed 80% of event professionals said their organisation considered this area while planning shows. Of these, 76% said they had a sustainable meetings program strategy in place.
Miguel Neves from Skift Meetings told the Event Tech Forecast webinar that sustainability "should be" a crucial part of an organiser's planning. 
Companies striving for environmental stewardship are now rethinking the way their events are planned and produced.  
Event technology has emerged as one way for organisers to reduce their carbon footprint and create a green roadmap to achieve net zero emissions.
In this article, we list out the different ways you can use cutting-edge solutions to implement sustainability initiatives and contribute to the fight against climate change.
 👉 Also read: How industry groups like isla are helping the transition to green events
Environmental impact of live events 😰
Large-scale live events like exhibitions and tradeshows can have a huge effect on the environment.
This includes the multitude of participants who travel long distances to venues and the large number of materials consumed during its preparation and operations – the carbon footprint is often significant.
These live shows consume enormous amounts of resources with their rents, catering supplies, printed materials, transportation and electricity.
Addressing this problem is no straightforward task; however, an action plan rooted in event tech is an effective way for carbon offsetting.
How event tech can make your shows smart and sustainable 🌍
An event management platform offers a number of tools that can help you plan a Smart Event while making it greener.
#1 Digital event management 👨‍💻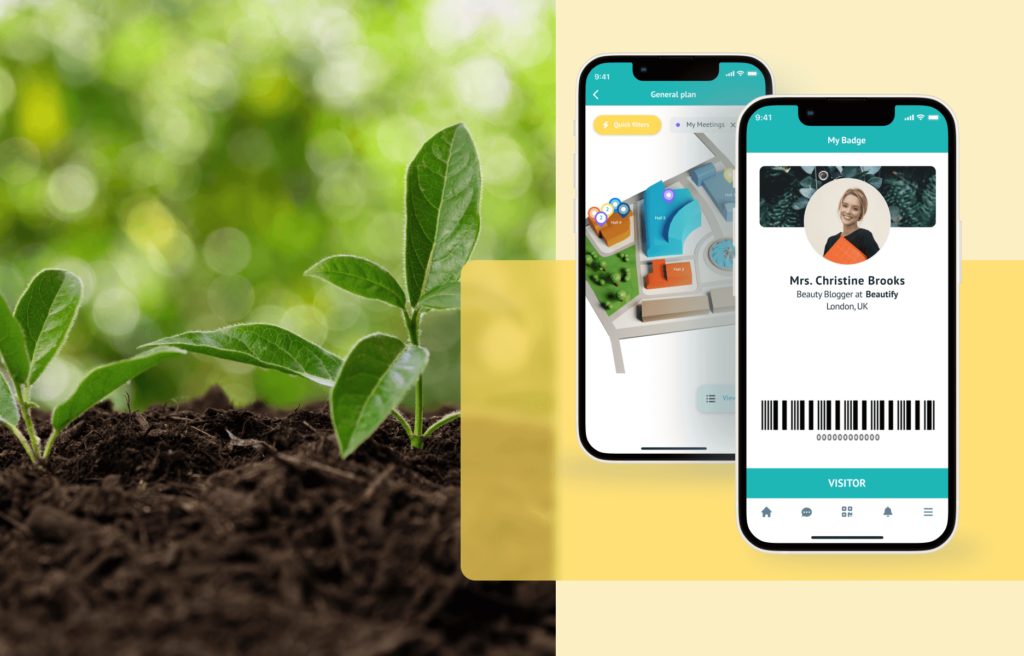 Online event management solutions offer innovative ways to reduce the environmental impact of live shows. 
Transformation of traditionally analogue processes with digital platforms makes eco-friendly productions possible by removing waste.
You can automate and streamline entire processes, from registration and networking to setting up hosted buyer programs and lead intelligence solutions.
This reduces manual work significantly and saves you time and resources so you can focus on other aspects of the event.
 📖 Read more: Explore how you can use ExpoPlatform to power Smart Events
#2 Cut paper use with mobile event app 📱
The entire customer journey including check-in, onsite engagement and post-event feedback can be done seamlessly using mobile event apps.
You don't have to worry about creating lanyards, lead retrieval devices or collecting data from physical forms – all processes can be carried out digitally.
This greatly eliminates the need of paperwork required in a traditional event set-up and helps you bring down your carbon footprint.  
Matt Coyne, from Waves Connect, said: "Just being able to collect stuff through an app instead of carrying buckets of brochures reduces the amount of waste and makes the experience better."
📩 Download the mobile event app checklist to understand which features will give you maximum value. 
#3 Use QR codes for engagement 🗣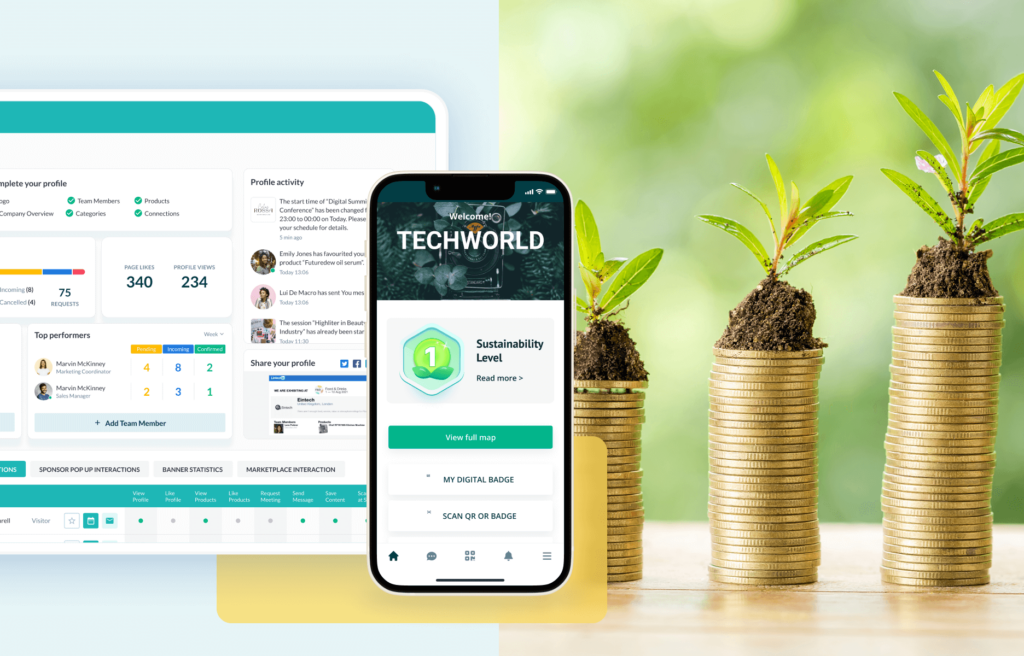 QR codes can be scanned by attendees at live shows to access e-catalogues and brochures from their phones. 
This eliminates the need for printed marketing materials and makes the event more sustainable.
By using QR codes, exhibitors save time by avoiding manual distribution of print materials or having to engage personally with many people at a live show.
Plus, they can also track visitor engagement and gain insights to create scalable, tailored experiences.
According to Chris Pendley from Messe Frankfurt, a QR code initiative introduced at one of their badgeless, paperless events in New York drove up engagement.
He told how attendees had to download the app to access the digital materials and it also helped them show their event was sustainable.
 👉 Also read: How you should use QR codes properly at an event
#4 Book demos and meetings, plant trees! 🌳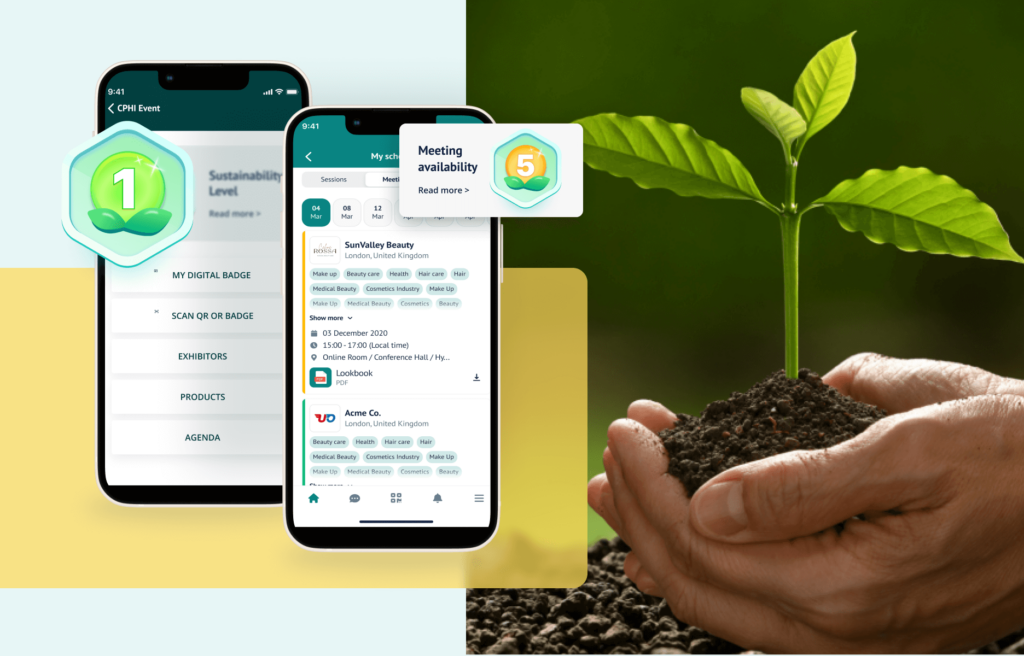 Imagine being able to plant a tree from your fingertips by just booking a demo or confirming a meeting!
That's what ExpoPlatform's latest sustainability initiative Meetings Make Trees is all about.
You just need to put a demo request or download our mobile app and start booking meetings – and we will plant a tree on your behalf. 
Learn more about the program here ➡ Meetings Make Trees
Conclusion
Event tech solutions provide a host of other benefits, such as powerful analytics to help you make data-driven decisions.
This means you can get detailed insights into attendee behaviour instead of manually collecting data through paper forms.
It also helps you plan for future events and provides yet another way to offset your carbon footprint.
And since you can access this information anytime and anywhere with ease, you can make decisions and delegate tasks more efficiently – while doing your bit for the environment.
We hope you enjoyed reading this article and found it useful. At ExpoPlatform, we want to help you build better events and communities. Please get in touch and ask for a demo here. Thank you 😀