Key takeaways from International Confex 2023
Eventprofs from around the world descended on London lor a packed program of content at International Confex 2023.
That's why this special edition of the Week in Events places focus on all those sessions highlighting what's happening in our industry.
We take a look at AI-powered tools, sustainability, taking on the "age of inflation" as well other key trends.
Luke Bilton, Chief Growth Officer at ExpoPlatform, was one speaker setting out innovations in our industry and findings from the Event Tech Forecast 2023 – download it now.
Read on for your full Week in Events.
CONFEX estimated to produce around 267 tonnes CO2
Around 267 tonnes of CO2 equivalent were produced at this year's International Confex, according to estimations.
The pre-show findings from event:decision were announced at a special session highlighting the environmental impact of this global gathering of industry professionals.
It was heard that the show at ExCel London was performing relatively better than other similarly sized shows due to steps by the organizer to reduce waste and less travel.
Matt Grey, director at the data and analysis firm, claimed being able to cut down on these emissions would be attractive to "number crunchers" and help the planet.
He said: "As event organisers and planners it's very easy for us to concentrate on the things that are visible.
"When we look at an event as a whole, actually those factors are quite small. One tonne of CO2e is equivalent to filling up four double decker buses with bad stuff.
"When we look at the activity that we as organisers create, it's immense.
"We owe it to the planet if we can deliver as good as or better events for less, it's brilliant for event efficiency. The number crunchers are going to love it."
The pre-show figures from event:decision estimate 38.8 tonnes will come from delegate travel, representing 15% of the total emissions.
The largest chunk of CO2e comes from bespoke build stands, where they bring all their stuff in.
This is due to them needing people to travel to build it then take it away.
Most of them were said to be from the UK, however it was said more regional conferences or big B2B shows have structures which travel for miles.
Luke Bilton, Chief Growth Officer at ExpoPlatform, spoke at the session highlighting how event technology can improve sustainability in four core areas.
These include cutting travel, reducing waste through a mobile-first approach and QR codes for everything as well as the Meeting Make Trees initiative. 
Rise of the 'tech-savvy' planner
The events industry is witnessing the "rise of the tech-savvy" planner, according to an ExpoPlatform leader.
Luke Bilton, Chief Growth Officer, told an audience at Confex about the digital innovations our industry is witnessing.
That includes the growing importance of mobile apps for creating smarter and seamless live shows, based on findings from the recent Event Tech Forecast 2023.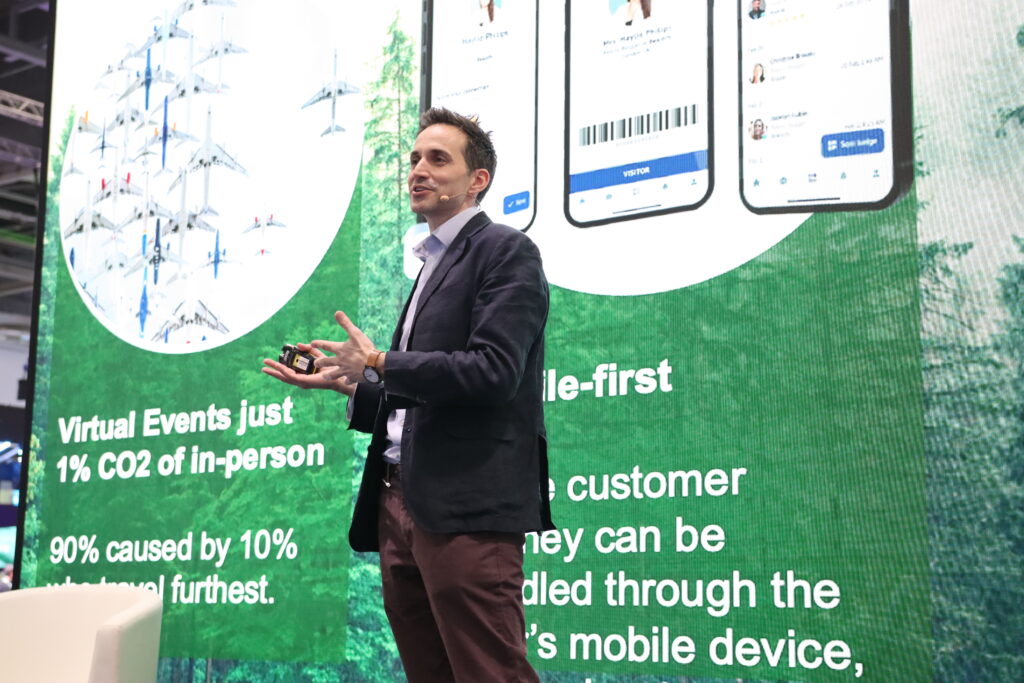 He also highlighted how those working in our industry are becoming more adept with using advancements to put on better productions and cut workloads.
Luke said: "We are seeing the rise of the tech-savvy event professional.
"Digital as an enabler is only going to increase – I can't think of any industry set where software isn't taking more and more of the value chain."
He added: "It's not going to be the thing thing that kills everything, it's not going to be the thing that resurrects everything – it's an enabler."
Recent findings from the Event Tech Forecast 2023 were presented which show how digital tools will be utilised in the coming months, as well as what challenges need to be overcome.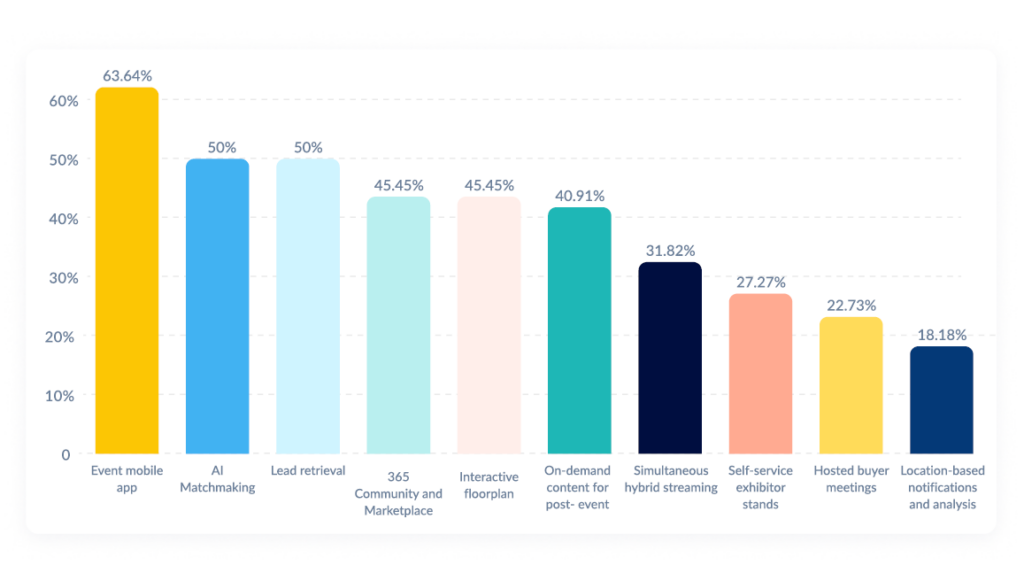 Mobile apps came out on top of our survey as one of the key technology features for our industry, with 64% of respondents choosing it.
It was also shown how on-demand content had decreased in popularity, which Luke described as "unfortunate".
Luke said: "This time last year, on-demand content was the number one feature everyone was talking about.
"On-demand has huge potential to extend the life cycle of an event and be used in marketing."
AI-powered content creation for events
AI-powered tools such as ChatGPT offer an "extremely time efficient" solution for planners trying to create content, according to a panel.
That was the claim of Adam Parry, editor of Event Industry News, speaking at a session about industry trends for 2023.
He highlighted how these tools can cut out a lot of the leg work when it comes to creating content for your audiences.
Adam said: "One of the most interesting technologies is ChatGPT and what that's doing for content creation.
"We have taken that tool to create a foundation of abstract content.
"It's an extremely time efficient solution – especially if you give it references to content that you have already done.
"Another thing is asking for key takeaways so your audience knows if they watch a piece of content on-demand that's what they will get.
"Tools like that for me are really, really interesting."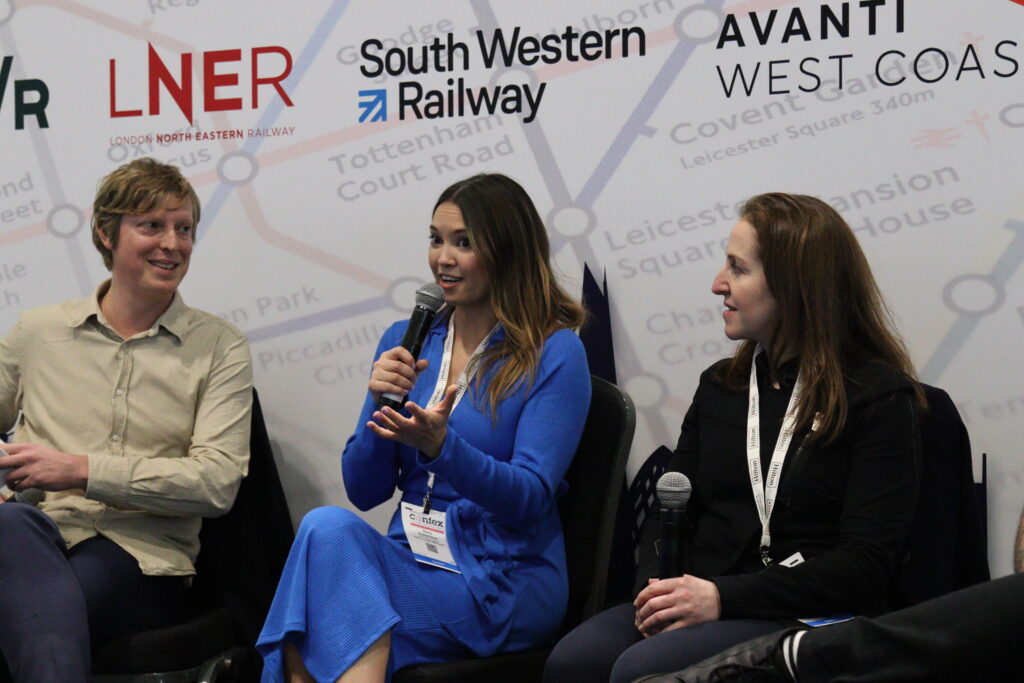 Carina Bauer, CEO of IMEX Group, spoke on the panel about using AI-powered event tech to automate workloads.
This was described as the key area for digital tools to evolve and help participants make the most of their time at a live show.
She said: "Looking at the future of technology, that's what's most exciting for me – something that is helping delegates to maximise their time at an event.
"I hope tools like matchmaking get more useful as time goes on, as true AI gets embedded rather than tag-matchmaking – which is very different to AI."
Know your event value in the 'age of inflation'
Proving the value of your events is key to riding the wave of inflation the global economy is navigating, according to a panel.
Speakers at the CONFEX session included Chloe Richardson, of Explori, Jennie Becker, of WeWork, as well as Sarah Zarywacz, of ECI Partners.
They were taking on the challenge of how to develop event strategy during the "age of inflation".
Chloe, vice president of senior corporate relations at Explori, said: "The value and impact of your events is important – we're having to evidence and justify who we are.
"We're increasing that brand awareness, increasing loyalty, getting customers to come back year on year.
"The trends we're seeing in the events space is how can we take that and translate it?
The panel also discussed how having good partnerships would be important for weathering the storm of rising costs.
This allows for longer term planning and special deals to be done with businesses a planner can trust.
Jennie, director of events and activations UKI at WeWork, said: "Are there things we can do to both benefit?
"Building relationships is massive as suppliers, we don't work with people we don't get on with."
We hope you enjoyed reading this article and found it useful. At ExpoPlatform, we want to help you build better events and communities. Please get in touch and ask for a demo here. Thank you 😀