Smart Events 'amplify' revenue opportunities – Timothy Skennion
Smart Events can create "amplified opportunities" for bringing in tradeshow revenue if "executed correctly", according to an industry expert.
This format makes the most of digital tools to enhance the value of in-person productions for all participants – including AI matchmaking, showfloor navigation and realtime analytics.
But it can also offer new ways for an organiser to bring in more revenue – as well as improving the return on tried and tested avenues.
Timothy Skennion, managing director of the Derabo Advisory Group, believes Smart Events can build on the opportunities that emerged through the formats we saw develop over the last two years.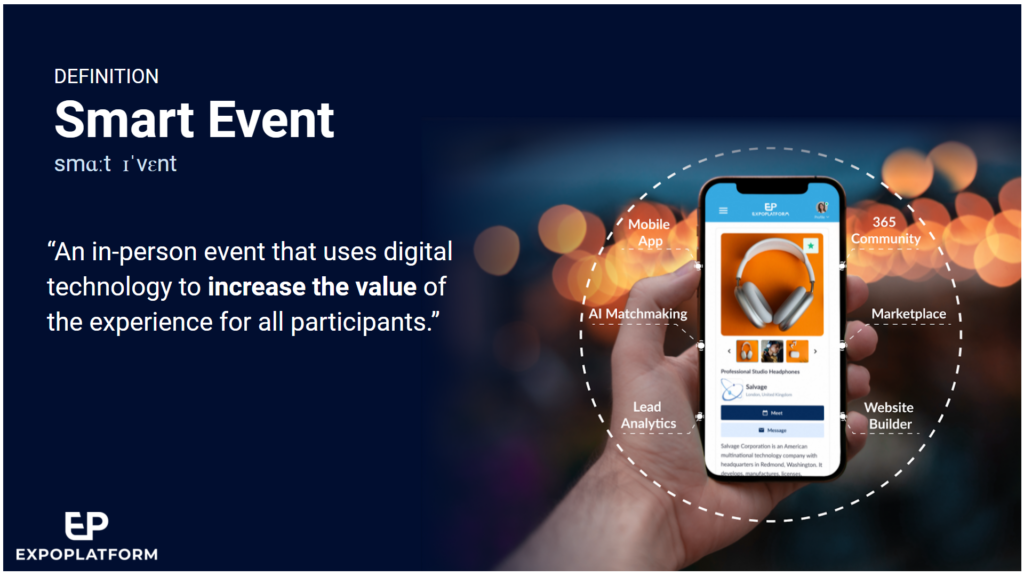 He said: "The revenue opportunities are similar to what hybrid events offer, with perhaps somewhat amplified opportunities if executed correctly.
"These are mainly a more engaged audience as well as an ability for the audience to engage with content and each other, pre and post-event.
"They offer an extension of the sponsor's investment, with benefits being delivered well beyond the day of the event.
"There is also increased opportunities to measure engagement and consumption, collect unique data points that can be leveraged outside of the event and the ability to create a clear and defendable ROI."
Smart Events are sometimes mistaken for hybrid events due to the widespread use of digital technology. Hybrid events are a mix of in-person and virtual events.
This format caters to attendees who can't attend the venue for any number of reasons such as distance, physical limitations or the cost.
This blend of experiences can happen simultaneously or separately. Virtual engagement can take place before, during or after the live show or even all year round in the form of a 365 community.
On the other hand, Smart Events are physical shows where the focus is on improving the experience of all participants through tech. But a year-round community can also help to enrich the experience of those taking part in the show before, during and after.
ExpoPlatform estimates that the cost of setting up this Smart Event technology through a vendor could be worth more than seven times that figure.
It comes as a recent McKinsey study shows that omnichannel B2B sales is now felt to be equally or more effective by 94% of B2B buyers, up from 65% in 2020.
Having a community or ecommerce marketplace in your portfolio is now an essential building block to create an omnichannel experience. The world of retail has talked about this for some time.
It means allowing a combination of in-person, remote and digital transactions. A customer can begin their journey in one channel, purchase through another, then receive customer service through a third.
This allows buyers to flow seamlessly between digital and in-person experiences at their own convenience. Combining your physical tradeshow with an online marketplace means you as a B2B organiser can also offer this kind of experience.
There are three main areas where Smart Events can help generate revenue:
Branding – Exhibitors can drive brand awareness by a range of advertising positions across the online platform and emails. Inventory can include display banner ads, video pre-rolls to run ahead of content sessions, promotion in email newsletters, typically sold by cost-per-thousand impressions or tenancy. In addition to monetising their inventory, many organisers also sell the retargeting of audience across other third-party platforms and the geotargeting of visitors in the physical venue. The mobile app is also a key sponsorship opportunity at your in-person events. This tool can be "owned" by a headline sponsor, who also receives branding around all promotions of the app and through in-app advertising positions.
Thought leadership – Sponsored content sessions are both a thought leadership and lead generation opportunity. The client's logo is associated with sessions and they will receive the leads of all viewers. These sessions can be hosted live and kept on-demand to continue the promotion post-event.
Lead generation – Target attendees using the web or mobile app to receive a popup message on their screen or smartphone. Exhibitors can request the content, date and time of the alert. This could be announcing a demo of your product or directing an attendee to a booth.
Tanya Pinchuk, CEO of ExpoPlatform, has set out more ways how this new format can boost the value of in-person productions for all by improving and opening up opportunities.
She said: "Smart Events use digital technology to increase the value of the experience for visitors, exhibitors and organisers.
"They have become an essential part of making profitable, engaging live events. We have spent the time during the pandemic developing new digital approaches.
"Now is the time to bring those back to live events, making more engaging experiences for participants and more money for organisers."
We hope you enjoyed reading this article and found it useful. At ExpoPlatform, we want to help you build better events and communities. Please get in touch and ask for a demo here. Thank you.