How event tech can drive up engagement
Event technology can be used to significantly improve engagement around your live show.
But boosting interactions with attendees and exhibitors remains a key problem for planners to tackle – especially with new expectations since the digital transformation of all industries.
That's why Romain Dejoie, head of product at ExpoPlatform, has set out his expert advice to help eventprofs increase engagement with their offerings before, during and after the live show.
He said: "This is really a moment for event organizers to use technology to increase the value of the experience for all participants, which feels way more engaging for your attendees."
Exhibitor engagement
Here are some ways you can engage your exhibitors before, during and after the live show.
Make onboarding easy
Onboarding is major pain-point, forcing exhibitors to move from platform to platform with different logins.
It can lead to products from previous events being forgotten, leading to low adoption and a poor level of information for visitors.
This is also a missed opportunity to monetise through micro-transactions.
However, an Exhibitor Manual solution is a set of dynamic and interactive forms to make this process painless.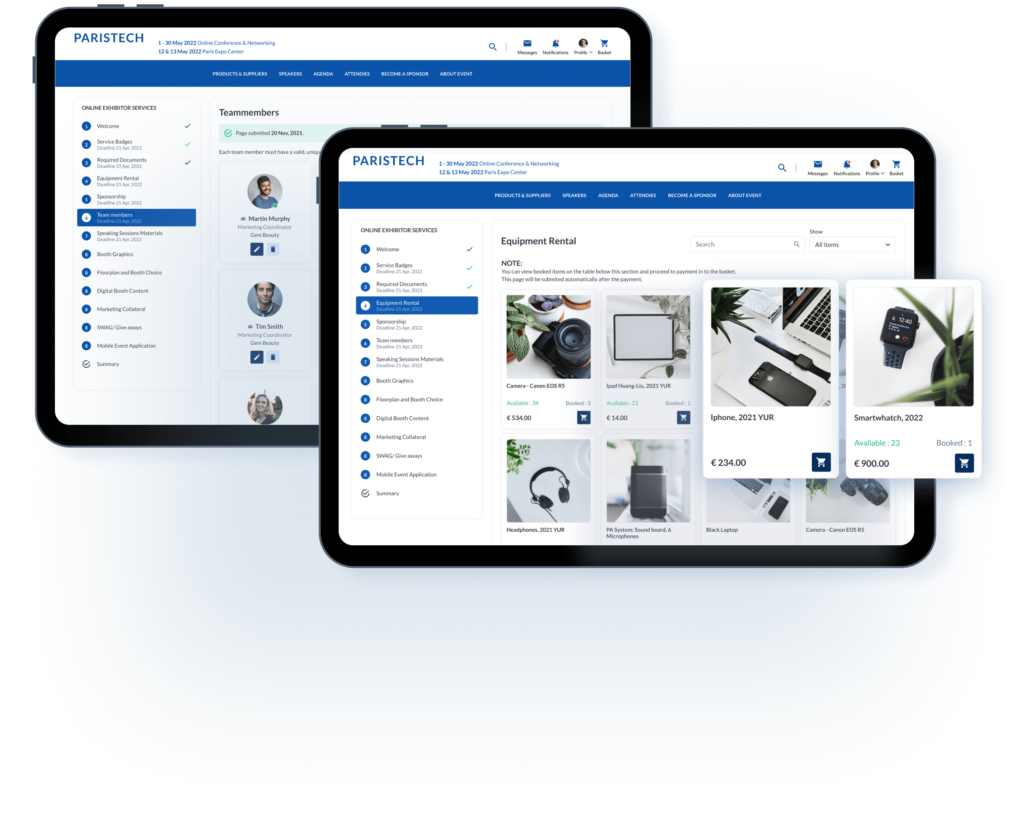 It features an ordering system that can collect payment on checkout with flexible payment options: credit card or invoicing.
A fully customizable funnel is offered with deadlines, reminders, document uploader, inventory management.
Make the mobile app central
A mobile app digitally extends the Smart Event experience by helping your audience connect and network, generate leads and share content on the go.
Use the tool to scan, collect and qualify visitors through notes and contact ratings. This saved data is constantly synchronised with an omnichannel exhibitor dashboard to offer real-time insights.
Do you have multiple shows under a single portfolio? Using a container app, you can group all the events under one umbrella rather than having a separate app for each.
Design a custom app homepage with your branding and important messaging. The homepage can be customised to include all the information your audience needs to get started, such as login details, profile pages, contact information and links.
Prove the value of Lead Intelligence
An omnichannel lead retrieval solution allows you to scan badges and QR codes to connect exhibitors with visitors then store real-time data for them. They can also use ratings and notes to assess and segment leads.
Visitors can scan QR codes on exhibitors' online and offline booths to view information such as complete company profiles, shared content or products. The exhibitor ROI dashboard also reflects these scans from visitors.
Lead Retrieval works even if you don't have access to the internet – all data is cached and automatically synced at the next available time.
This omnichannel Smart Event approach is proven to increase leads by more than 250%.
Increase team members using the tech
There is a strong correlation between the number of exhibitor team members using the app, and the number of leads scanned.
To maximise ROI, remove any barriers to exhibitors adding all their team to the platform.
Ensure lead retrieval is part of event app, for all exhibitor team members.
Engage on exhibitor showroom opportunities
Organising an exhibitor webinar that showcases the organiser showroom means they will know how to fill out their profile and optimise their visibility.
Exhibitors increase their profile in search as well as their chances to be recommended by the matchmaking engine and found by attendees. A higher completion rate generates more leads.
Empower exhibitors to follow up leads with ease
An interactive dashboard features all the touchpoints with your company, team and products in details: page view, favourites, meeting, message, badge scans.
It allows them to reconnect with the lead directly from the dashboard or the export, with anyone who's been viewed on the mobile app also seen.
This gives clear and detailed exhibitor ROI, a convenient way to manage and score leads as well facilitating post-show follow-ups.
Visitor engagement
Here are some steps you can take to engage your attendees.
Digital weeks in run-up to the event
What: Opening the platform ahead of the physical event increases unique leads to exhibitors significantly.
Why: Kickstart discovery by encouraging users onto the platform pre-show with digital weeks, webinars and networking.
Provide higher quality meetings
What: AI matchmaking is useful but only goes so far in creating quality meeting programmes. Hosted buyer events have significantly increased NPS compared with tradeshows.
Why: Improve turn-up rate by giving visitors valuable agenda they can't miss.
QR code scanning for the show floor
What: Automatically generated QR codes which can easily be accessed for product information.
Why: Each product can be assigned a QR code so that visitors can scan that QR code easily through the event mobile app and get to know more about the articles.
Plan app notifications ahead
What: Admin notifications allow you to schedule notifications that are sent to website and app users.
Why: Segment them by target audience and set the date and time when they will be sent, meaning you can boost engagement at key moments.
Make your content on-demand
What: Record your live streams and turn them into on-demand sessions.
Why: This will extend the content lifecycle and generate more reach and more leads in time. On-demand leads can be available using the session reports.
Remember: Create a deadline that this content can be accessed through the event platform. That way it can be included later through an upgrade path on your 365 Community.
We hope you enjoyed reading this article and found it useful. At ExpoPlatform, we want to help you build better events and communities. Please get in touch and ask for a demo here. Thank you.