Digital to make up to 30% of event revenue – survey
A majority of organisers expect digital channels to generate up to 30% of their revenue in 2023, according to a new study.
ExpoPlatform's Event Tech Forecast 2023 reveals 50% of eventprofs anticipate their annual revenue from this area to hover between 10 and 29% in the coming year.  Download the report now. ⬅
Meanwhile, more than 30% believe digital channels will account for 30% or more of their event revenue in 2023. A further 14% said it would be less than 10%.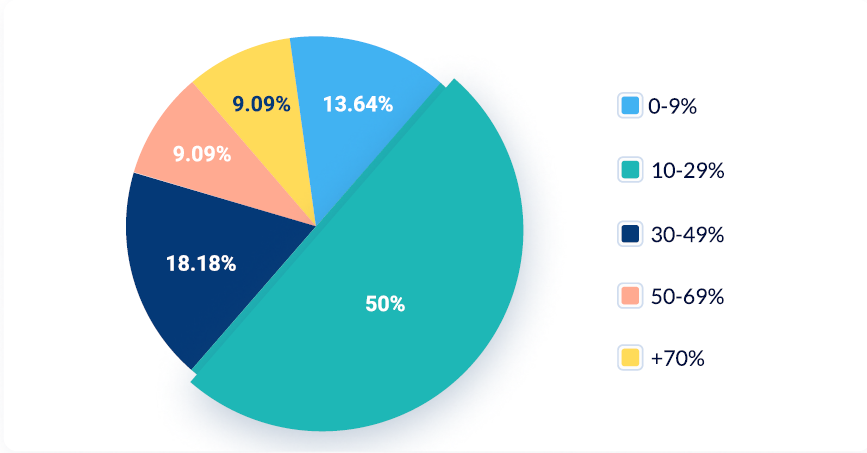 The findings come amid a massive return to live shows over the past year and an increased focus on digitally-powered Smart Events. 
 Let's understand how these developments came about.
Digital is now a crucial part of the event organiser's business model 📱
Focus has shifted. Business models have evolved. And the event industry has undergone a digital transformation. The emphasis is now on tech-enhanced Smart Events.
Technology has unlocked possibilities like AI-powered matchmaking, advanced lead intelligence, hyper personalisation of content and buyer journeys, targeted marketing strategies and more.
Conor Riordan, content editor at ExpoPlatform, said: "The events industry is going through a digital renaissance, with participants in live shows now expecting their experiences to be fuelled by technology."
For attendees, it's no longer just about showing up and having a good time.
It's about actively participating in something that's entirely unique to them and drives meaningful engagement to enable smart business decisions.
For example – onsite event tech that enables bespoke interactions by creating Product Innovation Zones at the venue.
This allows attendees to scan QR codes to unlock content and other details about a product or the business.
📖 Read the case study – Pharmapack Europe 2022 to learn how ExpoPlatform helped Informa deliver a Smart Event with new features for visitors and exhibitors.
According to Timothy Skennion, managing director at Derabo Advisory Group, organisers will develop their business models with a 365 approach that will "largely be driven by digital content offerings".
These personalised experiences help build and nurture year-round customer relationships built on an understanding of needs and wants rather than just guesswork.
This ultimately enables exhibitors to dominate their market niche while massively improving engagement levels at each show throughout the event calendar year.
What are the key digital channels for event revenue? 💰
Having an online monetisation strategy in place is an important step to drive revenue at live shows. Here are the key digital channels you can leverage, based on different categories ⏬
1. Discovery – These channels are used to attract potential exhibitors and sponsors to the trade shows ⤵
Event website: A dedicated website can provide detailed information about the event, including schedules, speaker agenda, exhibitor list and sponsorship opportunities.
Social media: Platforms such as LinkedIn, Facebook and Twitter can be used to promote the trade show, show advertisements, interact with exhibitors and sponsors and generate event buzz.
Email marketing: By sending targeted and personalised emails to solicit sponsorships, organisers can generate interest and drive revenue.
365 communities: Establish a year-round engaged community and explore monetisation opportunities through branding, thought leadership and leads-as-a-service. New revenue streams can also be in the form of online marketplaces, tendering and AI-matchmaking services.
2. Decision: These channels help boost participation in the trade show ⤵
Exhibitor manual: Organisers can help exhibitors onboard to the event through interactive forms and multi-step pipelines. Generate revenue by connecting exhibitors to trusted suppliers and encourage upsells.
Online floor plan: An interactive floor plan that allows exhibitors to see the layout of the trade show floor and identify the best booth location for their needs.
Hosted buyer programme: Create curated experiences to connect pre-qualified buyers and sellers, enhance networking through AI matchmaking and drive higher ROI.
3. Delivery: These channels deliver the trade show experience ⤵
Smart Event app: A Smart Event app brings the digital experience to the audience's fingertips – and offers numerous monetisation options such as premium exhibitor profiles, mobile banner ads and interactive splash screens.
Virtual booths: Augmented reality and virtual reality booths offer a superior level of engagement to customers who otherwise might have difficulty visualising the product in its final form. These booths can be sold as sponsorship opportunities to exhibitors as well as sponsors.
Onsite registration: Online registration tools help get more attendees through the door, ensuring higher participation at the show as well as greater revenue numbers.
4. Data: These channels are used to collect and analyse data to improve sponsorship prospects ⤵
Attendee tracking: Organisers use technologies such as RFID or beacon to track the attendee journey – this provides valuable insights into engagement and behavior.
Surveys and polls: Online and live polls collect crucial information and feedback, helping improve future events and increase targeted revenue.
Analytics: Data analytics tools help track event traffic, social media engagement and other key metrics to evaluate the tradeshow organiser's efforts.
For more details, download the Monetisation Blueprint now 📩
Best practices for organisers to maximise revenue through digital 👀
To make the most of digital channels, organisers must follow these best practices 👇
#1 Develop: Utilise social platforms and analytics tools to track audience behaviours in their decisions. Deploy tactics with precision to greatest effect where it matters most.
#2 Optimise: Continuously perfect content and interface design, capitalising on user feedback. Ensure a smooth customer journey from registration to post-event.
#3 Engage: Interact with attendees before, during and after the event through various online touchpoints. Encourage dialogue and provide value for loyalty building.
#4 Innovate: Research and invest in emerging technologies like AI chatbots and other automation tools that upgrade the overall experience of a tradeshow from mundane to remarkable.
#5 Adapt: Be able to scale quickly when traffic or demand increases or adjusts when there are new shifts in behaviour.
#6 Personalise: Create targeted campaigns using personalised emails, custom-curated directories plus exclusive member forums tailored for audience needs.
Conclusion
The digital transformation of events has opened a world of opportunities for organisers as well as buyers and exhibitors.
Stephen Forseilles from Easyfairs said: "Our industry is a toddler who just discovered that he could get up and walk – the world is ours."
It will be key for organisers to get to speed with the tech innovations and utilise the immense potential of data to ensure real value to attendees and exhibitors – as well as create profitable business outcomes.
We hope you enjoyed reading this article and found it useful. At ExpoPlatform, we want to help you build better events and communities. Please get in touch and ask for a demo here. Thank you 😀