ExpoPlatform announces new commercial appointments
ExpoPlatform has today announced a series of new hires to drive the next stage of the company's growth.
ExpoPlatform is an all-in-one platform used by the world's leading exhibition organizers to create 365 online communities and technology-powered 'smart' events. The platform uses AI to create high-quality connections, leads and ROI for organizers and their customers.
The new senior team comes with extensive 'hands on' experience in events and technology.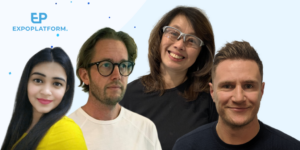 Tim Brown joins as Head of Partnerships to grow and support ExpoPlatform's global network of partners.  Tim has extensive experience in events organizers Montgomery, UBM, DMG and Comexposium, before moving into the private equity space coaching tech startups.
Bee Leng becomes Regional Director of Asia, responsible for building the business in Australia and South-East Asia. Bee's appointment is part of a strategic partnership between ExpoPlatform and Freeman in the region, with Bee continuing to support both businesses.
Daniel Mortimer joins as Key Account Director, working closely with the world's leading exhibition organizers to support their digital transformation. Daniel joins from Hannover Fairs Australia, where he was Event Director responsible for launching virtual events. Before that, Daniel worked across Clarion's Defence and Security events including DSEI, ITEC and DIMDEX.
Shriti Ojha joins as Sales Development Representative. She has a background in software-as-a-service business development and will be working on growing new customer accounts across the world.
Luke Bilton, Chief Growth Officer at ExpoPlatform, said: "I couldn't be happier to welcome our next wave of talent to join ExpoPlatform's mission to transform the events industry with community and event technology. 
"It's very important to us that our team have a deep understanding for how events work from the inside-out."