UFI wraps up US debut in Las Vegas
UFI has launched a new chapter in its history with the debut of its global congress in Las Vegas.
The 90th edition of the association's annual gathering was the first time it was held in the US.
Member companies also met in the Nevada city for the 2023 UFI General Assembly to review activities of the year gone by and confirm plans ahead.
Other top event stories of the week include:
👉 Hyve names new executive vice-president
👉 UK Black Business Week moves to ExCel London
👉 Canada plans to expedite business visitor visas
A key part to building a successful association is having a flourishing events community. Download our latest Community Blueprint to find out how.
Read on for your full Week in Events roundup ⤵️
UFI concludes inaugural Las Vegas congress
UFI has wrapped up its 90th Global Congress – the first time it was held in the US.
The show was hosted at the Las Vegas Convention and Visitors Authority and attended by more than 500 participants from over 50 countries around the globe.
The yearly gathering unites exhibition and event industry experts to exchange insights, address sector trends and challenges and explore opportunities.
Kai Hattendorf, CEO of UFI, posted: "As we wrap up this year's UFI Global Congress, I am struggling to pick what to highlight. Let's start with this year's group of Next Generation Leaders.
"They took the stage for the closing keynote, presenting their ideas for the new blueprint on how to design and run business events."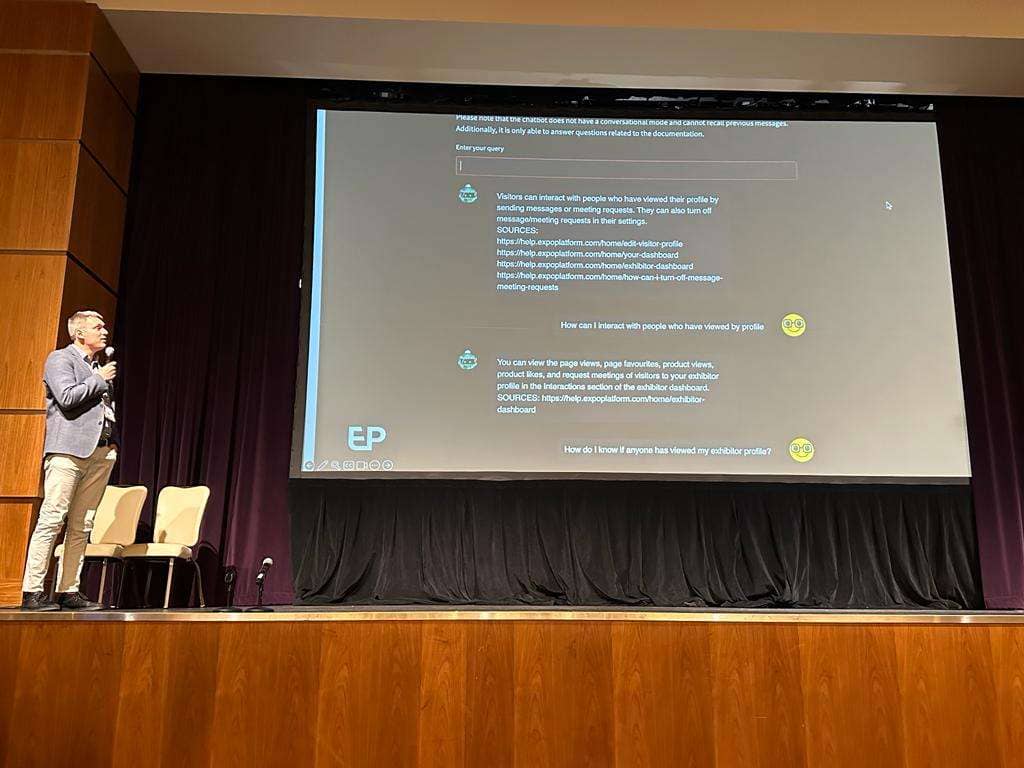 The congress includes presentations, discussions, workshops as well as the latest industry insights and growth strategies.
Generative AI was a recurring theme at the 90th edition of the congress.
ExpoPlatform CTO Mykyta Fastovets spoke at a session on AI-powered exhibitions and how the event industry is trying to leverage generative AI in practice.
Member companies also met for the 2023 UFI General Assembly where the past-year activities are reviewed and plans are confirmed for the upcoming year.
It saw the creation of a new North America Chapter, which will serve its growing membership across that region.
UFI president Michael Duck said: "Trade fairs have proven to be powerful catalysts for economic growth.
"By bringing together businesses, investors, and consumers, they serve around the world as a marketplace for new ideas, products, and services.
"The successful trade fairs of this year have facilitated numerous business transactions, generating revenue, stimulating job creation, and fostering economic development.
"They have been instrumental in revitalising industries that were severely impacted by the pandemic."
He added: "UFI had a busy and successful year as well. I can report to you today that our community is bigger than ever, with more than 820 companies listed as members."
👥 Ahead of the UFI Global Congress, representatives from UFI member companies from around the world met in Las Vegas for the 2023 UFI General Assembly.

🔗 Continue reading here: https://t.co/oy0chG9qzO#ufi #uficongress #gobeyond #eventprofs pic.twitter.com/nCv4HO4ybU

— UFI (@UFILive) November 1, 2023
Hyve names new executive vice president
The Hyve Group has added an executive vice president to its senior leadership team.
Julie Driscoll rejoins the company in the new role and will oversee its international edtech, global natural resources, retail, manufacturing and engineering portfolios.
We are delighted to announce that Julie Driscoll will join Hyve as Executive Vice President to drive growth and operational excellence from January 2024. Read the full announcement here: https://t.co/f6BNmp2oyN pic.twitter.com/u29UOBJWiz

— Hyve Group (@hyve_group) November 1, 2023
Mark Shashoua, CEO of Hyve Group, said: "I am delighted that Julie has agreed to return to Hyve in this newly created and strategically important role.
"Her connection with our purpose of creating transformational opportunities for our customers is undeniable, and I know she will instil energy, rigour and momentum across our teams."
Julie said: "I am thrilled to be joining Hyve at such an exciting time in its journey, as it disrupts the industry and creates the new definition of events.
"Hyve has always been a hugely ambitious business, with even bigger potential, and I am very much looking forward to coming onboard and unlocking that potential."
Julie will work alongside Jose Papa – the newly-appointed executive VP of Americas – and drive Hyve's day-to-day operations to promote commercial focus and operational excellence.
UK Black Business Week moves to ExCel London
UK Black Business Week, the largest business event for black business professionals, has announced plans to relocate to ExCel London for 2024 and beyond.
The show has grown leaps and bounds since its launch in 2017 and attracts thousands of participants every year.
The move to ExCel London is intended to accommodate the development of the show by leveraging the venue's expanded space, facilities and transportation infrastructure.
The next edition of the show is expected to be held in October 2024.
LATEST NEWS: UK Black Business Week moves to #ExCeLLondon in 2024 due to continuous growth

Full story: https://t.co/voYgWLMyh4#ukbbshow #ukbbs @ukbbshow @ukbbweek pic.twitter.com/x14UVNmeDb

— ExCeL London (@ExCeLLondon) November 2, 2023
CEO Raphael Soluke said: "UK Black Business Week was created to develop, empower and inspire.
"The appetite and potential was clear to see from the outset, with the event doubling, sometimes even tripling, in size year-on-year.
"Due to this demand, we now want to take the event to the next level and so relocating to ExCeL was the logical choice.
"The venue's status and connectivity mean it's the perfect location for us to build on the growth we've already experienced."
ExCeL's CCO Simon Mills added: "The dedication and hard work of Raphael and his team is clear to see, and we're delighted that ExCeL will be hosting the 2024 UK Black Business Week & UK Black Business Show.
"As well as benefiting from the venue's seamlessly integrated venue space, facilities and transport infrastructure, we can also help with the event's growth potential, ensuring it remains the market leader it is now."
Canada plans to expedite business visitor visas
Canada will prioritise visa processing for international business visitors attending major conferences and events in the country.
A new report released by the government mentions: "As of 6 June, 2023, 13 more countries have been added to a partial visa exempt countries list.
"Now, travellers from 67 countries can apply for an electronic travel authorisation (eTA) instead of a visa with most eTA applications approved within minutes.
"We are also committed to ensuring priority visa processing so those from all over the world attending major conferences and events in Canada that are registered with IRCC, make it there on time."
This action follows the efforts of Canadian events industry representatives, including Meetings Mean Business Canada and the Tourism Industry Association of Canada, who advocated for a quick resolution to the issue.
We hope you enjoyed reading this article and found it useful. At ExpoPlatform, we want to help you build better events and communities. Please get in touch and ask for a demo here. Thank you 😀