Eventprofs on show as IMEX America goes live in Las Vegas
IMEX America kicks off this week bringing thousands of eventprofs together for industry education, networking and business.
The show has launched with its new educational format designed to give new insights to professionals across four themes.
Meanwhile, Hyve has revealed a better than expected recovery which saw its shares surge in value.
The group's strategy has seen it remove risk for a concentrated portfolio of market leading events, with clear opportunities for continued growth.
Find out more about how you can grow more flexible and secure revenue streams around your shows with our Monetisation Blueprint.
Read the full Week in Events below.
IMEX America live in Las Vegas
Thousands of eventprofs are descending on Las Vegas for the launch of IMEX America.
This edition is set to be its largest ever with participants from across the US and the rest of the world taking part.
The three-day tradeshow kicks off on Tuesday, however a full offering of free educational content takes place through Smart Monday at the venue.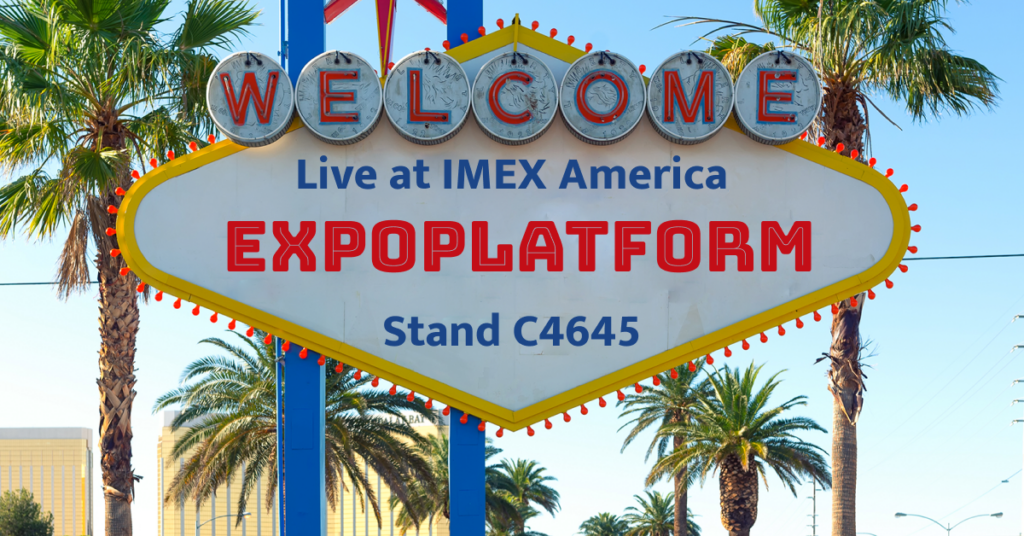 ExpoPlatform will be at the live show with tech-focused sessions about how digital solutions can help our industry:
Event Tech Trends for 2023 – Tue 11, 12pm
Hosted Buyer 2.0: How to avoid a Heartbreak Hotel – Wed 12, 11am
How to make content management painless, with Sessionboard – Wed 12, 12pm
How to grow exhibitor leads +250%: If ROI Can Dream  – Thurs 13, 12pm
Join the ExpoPlatform team on Stand C4645 if you're heading to Las Vegas for IMEX America.
This year's event has a new educational format designed to streamline learning process.
It is held under the educational theme of Pathways to Clarity which will be delivered in four simple tracks, reduced from 10.
These are: Respect for People and Planet, Future Self, Innovation and Creativity as well as Event Planner Toolkit.
IEG to set up HQ in Singapore
The Italian Exhibition Group has further strengthen its position in Asia after agreeing a new deal with Singapore.
A new regional headquarters will be established by the organiser as part of a memorandum of understanding with the state's tourism board.
It is hoped to support the development and organisation of new events in Singapore and the strengthening of the entire MICE ecosystem.
Corrado Peraboni, CEO of IEG, said: "The partnership with Singapore Tourism Board marks another important step forward in IEG´s internationalisation process and consolidates its presence on the Asian continent.
"Singapore currently boasts a highly developed economic structure based on services and manufacturing with high added value.
"This is an important piece in a strategy that, in every respect, aims to establish IEG as a community catalyst for the industries its events represent by taking them to the most promising markets, generating value also in terms of business for exhibiting companies, associations, authorities, and all the stakeholders."
IEG has also recently signed a letter of intent with CEMS-Conference & Exhibition Management Services for the acquisition of two strategic trade shows in the luxury and food segments.
Hyve recovery causes buzz around shares
Hyve saw its shares surge after recording a better than expected comeback this year in its latest update.
Stocks grew 17% following the announcement that the group saw 85% of revenue on a pro-forma basis compared to 2019.
It is expected to have delivered revenue for 2022 of approximately £122m (2021: £22m), after excluding discontinued operations in Russia, Ukraine and Turkey.
The group successfully ran a full schedule of events outside China, while it has also announced the sale of its Turkish business.
Our CEO @markshashoua shares his optimism for the year ahead in our pre-close trading update. Read more: https://t.co/u5lwwUD5hW pic.twitter.com/QP6KjALy37

— Hyve Group plc (@hyve_group) October 7, 2022
Mark Shashoua, CEO of Hyve Group, said: "It is clear that our business has now almost fully recovered from the turbulence of the last two years, and in many cases, we are pleased to have delivered significant growth compared to pre-Covid performance.
"The continued growth of customer like-for-like spend reinforces our strategy of focusing on only market leading events as customers are clearly directing marketing budgets towards key events in their sectors.
"In terms of our geographical focus, we continued to concentrate our capital on high growth industries in advanced economies.
"The sale of the Turkish Business announced today is another milestone in this direction. We are pleased to have found the right buyer who can offer the necessary investment and support to the team, along with regional expertise.
"We enter FY23 with a de-risked and concentrated portfolio of market leading events, clear opportunities for continued growth – both through analogue and digital – and our ever-present commitment and energy to make those a reality."
What could GDPR changes mean for events?
Plans have been announced for the UK to replace the EU's data privacy regime with its own system.
The move has been criticised as creating another layer of friction with the union, as it still applies to any data collected from its citizens.
However, the minister insisted changes to the GDPR rules were going to be more favourable to businesses by removing "unnecessary red tape".
This is madness. UK companies will still have to abide by GDPR if they want any online business in the European Union (as other non-EU companies already do). So UK divergence will simply mean UK double costs. pic.twitter.com/G0mdFQo8SY

— Chris Bryant (@RhonddaBryant) October 3, 2022
Culture secretary Michele Donelan said: "We will be replacing GDPR with our own business and consumer-friendly British data protection system.
"I can promise it will be simpler, it will be clearer, for businesses to navigate. No longer will our businesses be shackled by lots of unnecessary red tape."
GDPR imposes obligations onto organisations anywhere who target or collect data related to people in the EU, which the UK was still part of when the rules came into force.
It issues fines against those who violate its privacy and security standards, with penalties reaching into the tens of millions of euros.
Industry faces 'huge talent gap' – Asia CEO Summit
The events industry faces a "huge talent gap" unless urgent work is done to attract new talent, an inaugural summit has heard.
Leaders gathered for the first Asia CEO Summit in Singapore to underline commitment to the region's growth.
Topics were focused on sustainability, innovation, new business models as well as attracting a skilled workforce.
It was co-organised by a number of events organisations, including Singapore Association of Convention & Exhibition Organisers and Suppliers (SACEOS).
Richard Ireland, president of SACEOS, said: "During the pandemic, many business events organisers and venues had to pause activity or switch focus, causing the loss of talent in the industry.
"Many of our talented colleagues have left our industry as our sector was not valued for the role it played in context of trade, economic development, social and investment – causing a huge talent gap that if not addressed will slow down our ability to recover.
"Our sector has always been able to attract bright, motivated, and uniquely talented people, but we need to focus on attracting and retaining this talent to build our industry for the future to continue to be able to aid our market and geographical communities."
Regional industry leaders and government representatives agreed key areas of collaboration during the opening joint leadership summit last week.
The event also offered an opportunity for business connections to be made and build momentum for more shows across the market.
We hope you enjoyed reading this article and found it useful. At ExpoPlatform, we want to help you build better events and communities. Please get in touch and ask for a demo here. Thank you.