Return to industry form ahead of IMEX Frankfurt comeback
It's been a week where we've seen a return to form across the events industry.
IMEX Frankfurt is being staged for the first time in three years, US B2B exhibition cancellation rates dropped below 10% for the first time since 2019 and Hyve reported first half revenues which exceeded expectations - with some shows doing better than pre-pandemic.
Other stories included this week include UFI's announcement that ExpoPlatform is in the running for a top award, while the Events Industry Council has also given its backing to data standards scheme VSef.
IMEX Frankfurt returns for first time in three years
Eventprofs from the world over are set to descend on Frankfurt as the city gets set to host its first IMEX in three years.
More 2,800 buyers from across the world – spanning agencies, corporates, independents and associations - will meet and do business with an international roster of suppliers between Tuesday and Thursday.
This year's edition sees the largest ever African representation, including Rwanda, Tunisia, Uganda and South Africa, with Ethiopia using IMEX to launch its new convention bureau.
It's nearly IMEX time! IMEX News Central is your guide to what's happening at #IMEX22.

Check it out now: https://t.co/Lh4a6wpxwL

— IMEX (@IMEX_Group) May 19, 2022
Carina Bauer, CEO of the IMEX Group, explains: "So much has changed over the past three years – for the world and for our industry. Our sector hasn't stood still though, with continued investment in infrastructure, new products, business models and services.
"I therefore encourage all buyers to catch up through both one-to-one appointments and stand presentations with the global range of exhibitors to discover how destinations, venues and more have evolved.
"It's important to make no assumptions right now. Everything has changed and therein lies the value of this year's IMEX. It's the ultimate living representation of our global market – an important snapshot in time."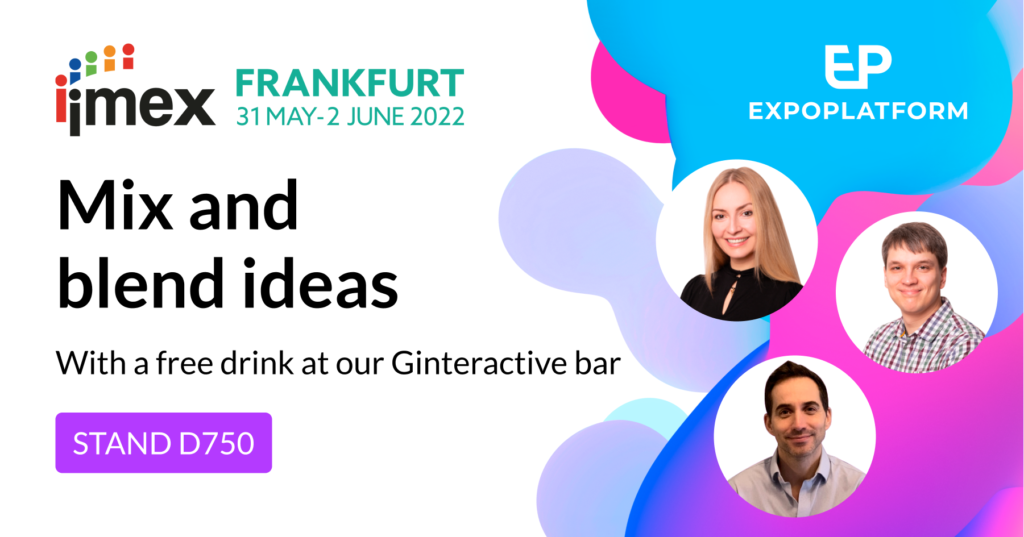 ExpoPlatform will be among exhibitors from more than 90 different countries taking part in the event, staged at Messe Frankfurt.
 Get in touch to arrange a time to talk about how our event tech solutions can help your business. We'll be on Stand D750 (armed with cocktails). 
ExpoPlatform in finals for top UFI award
ExpoPlatform has been chosen as a finalist for a top UFI accolade after accelerating of our industry's technological transformation.
The leading event platform is among three shortlisted for the Digital Innovation Award, having beaten of strong competition around the globe.
Each will be invited to present at the global exhibition association's Grand Final ceremony in September, where the winner will be chosen.
We are pleased to announce the finalists of the 2022 UFI Digital Innovation Award:

Expoplatform (UK)
Jaarbeurs (The Netherlands)
Messe Munich (Germany)

Congratulations to all 3, who prevailed from the entries from all over the world. The judges from the UFI Digital Innovation pic.twitter.com/pp27v5dTni

— UFI (@UFILive) May 27, 2022
The winner will receive their award and present their entry at the 89th UFI Global Congress in Muscat, Sultanate of Oman, in November.
Others shortlisted in the category include Jaarbeurs and Messe München.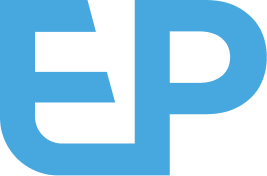 Want to build your own Smart Events?
Get your free consultation to find out how
Hyve's recovery 'stronger than expected'
Hyve's first half results have shown recovery of in-person events at a rate faster than anticipated - with some surpassing pre-pandemic levels.
The group reported revenue of £58.6 million pounds in the six months to March 31, up from £5m during the same period in 2021.
Steps taken by the organiser in the first six months of 2022 include de-risking its portfolio with its Russian exit and strategic acquisitions enhancing omnichannel strategy.
Mark Shashoua, CEO of Hyve Group , said: "Over the last six months we have, once again, had to respond to challenges outside of our control.
"Thanks to the hard work of our people around the world, not only did we successfully navigate these challenges, but we are now seeing a strong recovery and have moved significantly closer to our long-term vision, more quickly than expected."
The group has been hit by some remaining lockdown restrictions, including the reintroduction border controls in China impacting their events.
However, Hyve said it is now entering the second half with momentum and a streamlined portfolio of omnichannel products, focused on "high-growth" industries.
It comes after the group recorded a "better-than-expected" final quarter for 2021, with success across the west driven by significant pent-up demand for in-person shows.
US exhibition cancellations below 10% for first time since 2019
US B2B exhibition cancel rates have fallen below 10% for the first time in more than two years, according to new figures.
Cancellations were found to be at 9.2% in the first three months of this year, compared with 91.3% during the same period in 2021 and 21.9% in 2020.
The Center for Exhibition Industry Research (CEIR) released the findings in its 2022 First Quarter Index.
Allen Shaw, CEIR economist, said: "B2B exhibitions offer opportunities for buyers to find alternative reasonable-price supplies under the current elevated inflation environment and persistence of global supply chain challenges.
"The B2B exhibition cancellation rate should decline further and the performance of completed events will continue to improve."
EIC gets on board with data standards scheme
The Events Industry Council has given its backing to a data standardisation scheme aimed at helping our industry with its digital transformation.
VSef has received support from the organisation marking a "hugely significant" moment for support for its mission to set professional standards across the industry.
It was launched in 2021 with the aim of creating a global data format which can be used to simplify the process of moving information between platforms, sales and marketing systems as well as business intelligence tools. 
Amy Calvert, CEO of the EIC, said: "The global VSef initiative, founded by Explori, has focused on the area of digital event data standards, and developed a comprehensive solution on a not-for-profit basis.
"We are delighted to bring our APEX Commission and VSef together to further develop and establish these essential data standards."
 VSef has received backing from many world-leading organisers and platforms including Informa Markets, RX, Tarsus Group, Emerald Expositions, Clarion Events, ExpoPlatform and many more. 
We hope you enjoyed reading this article and found it useful. At ExpoPlatform, we want to help you build better events and communities. Please get in touch and ask for a demo here. Thank you.