Live from Confex: The Week in Events
This is a special edition of the Week in Events focussing on International Confex. Thousands of eventprofs descended on London for the show to discuss the future of our industry and make crucial business decisions. We highlight five of the top sessions taking place over the two-day production including a look at how the metaverse might impact our sector, sustainability and tech-enhanced live shows.
Metaverse is 'amazing opportunity for events' – Meta leader
The metaverse is "definitely coming" and will give the events industry an "amazing opportunity" to build engagement and make money, according to a Meta leader.
Andy Mihalop, vertical marketing lead EMEA, told the audience in London how there is much excitement for the future of this format at the organisation formerly known as Facebook.
It was heard there would be opportunities for event planners to make money from virtual and augmented reality, however the technology is still in its "early days".
He said: "It's definitely coming. When you think about how the industry had to shift from physical to virtual events, it's a step on from that. From an events perspective, it's going to be an amazing opportunity to participate and interact in more ways than you could ever imagine previously.
"The metaverse is coming, we are just going to see an escalation in platforms and technology that will enable it. We're still at a very early stage. It's much more about building an awareness about how this is developing."
Mark Zuckerberg, CEO of Meta, announced his company would be pursuing the metaverse — a futuristic digital world – late last year. 
He delivered a 90-minute online presentation which included talk about teleporting, holograms and communicating "across different layers of reality". 
It was even claimed this metaverse will free people from screen addiction and enable more genuine human connection.
The event industry has witnessed its own virtual transformation recently, but has seen a strong return to in-person experiences with digital enhancements: Smart Events.
Andy added: "There's quite a lot of hope and excitement about the metaverse – that's our longterm strategy. I'm personally very excited about the shift in our business. One of the things that we often get asked is how will companies make money in the future through the metaverse.
"It's still very early days, but I think if you look into the future you could have branded stalls. You could have Nike have a virtual stall, you could go into that stall, you could look at items. In terms of the event industry, you could still charge somebody to attend or exhibit."
Andy compared this with how people can "create things in the digital world" such as non-fungible tokens (NFTs) and then sell them.
An NFT is a non-interchangeable unit of data stored on a blockchain, a form of digital ledger, which can be sold and traded. This can be something such as a Gif, photo, videos, text message or audio.
Boosting profits through Smart Events
Organisers need to create "streamlined experience" through data to build engagement with their audiences and increase profits, according to ExpoPlatform's CTO.
Mykyta Fastovets was speaking at the Event Tech Theatre on Wednesday when he set how a new tech-enhanced format for live shows could help planners in a range of ways.
Smart Events use digital tools to help your audience get the most from your exhibitions, conferences and trade shows – this includes providing more value, delivering quality leads and driving higher growth and business revenue.
Connecting the data gathered from online communities, virtual shows and in-person productions can help organisers created much more profitable experiences.
Mykyta said: "The data is your oil in this new age. It's about connecting data sources in a centralised, streamlined experience.
"We've had this very long pandemic period where anything and everything is always happening online. I think we have all collectively learned that capturing information online is actually much easier than capturing it onsite.
"We've become a little bit spoiled by how easy it is to capture information online and bring it all into context. This is much more complicated when we talk about an onsite scenario.
"Technologies that can be deployed can be expensive and can be difficult to deploy, so capturing data onsite is extremely important and there should be various tools at your disposal to do that."
Smart Events allow participants to plan for the show by discovering relevant exhibitors and contacts and pre-arrange meetings ahead. Tools like hosted buying and RFPs can also be used to connect visitors and vendors.
An organiser can also give real-time lead dashboards to exhibitors so they visualise customer touchpoints in one place. This technology can help increase the volume of leads and opportunities to meet the right visitors. 
Engagement and reach can be extended by linking you live shows to a 365 community, while vendors can have profiles available year-round in a marketplace.
It allows a planner to capture content for live streaming and on-demand to keep remote audiences engaged and extend the life of the content, creating new monetisation opportunities. Mykyta described this process as the "Netflixification of events".
He added: "We want to create an environment that's as engaging and attractive as Netflix, where professionals go to our event and our communities for their daily news.
"This is the endgame we're trying to get to – data is one thing we can use to understand how to get there. Find a way to find out what your vendors want and need.
"Set expectations and measure your results. One of the key things you don't want to do is have a minimum product that doesn't fulfil the needs of your audience."
How green is Confex?
The event director of International Confex has told how they "have to keep going" with their sustainability initiative after a the low level of exhibitors joined the scheme.
Liz Agostini was among a panel discussion focusing on how the show performed in this area but also within the wider industry. The audience was asked how many had offset their travel emissions, with only one saying they had done so.
It was heard the total impact of Confex was 2,000 tonnes worth of Co2, however a "low level" of exhibitors had joined the production's sustainability certificate scheme.
Speaking to ExpoPlatform, Liz said: "In the overall scheme of everything – they're preparing for their stand, they're thinking about exhibiting, engaging with the app, all of that kind of stuff – another form to fill in is perhaps a push too far.
"But we've got to keep going with this initiative because it will then become woven into the experience of being at Confex – or being at any of our shows.
"We recognise and give recognition to the most sustainable stands so that visitors – for whom it's a really big issue – know who is working really hard to achieve best practice."
Liz was joined by Event Supplier and Services Association director Andrew Harrison, MediaHut sales and marketing director Karl Dukes, Whitespace Group managing director Mary Cole and Matt Grey, director at EventDecision.
The audience was told there was some real "passion" among eventprofs to make our industry more sustainable, however there is still a long way to go with achieving that goal.
It was heard that a key area for trying to hit targets on becoming more green would involved a better standard of measurability – however finance was a problem.
Karl said: "The elephant in the room is the budget. Organisers want to do the right thing until they see it will cost 10% more.
"The passion is definitely there. Having a strong measurable, targetable goal and a cross-association commitment – all working toward the same goal, having a harmonised message – is the way forward."
Andrew added: "There's that fine line between carrot and stick in terms of how we incentivise and move forward on this topic.
"I think we need to be more strategic in how we mandate people. Everybody's starting on that journey, to play that major role, but I don't think we're doing a good job at knitting it all together."
The biggest contributor to the carbon footprint of events by far is through international travel. Findings by MeetGreen estimate air transport makes up about 70% of the emissions created by a largescale professional gathering.
A further 10% is through car journeys, 8% on guest room energy, 4% on venue energy, 4% by train travel, 3% on food and 1% on freight.
Digital has potential to attract more customers – UFI leader
Live shows will benefit from digital offerings which can widen audiences and attract more customers, according to an UFI leader.
Nick Dugdale-Moore, head of regions, was delivering and overview of the association's research into the state of our industry moving forward and how it has been impacted by the pandemic.
The findings show there is a huge appetite for in-person productions and business could be back on track if we are able to emerge from restrictions.
He said: "During the pandemic everyone was forced home, everyone was on Zoom. In terms of the event space, we were forced to do our daily work online.
"All event organisers were forced to turn to digital events. There were those that predicted the death of our industry.
"There are benefits to digital events – you don't need to travel, lower cost of attending and the content scores quite high visitors to digital events.
"But if you look at the others, live shows far out way the possibilities that digital offers."
Nick highlighted how the model of a trade show has not really changed form the Great Exhibition held at Hyde Park, London, in 1851.
However, the pandemic's forced shutdown of live events has seen a digital transformation of our industry which must be held onto moving forward.
Smart Events are in-person productions where technology is used at every step to significantly enhance the value for audiences.
This audience includes attendees and exhibitors who are no longer hesitant about using technology at venues.
Nick added: "There's no evidence of a fundamental shift from live events. Within 12 months, if we are allowed to run our events, things are looking good.
"Digital has the potential to deliver content and widen audiences. There's a huge opportunity for us to widen our communities and bring in more customers to our shows."
Hiring eventprofs of the future
Trust and transparency are two of the main drivers for budding eventprofs pursuing a role in the industry, according to a special panel.
Shonali Devereaux, director of the Diverse Speaker Bureau, chaired the session at the Confex People and Culture Hub to uncover the topics which matter most to up-and-coming trade professionals.
The three-person panel was made up of co-founders of Future Event Leaders – Gemma Gilbert, Sasha Green and Naomi Hollas.
Sustainability, trust and a clear path for progression were all highlighted as key area for attracting budding professionals – with transparency over salary being another driver.
Gemma said: "I've just come into the industry so I don't really know what it should be. It's very hard to ask in an industry which is a new career and you don't know what they expect.
"That was a very hard question for me to be asked and I think that's why salary should be there with the application."
Naomi added: "We are looking for transparency in the job description – we don't want to waste either person's time."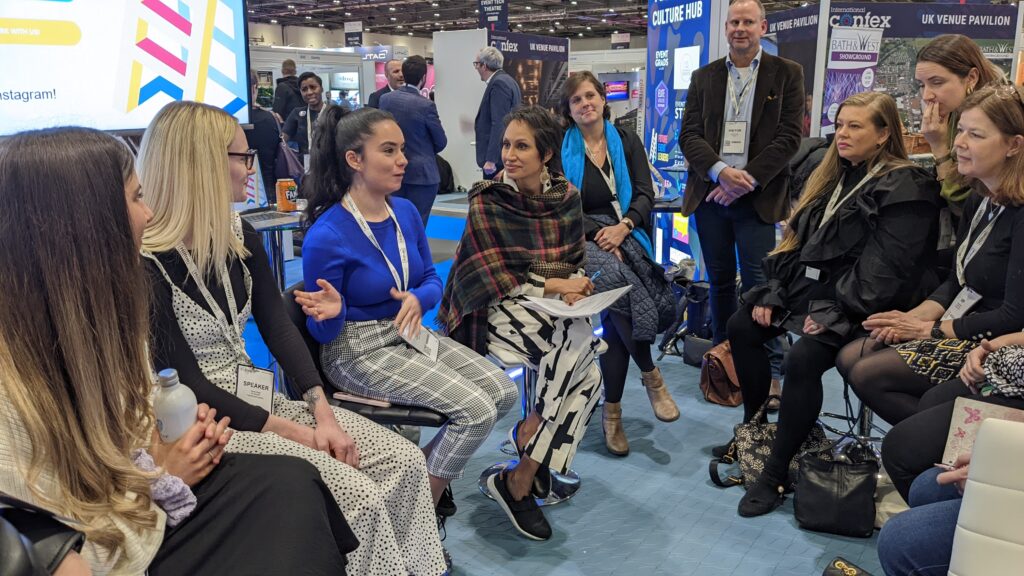 Meanwhile, Sasha highlighted how a company's values aligned with her own was a major draw for her applying for a role.
More than a quarter of Millennials and Gen Z have ranked environmental concerns as their top priority in a poll – and these are already the largest proportion of the workforce worldwide.
Findings from the Deloitte Global's 2021 Millennial and Gen Z Survey show 26% of both generations ranked protecting the environment as their top personal concern.
This comes despite threats to health, family welfare and careers being closer to home and imminent in the current climate.
Sasha said: "A big value for me is for an employer to be sustainable. We are the conscious generation, we are always consuming information about what's going on in the world."
She claimed there was an opportunity for the events industry to improve by combining for experience of sector professionals with the awareness and enthusiasm of younger generations.
Naomi added: "We want to showcase what we have learned and put that into process.  For a company to be able to nurture that and bring that into the industry is something that's really valued."
We hope you enjoyed reading this article and found it useful. At ExpoPlatform, we want to help you build better events and communities. Please get in touch and ask for a demo here. Thank you.