The Week in Events: Event Planners forced to be flexible as nations grapple with Omicron
This edition highlights a split in how nations are handling the pandemic, so we set out how event planners can make the best out of both situations. There's also been an acceleration in interest for data-driven business models, with a number of reports indicating it is the way forward. 
Here's everything you'll find this week:
Planners forced to be flexible as split emerges on Covid-19
Data-driven sales 'see above average growth'
Smart Events to make up 40% of shows in 2022
Safety measures are a Virtual Reality
Early Christmas present for planners in Australian region
Planners forced to be flexible as split emerges on Covid-19
A real split has emerged in how different nations are planning to handle the pandemic amid the surge in Omicron cases – and planners must prepare to face up to both. 
The UK Government announced it would lift restrictions this week and even remove the need for isolation in March. Meanwhile, South Korea extended its tougher social distancing rules for three more weeks – including curfews for hospitality venues and a cap on the number of people who can gather in private.
Thousands of hamsters were also ordered to be killed in Hong Kong after 11 tested positive for coronavirus. This story majorly highlights the stark difference in approaches.
Even in our own industry we are seeing certain markets open up, while others continue to struggle under public health measures. What's clear is that event organisers need to be flexible enough to handle both scenarios.
World of Concrete went ahead in Las Vegas last week with a venue packed with attendees. Meanwhile, Arab Health was set to get going today at the Dubai World Trade Center, with around 56,000 healthcare professionals expected to take part.
The indication that many governments are planning to ease restrictions and face up to having to live with the virus will not be much of a struggle for organisers.
Making sure health and safety measures are in place sufficiently is something professionals in our industry have been doing even when officials have not forced it. It does present a question as to how they choose to move forward with vaccine or immunity passes.
But with many markets still under pressure to pursue a zero-coronavirus policy – particularly Hong Kong – as well as the uncertainty of lockdowns being imposed it is advisable for planners to be flexible. This means having options for digital components to your shows which can be used if necessary.
We saw a surge in hybrid formats in 2021, but we see this as being the year that Smart Events and 365 Communities will be preferred. They offer easy-to-pivot productions and year-round engagement, carry on reading to see how Smart Events will make up a large part of offerings this year.
Data-driven sales 'see above average growth'
Businesses using data-driven sales growth engines are seeing above-average market expansion, according to new research.
The findings from McKinsey & Company also show an increase in earnings before interest, taxes and depreciation (EDITD) in the range of 15% to 25%. A total of 64% of B2B companies told the firm they expect to boost investments in predictive analytics. 
It comes as ExpoPlatform launched its new AI Blueprint focussing on how an event organiser can use data science to accelerate the digital transformation of their business.
Research shows virtual and hybrid shows as well as always-on communities have increased the number of information points on each participant by a factor of 20.
The AI Blueprint is a practical guide brings together exclusive insight from industry experts into how things have changed and how to shape up for the future, with instructions on how to make the most of these new opportunities.
More than two-thirds of event professionals (68%) told our survey that shaping products through customer insight is their top priority, but this was closely followed by being able to provide a 360 view of customers (65%) and personalisation of experiences (62%).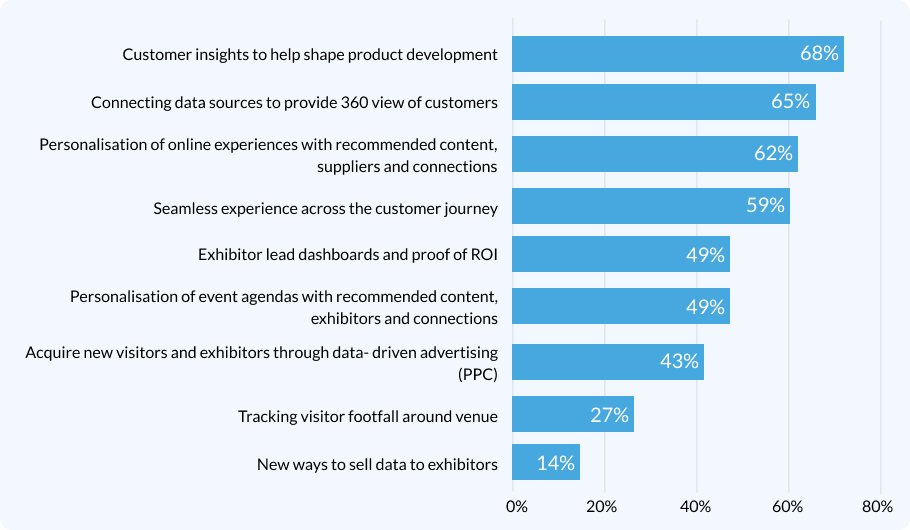 Mykyta Fastovets, Chief Technology Officer of ExpoPlatform, said: "As the industry goes into its third year of the pandemic, we are seeing organisers grappling with how they will make the best of the data they have collected with digital platforms and at in-person events.
"It's interesting to see how this is leading to an increased maturity around product management, and how insights derived from participants' behavioural data can be used to unlock new opportunities."
Download your free copy of the ebook now.
Smart Events to make up 40% of shows in 2022
Almost 40% of shows held in 2022 will be Smart Events as the digital transformation of our industry continues to accelerate, exclusive research reveals.
This emerging format uses new technology to increase the value of the in-person experience for all participants. Findings from an ETT-Club and ExpoPlatform survey of industry professionals suggest that an average of 39% of shows will be Smart Events this year.
Read our complete guide to Smart Events in 2022 here.
Tanya Pinchuk CEO, ExpoPlatform said: "A Smart Event is an in-person event with extensive use of technology, where we simplify the visitors' and exhibitors' journey and make participation more effective.
"There are two things that have become clear: firstly, we we will still be in a pandemic situation for several months. We have to understand that our events have to be improved and enhanced to improve visitor and exhibitor experience.
"Secondly, our audience is quite mature already with technology because they use technology personally all the time – and they have high expectations. They now demand a better experience and a better journey compared to their  previous pre-pandemic experiences."
Figures were determined by asking event professionals what percentage of their productions would be in each format then determining the average from there. A total of 21% said they would hold a fifth of their shows as Smart Events, while 17% said they would make up half.
Safety measures are a Virtual Reality
The boom in online options for organisers has seen a growing interest in the need for digital safety measures – technological security is now a Virtual Reality.
There is now a range of considerations for planners when putting on a show in this format such as liability, data breaches and how to handle an emergency remotely as well as many more. Event MB has published its guide for how virtual events can be made more secure which includes speculation about potential future challenges.
It suggests introducing proper procedures for handling unforeseen circumstances. This can include collecting contact information, training for colleagues and requests for non-disclosure agreements to protect privacy.
Bob Hutchins, vice president of digital marketing for 5by5, told the website: "What we're discovering about these online engagements like Zoom or larger events is that this is relatively new for human beings. When I say that, I mean that there are ways of being and communicating in person that are natural for us.
"Now we've introduced something on a global scale and it's almost like one big science experiment — no one thinks about someone breaking into a house and shooting a presenter and what effect that would have in the context of an online world and the people witnessing the incident."
Early Christmas present for planners in Australian region
Major shows in an Australian region are being given a lifeline for the next festive season after a new scheme was announced by the local government.
The New South Wales (NSW) Event Saver Fund  will give financial support to organisers for productions which are forced to cancel or be significantly altered between December 15 and December 31 due to coronavirus measures.
Largescale shows are said to be targeted with the support due to the high level of impact they have on driving tourism as well as on the broader region's economy.
NSW premier Dominic Perrottet added: "Major events are a key economic driver that create thousands of jobs across the state.  The Event Saver Fund will ensure that organisers aren't left high and dry as we work through this latest phase of the pandemic and sends a strong signal that the government is here to support business."
We hope you enjoyed reading this article and found it useful. At ExpoPlatform, we want to help you build better events and communities. Please get in touch and ask for a demo here. Thank you.