'Don't return to the Stone Age' – Confex marks events industry UK comeback
An International Confex special of your weekly exhibition industry news round-up from ExpoPlatform. We highlight five key topics from the event which marked the grand return for our sector in the UK. And it was brilliant.
Back to the old normal?
Hardly any masks and plenty of hand shakes – a vaccinated audience quickly returned to business as normal with thousands of visitors to Excel London.
This is despite the rising coronavirus cases number brought by the Delta variant.
Scotland's rate of new cases of Covid-19 is now the highest it has been this year (and the highest since mass testing began in summer 2020).

Northern Ireland's rate is the highest since January 5, Wales the highest since January 11. pic.twitter.com/dvTlCYzg5F

— Ian Jones (@ian_a_jones) August 27, 2021
The programme of speakers drew an international crowd to hear about how the industry has changed since the pandemic – and where it is heading in future.
Key themes from this year's world-leading event for our industry – held on Wednesday and Thursday – included digitisation, diversification and new channels for monetisation.
Here, we go into them in a bit more detail in case you missed it.
Don't return to the Stone Age
The world has gone digital over the last 18 months, so with the return to in-person many speakers focussed on keeping hold of those advantages.
ExpoPlatform's chief growth officer Luke Bilton told a panel discussion that to ignore the benefits brought through data would be like "going back to the Stone Age".
He told the Digital Event Theatre session that the tools brought through digitisation of events has brought benefits which are not going to go away.
This included working towards product discovery and exhibitors being able to target a more suitable set of potential buyers.
Luke added: "The problem for large-scale exhibitions is you push attendees through a door and let them do the rest themselves.
"Digital has brought all of this data, for me you would be going back to the Stone Age if you were to turn off all off that insight and go back to a concrete box you aren't measuring."
Meanwhile, a panel of association representatives spoke about the benefits brought through digital at the Keeping the Fire Burning session.
Emma Barr, Royal College of Midwives events and training advisor, told the audience how initial challenges with members being able to use technology soon created greater engagement than ever before.
She said: "With the NHS in crisis, they have got to have the minimum amount of time off the wards.
"There's all these other ideas that come out – some of the responses we get have turned into projects for next year, because they felt just to write – it's been really freeing for our members."
Emma added: "For the first time our branch in Shetland were able to join up with the Orkney Islands to do events.
"We have all the Channel Islands being able to join with the Isle of White.
"Planning for next year, we will have completely blended learning.
"Part of that will be face-to-face, part of that will be online."
Quality over quantity
The return to in-person events will be gradual – ongoing health concerns remain for some would-be attendees, while the spectre of restrictions still looms over us.
However, a way forward from was brought up during the first physical gathering of the Exhibition Think Tank (ETT) Club.
Members of the worldwide e-platform for industry professional heard about focusing on new marketing KPIs which prioritise quality of leads rather than volume.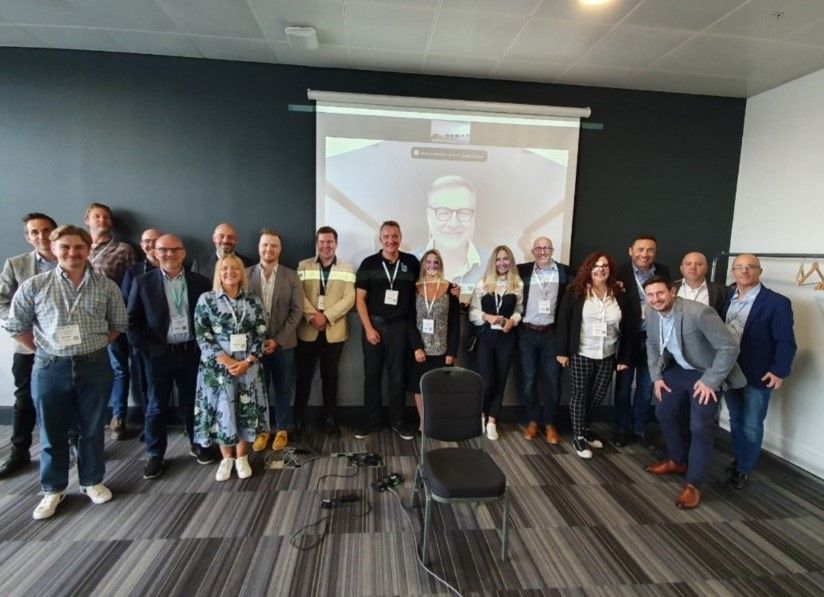 Stephen Murtagh, the Exhibition Guy, told ExpoPlatform: "People won't feel comfortable going to a massive, big show.
"So the smaller shows tend to be the ones right now that are going to bounce back.
"Before Covid-19 we all concentrated on this idea of on visitor numbers being so important.
"But what's far more important than the number of people going to the show is the type of people and the quality."
He added that 30% of people who currently attend tradeshows are "tyre kickers" – attendees who do not ever intend to buy anything.
However, Stephen believes they are now unlikely to turn up to an event while those who are willing to make the effort to travel are "more serious buyers".
This was said to give exhibitors more time to focus on better prospects and makes the interactions "more valuable".
New ways of monetisation
The revenue model of exhibition industry has adapted – a transformation forced through the. Some of these changes include:
Laura Davidson, director of Tag Digital, told ExpoPlatform about a new "product" which emerged once live shows were put on hold.
This audience extension allowed organisers to still generate revenue by reselling existing data to exhibitors.
She said: "One of the positives we've seen come out of the pandemic has been a new digital product called audience extension.
"Ultimately it's allowed event organisers to still generate revenue while there's been no live events.
"What that means is they're able to resell all of their existing data – first party, cookies, social following – to their exhibitors.
"It creates that connection with exhibitors year-round, it allows you to focus on what is your exhibitor's objective and allow them to connect with the audience even when live events aren't happening."
Laura added: "It's a really high-margin product for you to sell to an organiser – all digital and sorts out any issues when you've not been able to travel."
Diversity and inclusion
Diversity in our industry was one of the top topics at this year's Confex.
That included how to shape shows to include people who have accessibility issues, whether for health or financial reasons.
But there was one stand in particular which was working to support those who have been underrepresented in senior positions.
Women in Exhibitions was launched before the pandemic, with Confex 2020 being its first show.
Now it has exhibited again in-person for the first time since the outbreak, where it held a "speed mentoring" session with leading experts who held 10-minute sessions with ambitious industry professionals.
Bea Johnston, academy lead, said: "A lot of the time we get comments like 'there's so many women in the industry – is even really a problem. Is there a need for this kind of a group?'
"Yes there is, because if you look at where women are in the industry you'll have a lot of women in marketing, you'll have a lot of women in the beginning stages of their career.
"But, they won't have a speedier track through that hierarchy to the very top.
"There is that ceiling that we get to that is very difficult to overcome.
"There are lots of role models who have proved that wrong, but we want to try and help every single person in the exhibition industry develop the skills they need to be able to go for that promotion – and to push themselves to follow their ambitions and dreams."
The group provides resources for men and women in the exhibition industry and offers educational and professional development programmes, mentoring, networking events, talks and career support.