The week in events: Paris Accord for events industry?
Your weekly exhibition industry news round-up from ExpoPlatform. We highlight five top stories so you don't miss out on what's been happening – including announcements, insights, opinion and more.
Net Zero Carbon Events initiative – a Paris Accord for events?
A new scheme has been launched with the aim of the rapidly moving the global event industry towards net zero carbon emissions by 2050.
The initiative – hosted by the Joint Meetings Industry Council (JMIC) – hopes to bring together a wide range of industry stakeholders to tackle the issue.
Very happy to share that @UFILive is backing and supporting the "Net Zero Carbon Events" initiative as one of the initial project partners, like many other leading industry associations and market leaders. https://t.co/XmdFyAMUOt

— kai hattendorf (@kaihattendorf) September 2, 2021
It comes ahead of Cop26 in Glasgow, Scotland, which will see world leaders gather in the city to present how their countries will reach the 50% reduction in carbon emissions by 2030.
This is with aim of delivering on the Paris Accord.
The initiative, which was announced by UFI, aims to:
Jointly communicate our industry's commitment to tackling climate change and driving towards net zero by 2050
Develop common methodologies for measuring the industry's direct, indirect and supply chain greenhouse gas emissions
Construct an industry-wide roadmap towards net zero by 2050, and emissions reductions by 2030 in line with the Paris Agreement, with support and guidance on key issues
Foster collaboration with suppliers and customers to ensure alignment and common approaches
Establish common mechanisms for reporting progress and sharing best practice
James Rees, JMIC president, said: "Events drive industries and societies. They shape conversations, foster innovation and generate business.  They are key to human collaboration.
"This holds true for every subject – including sustainability and climate change.
"The events industry has a special role to play in tackling climate change.
"We provide the meeting places and market places to work on solutions to the climate crisis.
"At the same time, we have a responsibility to minimise our impact on climate change.
"We are inviting organisations from across the events industry – venues, organisers, exhibitors and suppliers – to join this collaborative effort to drive the events sector towards net zero."
UK event industry 'loses £57bn in value' since pandemic
The UK event industry suffered losses of more than £55 billion in value since the outbreak of the pandemic, according to a new report.
Findings from the Shape of Events study estimates the sector lost £57bn of value from the pre-pandemic level of £70bn.
It also shows overall activity was down 95% across the country over the last 12 months.
Furthermore, the The Business Visits & Events Partnership (BVEP) report found 17% of event and exhibition businesses permanently ceased trading during 2020 and 126,000 jobs were lost.
@bvep_uk launches "Shape of Events" Report
looking at impact of COVID & the Industry's future. Activity down 95% and lost spend of £57 billion.17% of businesses ceased trading & 126,000 jobs lost. But pandemic has been a catalyst for change & innovation https://t.co/nuojGP2W7T

— Michael Hirst (@XChairEIB) September 6, 2021
Simon Hughes, Chair of the BVEP said: "This report shows both the devastating impact that the pandemic has wrought on the UK events industry over the past 18 months, but also how resilient and adaptive we have shown ourselves to be.
"Most importantly, our report shows the significant opportunities that can be there for all of us in the future, if we continue to work together as a single united industry – and that is something the BVEP will continue to encourage and facilitate."
Our sector was forced into a purely digital world when the pandemic struck.
However, organisers now see the value of virtual components alongside in-person events.
Read our complete guide to hybrid events here.
This report comes as the UK Government released further details about its £750 million "reinsurance" scheme.
The initiative offers cost indemnification if an event has to be cancelled, postponed, relocated or abandoned due to new UK Civil Authority restrictions in response to Covid-19.
It will run until September 30 2022, with a review point in Spring next year.
Vaccine minister Nadhim Zahawi has also confirmed that vaccine passports will be required to enter large venues from October to avoid winter closures.
On a brighter note, the Scottish event industry is marking its major comeback with EVENTIT today Friday.
ExpoPlatform is delighted to be exhibiting at the show, which industry professionals gather to discuss and make connections in Edinburgh.
German organisers 'eager for new start' as trade shows return
Organisers across Germany are "eager for a new start" as trade shows have started to return to federal states, according to an industry body.
These events have been possible in all 16 authorities since the start of September, with around 30 still to be held this month as live events.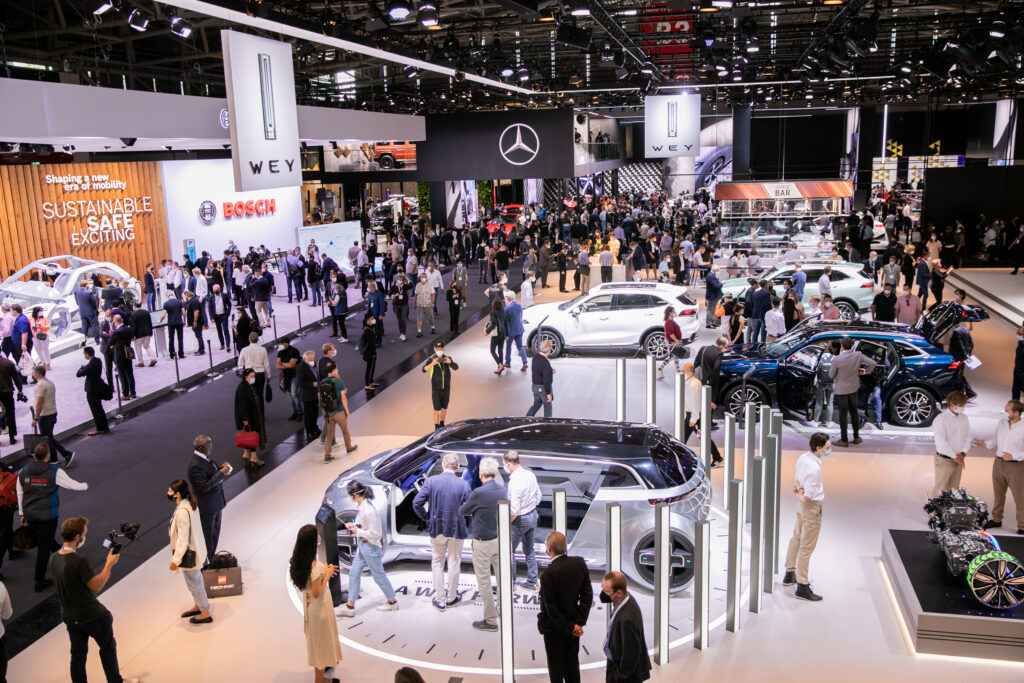 These include important industry meetings such as IAA Mobility in Munich, which started on Tuesday, with more than 110 trade shows planned for the remainder of the year.
Jorn Holtmeier, Association of the German Trade Fair Industry managing director, said: "The economic damage of several lockdowns is immense for the industry.
"After almost one year of emergency standstill, the first trade fairs with roughly 300,000 visitors have clearly documented how well the comprehensive hygiene and health concepts have worked.
"The trade fair industry is eager for a new start. We expect politicians at the federal and state levels to make this possible at maximum level.
"We need the greatest possible planning reliability for trade fairs as a meeting place."
Almost three-quarters of the planned 380 trade fairs in Germany were cancelled in 2020.
Organisers across the country suffered losses of up to 70%, with estimates of economic damage of £36 billion (42 billion EUR) since the pandemic struck.
UFI CEO Kai Hattendorf, who was at IAA Mobility in person, said: "The show was opened (as usual) by the German Chancellor and other dignitaries, highlighting both the role of the automotive/mobility industries for Germany and the importance of trade shows like this one.
"There are good Covid protocols in place – with every participant having to show proof of vaccination, or having recovered from Covid, or an up to date test result before gaining entry.
"A rapid test centre is available on site.

"The show is making headlines in Germany for days, including as well those about protesters demanding a faster move to carbon neutral mobility.

"At our global UFI Congress in November in Rotterdam, we will delve deeper into the learnings from this re-designed show."

Thanksgiving for a positive indicator
The full Macy's Thanksgiving Day Parade will return to New York with spectators and high-flying balloons, according to officials.
All volunteers and staff will have to be vaccinated and wear masks, with the number of participants reduced by 20%.
This includes the traditional giant balloons, celebrity performers, clowns and marching bands.
Macy's Thanksgiving Day Parade is the world's largest event of its type and its return represents a positive sign for our sector in New York.
Freeman confirms Info Salons closure Down Under
Global event management and services company Freeman will shut its Info Salons headquarters in Australia, according to Exhibition World.
The firm was reported to put the decision down to the impact Covid-19 pandemic on the local market, where the events sector has been placed under strict restrictions.
Exhibition World reports the Sydney HQ will close by the end of December.