VIP buyers expect curated events using tech – IMEX leader
High profile buyers expect "specialist, curated" experiences aided by seamless event tech, according to an industry specialist.
Sarah Lloyd, from IMEX Group, told ExpoPlatform how digital tools are being used to improve the offerings of their global scale shows in Frankfurt and Las Vegas.
She heads up the organiser's hosted buyer programme, which facilitates a VIP experience for some of the most important customers across an industry.
One of the key developments she has witnessed since the recent digital revolution of events is the expectation of more personalised offerings.
Get your free copy of the Hosted Buyer Playbook for practical guide on the next generation of curated meeting programs.
This latest Transformation Stories interview comes as IMEX America kicks off in Las Vegas.
The director of hosted buyer programmes said: "People want more specialist, curated experiences.  They don't want to be pigeonholed into just interested in DEI or sustainability and so on.
"They want that but we need to make it easier for them to pick those parts out at the show. 
"There's so much that happens at IMEX in America and Frankfurt, we have to make it easy for them.
"That's something we're really trying to look at – how to bring those curated experiences to the hosted buyer programme at the promotional stage as well as the live show. 
"They want those specialist experiences. They want to understand technology and they want to know what's out there. 
"We have to make it easier for them to understand that there are providers that can help them, that's another trend that we're seeing."
Key ingredients of a hosted buyer programme
IMEX Group highlights the efficiency, exclusivity and value brought by being part of a hosted buyer programme.
But having a network which knows what the customer wants is key to that all coming together, according to Sarah.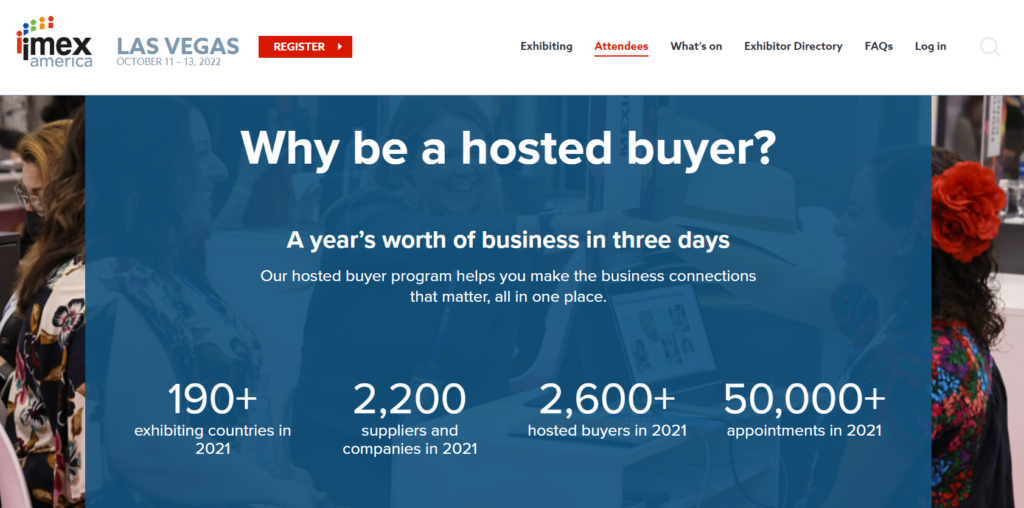 Partners are crucial to the IMEX team being able to understand what the market needs and how they can best serve them.
Sarah said: "We couldn't put the show on without them. You need good partnerships, good relationships and they need to understand their buyers – people they're trying to attract to the show. 
"What do they want, what are their needs, how can they best service them at the show?
"You can't assume that you know what a buyer wants without talking to them. 
"You have to actually go out there – listen to them, listen to their challenges. 
"That's one of the things that we learned after Covid-19, we really needed to adapt – our business model changed and we really needed to keep in contact. 
"I keep going back to relationships and having a team of people that are curious – they're staying in touch with your buyer needs.
"It's a people business ultimately, it's about bringing people together in a live environment face-to-face. That's why my team is built on understanding people."
Using technology to improve the live show
The role of technology in promoting the hosted buyer programme can clearly be seen through building a 365 Community. 
This year-round approach can build engagement, extend your audience and help identify market trends to help improve your product.
Sarah highlighted how a community model helped to improve their European show in Frankfurt, while also setting out how they hope to use more digital tools to improve other operations.
This had even more significance given that eventprofs worldwide had been unable to connect due to lockdown restrictions for so long.
She added: "We've seen lots of new buyer groups that have come together through technology that want to share ideas through online platforms. 
"We're now looking at how we can get those communities into the live shows.
"We had two successful groups that came to Frankfurt on the back of community building, so they do work hand in hand.
"We're looking now at how we can really complement that community and bring that to the live show.
"We've looked at how technology can improve the operations and the admin so that my team can be looking at relationships. 
"We're now looking at how it can improve the buyer journey at the show – from the arrival point to how we can make sure that they have a really good experience. 
"They can now put their actual needs into the portal before the meeting so exhibitors can understand what they need so they're prepared and they can have a really meaningful meeting."
Sarah added: "We're looking at various ways of innovating and putting buyers and exhibitors together according to their needs."
How to set up the team
The IMEX hosted buyer team is made up of 12 members who all play to their strengths.
They are split into two groups with one focusing on operations, while the other takes charge of the relationship side of the strategy.
Sarah highlighted how the ability for them to be working together was critical to the success of their programme – experience is everything.
That's because they have to handle logistics such as flights, ground transportation, hotel rooms, or buyers who often want to extend the day or arrive earlier to do meetings.
Sarah said: "It's about that whole experience not just at the show – the journey and the logistics have to be right. 
"We have a relationship team that works with our clients, understanding what buyers want.
"Then we have a big team that works on the logistics and operations to make sure a buyer's experience – from when they arrive at the airport in Frankfurt or Las Vegas – is a really good experience."
She added: "Communication between the two parts of my team is really important so that we can get the whole thing delivered smoothly."
Education is a key part of developing the team so they can keep on top of changing attitudes and expectations of the most high profile buyers.
This means attending association events to learn about new ways of handling operations or even going to non-industry shows to see how they can be more engaging.
Sarah said: "We're constantly taking ideas from other events to bring them into IMEX.
"You can't stand still, you have to be constantly listening to podcasts, reading what's going on to stay up to date – this industry is changing so much."
The name of the game for a hosted buyer programme has always been to facilitate good business.
But Sarah has noticed that there is a much higher expectation to build relationships that match the priorities of the intended customer.
She added: "We've seen the buyers now want to have to experience and work with people that have the shared values that they have.
"For IMEX Frankfurt this year, we had intermediaries that brought buyers who were only interested in sustainability.
"It's still doing business but they wanted to focus on sustainability, learn and do more about that. 
"It's a massive undertaking that the IMEX puts into a hosted buyer programme."
How to promote a hosted buyer programme
Partnerships, exhibitors and a good content strategy are just three ways IMEX promotes its hosted buyer programme.
Those first two relationships identify potential prospects, while the latter can bring in high-profile customers through engagement.
Sarah highlighted how most of their targets are brought in through exhibitors who pay to be at their shows.
She said: "We rely on them to bring the majority of our buyers, but we also work through bespoke marketing.
"We have more automated email campaigns now that we can target specific buyer types that we can bring into the IMEX world. 
"They engage now in our content, we have 365 content so we can find out what they're interested in and ultimately get them to the live show. 
"Marketing is key as well as those relationships with our partners.
"We go to their events – we meet with their buyers and exhibitors – and find out what's happening in the marketplace. Partnerships are key."
We hope you enjoyed reading this article and found it useful. At ExpoPlatform, we want to help you build better events and communities. Please get in touch and ask for a demo here. Thank you.