Hosted Buyer 2.0 – next generation curated meeting programs
A hosted buyer program – or curated meeting program – matches buyers and sellers for tailored, pre-scheduled meetings that are commitment-free.
This short guide will set out what is involved in this next generation of the format, with some advice on how to find the right buyer seller dynamic.
Full insights can be found in the Hosted Buyer Playbook, a practical guide into creating next level curated meeting programs. Download it for free now.
A hosted buyer component can be included as a component in your event without the expensive cost of travel and accommodation.
This could be replaced by including upgrade incentives, invitations to special VIP events or a concierge level program that creates a special experience from beginning to end. 
In virtual format, the hosted part has no need for travel or hotel. Organizers can therefore include complimentary research, invitations to VIP networking events or waive attendance fees.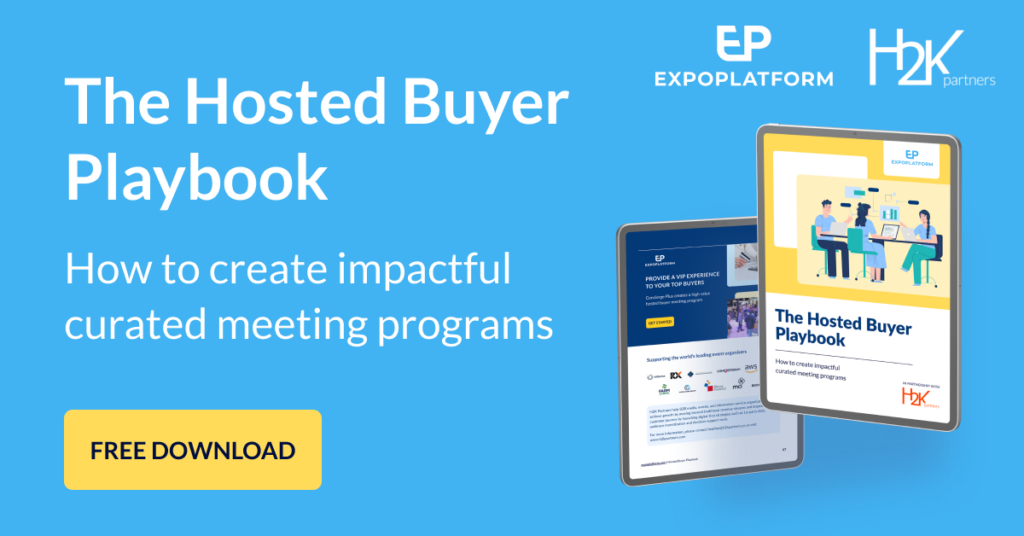 There are various formats for a hosted buyer event, which don't have to take place in-person. Here's the role of each party:
The organizer makes the matches and can also cover hotel, airfare or offers some other type of incentive. 
Buyers commit to a number of meetings with suppliers and indicate the level of budget, authority, timing and need. 
Sellers agree to provide the buyer with tailored information to ensure efficiency – with meetings usually lasting 15 to 30 minutes. 
Sooraj Dahwan, founder of Falcon Exhibitions, said: "We offer them services right from the airport: checking into hotels, taking them to the venue, arranging business meetings, bringing them back to the hotel. Then they have a very considered type of service which makes it very meaningful."
Important: Not all buyers need to actually be hosted. For the purpose of this guide, curated meetings are part of a hosted buyer program.
Benefits of hosted buyer programs
Efficiency, big revenue and high satisfaction rates are just a few of the main benefits of a hosted buyer program.
These outcomes must be significant enough to make the effort and investment worthwhile.
Executing a successful package involves many moving parts before, during and after the event. 
It requires the right systems, people, processes and a keen understanding of what a positive result looks like. Here are the results to aim for:
Outcome
Why
Revenue

Sold as a stand-alone or as an add-on, guaranteed curated meetings. F500 companies value pre-scheduled meetings with ICP accounts between $3-5K each.

Efficiency and sustainability

Conducting a year or quarter's worth of buyer/seller meetings taking place over a focus two-day period can be an incredibly efficient experience for all participants. This can have sustainability impact, with less travel required throughout the year.

Retention

Proving ROI makes it very hard for a sponsor to turn away dollars. You are also able to expand the program across virtual, invite-only roundtables and regional F2F VIP meetings.

Coveted audience member to loyal advocate

Helping your audience members improve decisions makes them become loyal advocates. These are great for word of mouth and they want more of what you offer. New revenue streams anyone?

Data intelligence

Capturing information about the buyer's journey, needs, pain points as well as how sellers sell is priceless.

NPS

Hosted buyer events are proven to increase satisfaction and Net Promoter Scores

beyond that of typical conferences and tradeshows
Finding the ideal buyer-seller dynamic
Make sure there is a good dynamic between your buyers and sellers. This is a key part of producing an experience which benefits all participants.
David Hidalgo, show director IBTM Americas, set out his three main components for the perfect buyer-seller match:
The solution – exhibitor´s services – should match with the event and buyer´s needs to generate mutual interest.

The appointment should be taken in an adequate  space to get a comfortable conversation that allows them to have an introduction and the presentation of specific projects.

The exhibitor should do a follow up of the offer every specific period and the buyers should give them feedback, even if they don't hire the exhibitor´s services.
Simon Baxendale, head of digital solutions at Informa Markets, said: "Any meetings program needs to be curated with the customer in mind, understanding their needs and what their ROI is will be key to a success meetings proposition."
Do you have the ingredients for a Hosted Buyer Program? Here are the elements some of other things you should be looking for:
Complex/solution sale

Building relationships is important for both sides

Involves a buying "team" versus single decision-maker

Mid to high price point

Buyer education required/needed in some cases

Meeting F2F is a competitive advantage to winning the deal
We hope you enjoyed reading this article and found it useful. At ExpoPlatform, we want to help you build better events and communities. Please get in touch and ask for a demo here. Thank you.