Going digital to insure your event's future
Having scoured the international trade show press in anticipation of writing this column, the only thing it seems we can be certain of, is that the uncertainty arising from the Covid-19 outbreak will define our industry for some time yet. 
It is hard to tell the way the wind is blowing, because we aren't dealing with just one climate. Governments like the UK – where events are due to reopen in October – have been slow to recognise the importance of exhibitions and accommodate them accordingly, while in Germany, which stands above in its recognition of the unique contribution exhibitions make to the economy – venues such as Messe Cologne still don't expect to host many – if any – international trade shows this side of 2021.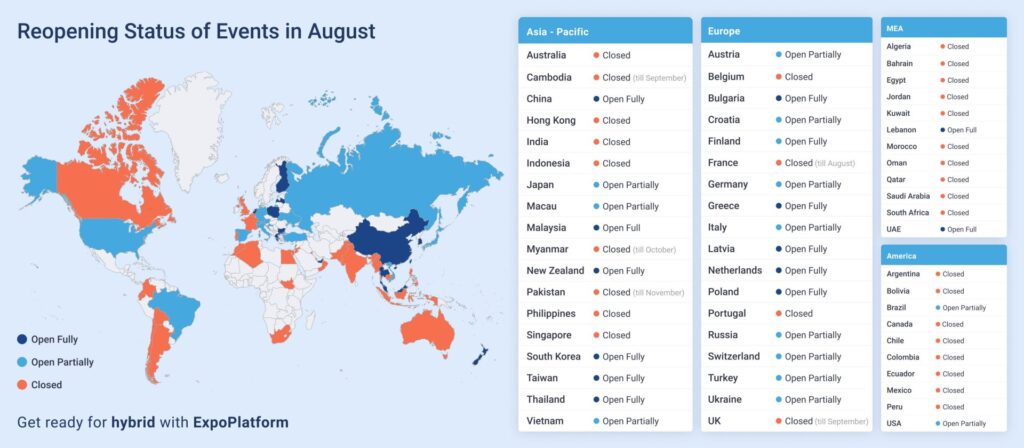 Having a digital counterpart for your event ensures that it remains open across every region. [Source]

The result is that while the development of an organiser's digital proposition has historically languished among their lower investment priorities, Covid-19 and the lockdown it triggered has pushed it to the top of the agenda. People are only too aware that a comprehensive digital counterpart for a trade show can provide insurance that your market will meet, come rain or shine.
The July edition of the UFI Global Barometer (research pitched as the pulse of the international exhibition industry) found a large majority of the industry is confident face-to-face events will return quickly. It also tells us that while 44 per cent of companies have stopped all investments, a record 50 per cent of the remainder have increased their investments related to digitalisation. 
"A comprehensive digital counterpart for a trade show can provide insurance that your market will meet, come rain or shine"
UFI Managing Director and CEO Kai Hattendorf said the research demonstrates "everyone is aware that this crisis will lead to major changes in the way exhibitions are produced, especially with a push towards more digital elements before, during, and between events". 
However, I would argue that the proliferation of remote workflow software, video conferencing and mobile apps show that desire has already given way to expectation when it comes to the provision of alternative, digital means of connection at exhibitions.
Two-track thinking
The flexibility that online interaction provides between exhibitors and buyers means that should a physical event be cancelled, the digital interaction can continue unabated. It's the most meaningful event insurance you can provide in the current climate.
Both the physical and digital event propositions lock a company into the show's global database, granting exhibitors access to their buying preferences, matching visitors with exhibitors able to help them allocate their budgets, through physical or online meetings. 
But to be successful, you have to know how to replicate an exhibition digitally – and it's not about video content.
We've seen a proliferation of technology companies selling 'virtual exhibitions', but what they are largely selling is virtual conferences. A digital exhibition is a very different prospect from a generic business event, 
Replicating the exchange of content online is just one part of a complicated puzzle. Software must increase the efficacy of the business opportunities taking place between buyers and sellers. It should enable new revenue streams through the ability to sell sponsorship, embark on targeted advertising campaigns, provide match-making with pre-approved buyers; all services that come with a monetary value. The technology can even identify the usefulness of each meeting, and use this information to suggest future interaction. 
Don't think about your digital proposition as a temporary fix; think in terms of scalability and future-proofing for your events. Once you have identified software that aligns with your event profile and the needs of your audience, build it into your company's growth strategy. 
Roll the system across multiple events. Use it to entice people who may not commit to attending the physical event. For organisers with portfolios or related events, it may even prompt visitors to consider some digital presence at another of your events.  
The inclusion of a strong digital component also adds some insurance for organisers, but to neglect the technology solutions that can enhance the value proposition of your event, is to neglect the building momentum for online networking and interaction. Events are no longer the only way for an industry to meet, and may not be for quite a while yet. By taking control of this you not only insure your event against future disruption, you usher them into joining you for this new way of doing business.