Top three organisers 'unchanged' in revenue rankings
The top three of global exhibition revenue rankings for organisers has stayed unchanged in latest figures.
Results from AMR Internationals list put Informa on top yet again, with RX and CFYC holding onto second and third place.
Informa Markets has placed a huge focus on its their digital strategy, with double-digit growth spearheaded through lead generation and content marketing.
Download our free AI Blueprint to find out more about using data science and technology in events.
Read on below for your full Week in Events.
Strong results for early lockdown exiters
Exhibition organisers with strong portfolios in markets which were fast to recover from lockdowns have emerged on top of global revenue rankings, according to new figures.
Informa Markets remains in the number one spot in AMR International's latest Top 20 for 2021, with RX and CFTC holding onto second and third place.
IFEMA Madrid and Shanghai-listed DLG Exhibitions debuted in the rankings, while Easyfairs rejoined.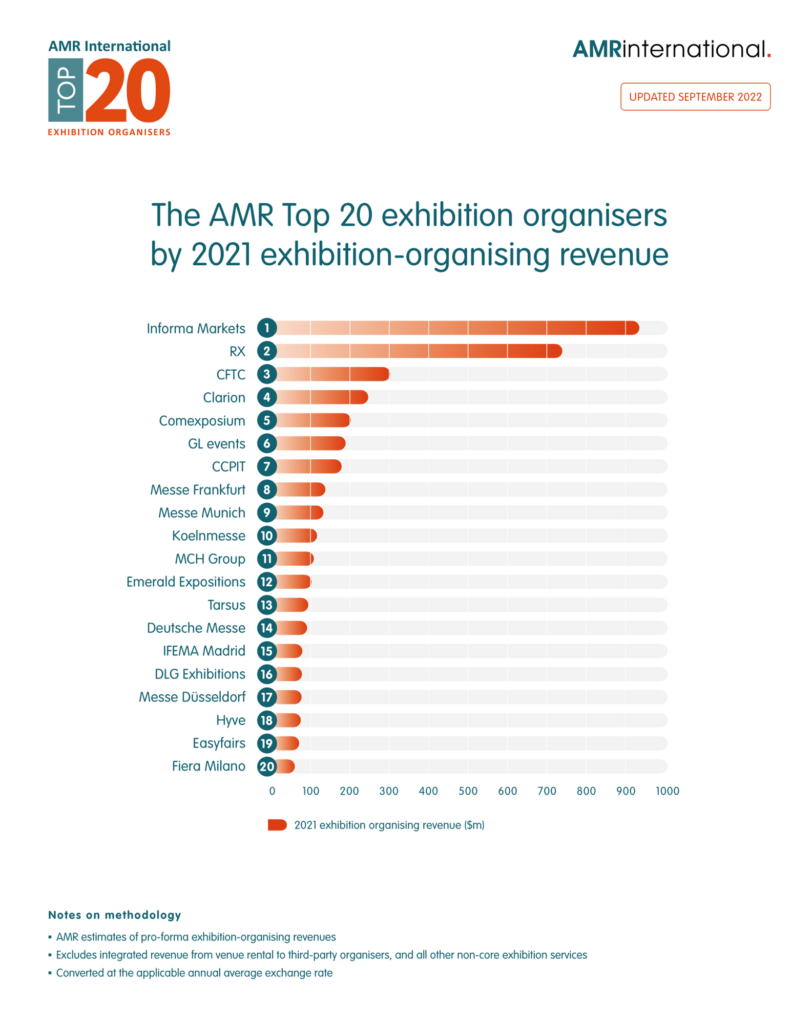 Florent Jarry, partner at AMR, said: "Organisers with strong portfolios in countries with earlier recovery such as China performed relatively better than others.
"This has led to the ranking being substantially different from pre-Covid years. This year's AMR Top 20 is a snapshot and not representative of longer-term market positions.
"We can expect to see further changes next year as most organisers return closer to their pre-Covid portfolio structure."
Informa Markets is one of the organisers who have pursued expansion of their digital strategy, with double-digit growth spearheaded through lead generation and content marketing.
Download our free AI Blueprint to find out more about using data science and technology in events.
Merger creates

€1bn sales hub for home and living industry
A new merger by Messe Frankfurt has created a powerhouse of home and living brands worth €1 billion in annual sales through a digital platform.
Nextrade is now known as nmedia.hub to combines its services with nmedia, meaning retailers no longer have to use multiple resources and can manage many of their daily tasks centrally.
It creates a powerhoplace for 400 top brands, 20,000 retailers and over €1bn in sales volume per year for the home and living industry.
Nicolaus Gedat, managing director of nmedia GmbH, said: "Our company and the name nmedia have enjoyed a high level of trust in the home & living industry for over 20 years.
"At the same time, the services and products of Nextrade and nmedia have grown together more and more over the last two years.
"For us as a joint nmedia team, as well as for Messe Frankfurt and EK/servicesgroup, it was therefore clear that the next logical step is to bundle all offers on the platform even more strongly and thus make it easier for retailers and brands to enter into digital business processes under one roof."
Transport 'key issue' for sustainable events
Transportation of participants and services has been identified as one of the biggest contributors to tradeshow environmental impacts, according to a new study.
The Finding the Future, Together research focused on how exhibitions in the US and Canada are producing carbon emissions and what steps can be taken to tackle the issue.
Transportation, waste at venues and booth construction were highlighted as some of the biggest factors for sustainable events in our industry.
Tradeshows play a vital role in our world. Through "Finding the Future, Together," we have identified areas of focus needed to contribute to a more #sustainable future. Download the report to see how you can help. https://t.co/uNX3yv9UjD pic.twitter.com/WIxedJn63M

— SISO – Society of Independent Show Organizers (@SisoOrg) September 14, 2022
Heather Farley, chairwoman of the SISO Sustainability Committee, said: "The B2B tradeshow industry delivers enormous social and economic benefits and is an essential engine for connection, knowledge transfer, trade, education, and employment.
"Like all industries, we know that our impact extends to the environment as well, and that, through working and partnering in a collaborative way, we can keep progressing towards a more sustainable, lower-carbon future.
"To support and inform these efforts, it was important to conduct authoritative independent research to evaluate the most material environmental impacts of the US and Canadian B2B tradeshow industry."
Download our Sustainable Events Checklist to see how you can reduce the impact of in-person shows.
Transitioning to renewable electricity at all parts of the transportation supply chain was identified as a key area for development.
The taskforce has backing from representatives from major organisers such as IMEX, RX, Emerald and Informa among others.
International visitors spur IEG show's growth
International participants have seen Italian Exhibition Group beat pre-pandemic visitor numbers with its latest Vicenzaoro September.
The jewellery and fine watch exhibition saw number of those taking part grow 10% compared to 2019, with those from overseas surging 20%.
Foreign countries drove the success accounting for 51% of total visits from 124 countries with Spain, USA, France and Germany in the lead.
Europe was the most represented with Spain (7.3%), France (5.5%) and Germany (5.1%) in the lead. Among non-European countries, the United States (5.7% of the total) took first place.
There was also good attendance from Turkey (3.3%) and the Middle East, especially Israel (2.5%) and the UAE (2.3%).
New Web 3.0 summit launched over digital concerns
Emerald has launched a new summit focusing on Web 3.0 after concerns were raised about digital transformation among corporations.
A recent nationwide survey  shows executives at more than 500 mid-to-large companies ranked the this as their top worry.
Respondents identified this as their highest priority ahead of even market stability, staying ahead of the competition or accelerating growth for their companies.
Emerald's Xcelerator division has now launched D2, a new brand focused on helping business leaders understand the potential of Web 3.0 including, blockchain, digital assets, NFTs and the metaverse.
Megan Effertz, vice president of Web 3.0 at Emerald Xcelerator, said: "Our research confirms that corporate executives are tapping the latest digital trends to transform their businesses, but there's a knowledge gap when it comes to Web 3.0.
They are looking to learn and want to hear what early adopters are doing, what's working and what's not.
"Our lineup of participating industry experts at the inaugural D2 Summit have been handpicked to provide key insights into Web 3.0 transition and related topics with a focus on successful strategy, execution and scale."
The Emerald Xcelerator division is dedicated to launching and transforming dynamic brands that curate year-round communities through face to face and digital experiences.
A 365 business strategy can help boost digital revenue by more than 300%. Find out how by downloading our free Community Blueprint.
We hope you enjoyed reading this article and found it useful. At ExpoPlatform, we want to help you build better events and communities. Please get in touch and ask for a demo here. Thank you.