'Attendees know their value and expect tech-fuelled events'
Attendees have "recognised the value" of their time and expect high levels of personalisation at tech-fuelled in-person events, according to an industry leader.
Machine learning – the branch of artificial intelligence (AI) which focuses on the use of data and algorithms to improve accuracy – has huge potential in the conferences and exhibitions industry. 
This technology can be used to turn a large-scale event into something highly relevant and personalised, providing focused recommendations for better, higher quality experiences for visitor and exhibitor alike.
Stuart Ledden, Tarsus group marketing director, believes this is a key tool for an organiser to cut out the randomness of an event and maximise the most of a user's time at the show.
He said: "Attendees and visitors have recognised the value of their own time. 
"What we need to do with the data is get a better handle on those consumer behaviours.
"We're going to find that people are going to attend live events with the same kind of mentality – they're here to do something specific."
This technology feature is a key component of building Smart Events, a format of in-person shows which use digital tools to significantly increase the value of attendance for all participants.
Examples of event personalisation can include:
Recommended content agendas, including meetups and conference sessions

Recommended people to network with

Targeted list of exhibitors to meet

Use of request for proposals and hosted buying to connect buyers and sellers
Data-driven marketing tactics
Data-driven marketing is another area where personalisation can be used to open up new channels for reaching potential customers.
You can use the information from your current audience to define a target demographic – that can be by job title, sector or numerous other characteristics.
Stuart – who was one of the expert contributors in our AI Blueprint – explains that this information can then be used to reach similar profiled customers that you're not currently talking to.
He said: "That's where data-driven marketing particularly becomes incredibly powerful.
"It's allowing you to get outside of the pool of potential customers that you tend to spend a lot of time with into those new areas.
"Therefore you're increasing your range – you're generating new customer engagement and growing your audience."

Having a strong focus on content is one area which allows an organiser to attract a wider and more engaged audience.
An event planner can follow the data to reveal what their target demographic is looking for and what they are most interacting with.
Getting the right people
ExpoPlatform research shows a split between organisers and their approach to a data science team.
Our findings show half don't, compared with the other half who already have a team or are in the process of recruiting.
It is important to consider the benefits of investing in this area when making a decision about changing your company makeup.
The need for experts on your team has become increasingly important as the waves of data grow higher and more frequent in today's B2B sphere.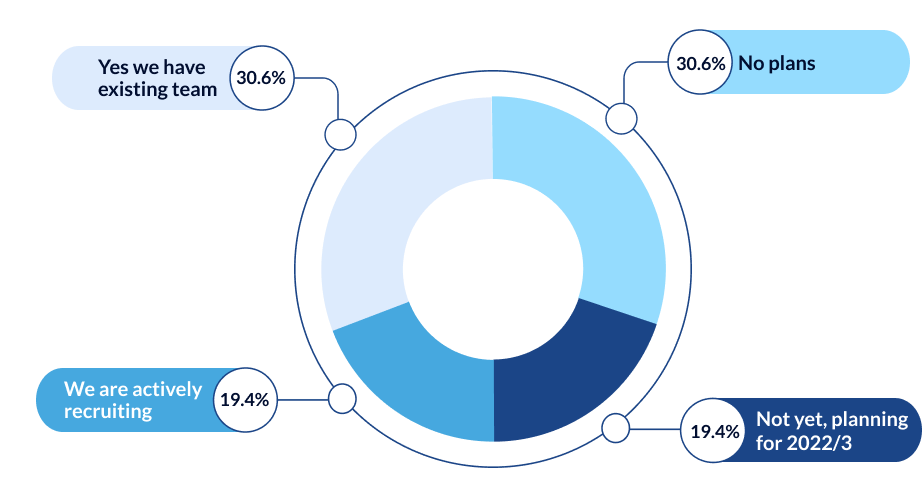 Marketers, growth officers and content creators are expected to analyse this information in ways they have never done before.
In some businesses that responsibility can be left up to one person: email designing, social media monitoring, running PPC campaigns.
But these are all increasingly complex channels which need monitoring and interpreting.
That's why organisers should seriously consider bringing in a person or team who understands this language and is able to interpret it effectively.
Despite this our research suggests 50% have done so or are actively recruiting a data science team. A further 30% said they have no plans in this area.
Stuart believes this is crucial for making the most of this valuable information source.
He said: "The data that comes back from those means you can't expect one person to do that.
"Even if you don't have the resources for a multifaceted marketing team, you need somebody there that is interpreting the knowledge that's coming back in from all that activity. 
"The marketing manager can then create more effective campaigns and plan."
An industry transforming
It has widely been accepted that the digital transformation of our industry lagged behind others.
That's especially apparent when comparing how technology turbocharged ecommerce in the B2C.
Stuart told ExpoPlatform how his previous experience really highlighted how far event organisers had to go – but that much progress has now been made.
He said: "I've been working in digital for a long time prior to moving into the events industry. 
"I was working in a creative agency, so it seemed like going back in time when you saw the digital maturity of the events industry."
Stuart added: "I think the event industry has been incredibly backward around the understanding of technology and the understanding of the data that underlies it.
"But the last two years has hit the fast forward button quite dramatically. So I think it's been a long time coming."
This backs up an AMR study which predicts digital revenue for an organiser is due to make up around 25%, up from 2% in 2019. 
But this change means an organiser's customers are getting more from an event and pricing should reflect what's now being offered.
Stuart said: "It's thrown up a vast number of opportunities, which gets people like us reevaluating the business model as a whole.
"Now, those people that come are likely to be high-value but need better conversion.
"There's a massive shift there that we can only take advantage of if you're really understanding the customer's behaviour – and the data will give you pointers."
We hope you enjoyed reading this article and found it useful. At ExpoPlatform, we want to help you build better events and communities. Please get in touch and ask for a demo here. Thank you.