Event data is 'key to future' of tradeshows
Collecting data from your events is "key to the future" of tradeshow organisers and stopping the threat of Big Tech giants, according to an industry expert.
Stephan Forseilles, head of technology and digital transformation at Easyfairs, believes using this information is important to having an advantage in the exhibition space.
But he set out how allowing Big Tech players to collect this information left the danger of it being used to help a competitor – so organisers must protect this "treasure".
He said: "These companies specialise in monitoring what people do online, with mobile apps everywhere. 
"They can construct personas and profiles for you to personalise the experience.
"Google probably knows you better than yourself, but B2C is very different. 
"There are very few places where you can know the hot topics of an industry – live tradeshows are the best place to do that.
"Because then you can really see what's happening in an industry and I think it's super important data.
"Collecting it for long enough, to be able to use it in a meaningful way, is the key to the future for tradeshow organisers."
There has been an explosion in the amount of this resource since 2020, led by the digital footprints left by participants with their online and onsite activities.
A number of panel discussions have taken place since lockdown saw a rise in online events, sparking concern over data privacy and security.
The consensus has been that organisers should control the data rather than handing it over to others, such as platform providers.
It is this information which Stephan believes is key to being able to create killer content and algorithms.
He added: "If you know what people are looking at, what people are interested in, what people are talking about, where they are visiting – then you'll be able to consolidate this data and create meaningful profiles. 
"That's not easy, because it's a lot of work – it's a lot of different infrastructures, there's a lot of data to consolidate which you need to have for a long time. 
"Then you can start building new algorithms on top of it to make those recommendations.
"Collecting this data is really your treasure, that's why I was so involved personally in the discussions about data ownership that happened one year or two years ago.
"That's really key – you should never give data to anyone else."
Proving exhibitor ROI
Proving good exhibitor ROI is one of the most important challenges facing eventprofs, according to a recent survey.
Findings from the Event Tech Forecast 2023 show 55% of industry professionals see technology as playing an important role in overcoming this obstacle.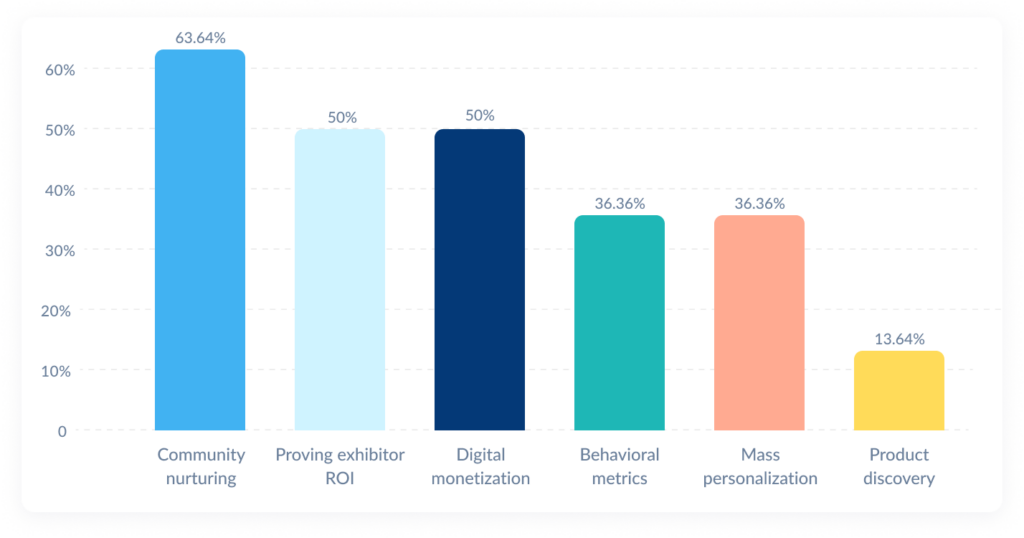 Stephan believes one way to improve exhibitor ROI is to offer more ways to gather leads, which includes giving "the best recommendations" possible through digital tools.
However, organisers need to decide on whether this should be used as part of a paid package or allow the algorithm to show its true potential in matches.
He said: "There you have a dilemma, because your marketing and event team can sell recommendations to exhibitors.
"Then you have people like me who think that defeats the purpose of doing an algorithm for recommendations – it's not the most relevant who is on top."
Another area he sees technology playing a role to improve exhibitor ROI is to use the information gathered to optimise participation in a live show.
Stephan said: "We try to provide them with as much data as we can – visits to a profile, what the average exhibitors of the show are doing, different things you can do to improve.
"Give them a super easy way to invite their customers or their prospects. 
"The whole community hybrid part of generating leads is not just at the live event, we can try to generate leads for them anytime in the year, because that's what we do. 
"Our role as tradeshow organisers is to sell leads – that's the only business we do."
Boosting community engagement
Nurturing a community around event offerings was highlighted as one of the biggest opportunities for eventprofs in 2023, according to a study.
Almost two thirds – at 63% – chose it as a top priority for their businesses moving forward.
However, Stephan believes planners lack the capabilities at the moment to allow this 365 format to flourish.
He said: "One of the things that we're not very good at as event organisers is activating communities and promoting engagement – so we have to get better at that.
"People have a limited amount of time, so the people who are going to be able to give the right content to the right person at the right time will be able to engage these people. 
"If I have to look through 150 articles to find five ones that are interesting to me, I'm not going to do that. 
"But if we can manage to say 'these are the right articles, these are the best exhibitors at the live show, these are the best sessions to attend' – that's the key to improving their engagement with not just the live event but the whole community that we're trying to build."
Stephan set out his belief that the B2B space makes it difficult for these communities to operate as a buying and selling marketplace.
That's because the types of products in some industries are just too expensive and specialised to be purchased without face-to-face interactions.
He said: "If I'm buying a computer, I have no problem buying it on the website. 
"If I'm buying 24 forklifts I'm not going to buy that online – I need to negotiate a contract, I need to have demos and I need to try them and I need to see them. 
"It's very difficult for the exhibitors to do business online."
The moneymaking role of a community in his eyes is through subscriptions where the users have access to top quality specialised materials.
Stephan added: ""If the content is really good, then you can sell memberships – we already do it with magazines. It's very specialised and people pay for that."
Mobile apps are important but not being used?
Almost two-thirds of industry professionals believe a smart event mobile app is a key technology feature for 2023, according to a survey.
A total of 64% of respondents to the Event Tech Forecast 2023 highlighted this tool as being important to their business moving forward – one reason being it helps to collect data at live shows for better personalisation.
That's no surprise when we are now so used to having a personal computer in our pocket helping us with every part of our personal lives – including banking, communication and travel.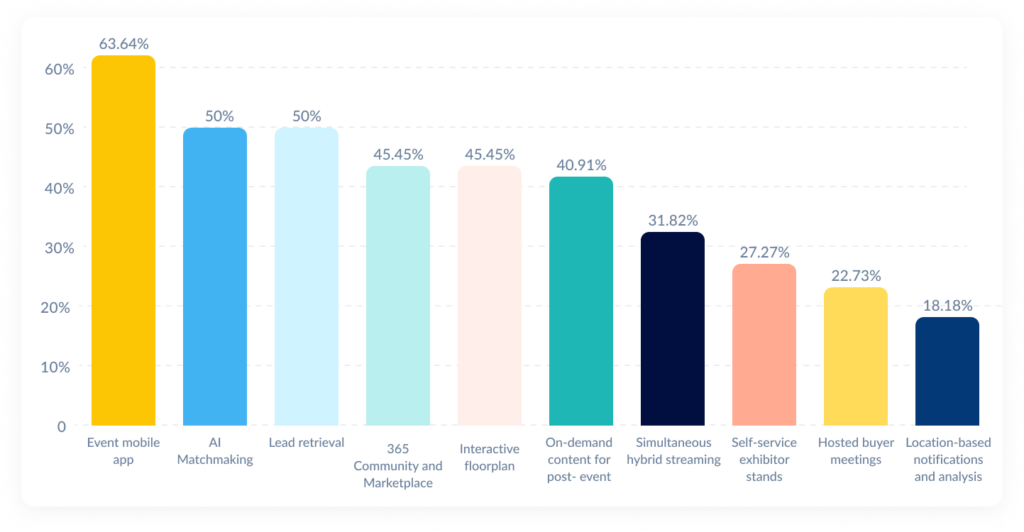 But Stephan highlighted how they witness a low adoption rate, which he believes is down to there not being enough visible value coming from the tool.
He said: "Mobile apps are nice, but the problem with mobile apps is adoption. Anything above 25% is mostly a dream. 
"If you don't have a show with 120,000 visitors it means you are not collecting a lot of data. 
"So what we found is the smart badges and the NFC IoT readers on stands are a very good way to collect data for us. 
"It's expensive, but it's a very good way to collect leads for exhibitors and it's a very good way to collect data as an organiser. 
"But it's very difficult to deploy in terms of integration of systems, in terms of logistics, deploying that and distributing the touchpoints then making sure the data is collected and sent afterwards.
"Installing an app is still too much for a lot of people, especially installing an app for going to one show.
"I think switching to progressive web apps might be a solution – you don't have to install it.
"You can start using more and more of the phone features through a web application – and you don't have to make an app for that. 
"The only real reason is that the perceived value of what the apps bring is not enough for people to take the step. 
"So if you can manage to get a lot of value through the app it would work."
We hope you enjoyed reading this article and found it useful. At ExpoPlatform, we want to help you build better events and communities. Please get in touch and ask for a demo here. Thank you 😀