How an online community can nurture 'next great global thinkers'
An event industry expert has told how an online community can nurture "the next great global thinkers" – but warned that organisers must control their user data.
Charlie Cracknell, managing director at Inspired Minds, believes this information is the "beating heart" of businesses in his sector and must be protected.
He has more than 20 years of experience in the industry and took on his latest position at the company in May.
Inspired Minds has one of the largest artificial intelligence (AI) communities in the world, making connections between global enterprises and new technology as well as linking start-ups with investors.
He told ExpoPlatform that the events world will need to keep virtual elements – despite restrictions loosening – as they create new channels for engagement and return on investment (ROI).
But he holds concerns over the protection of data, at a time of heightened fears over how that information may be used by online event platforms who take control of it instead of organisers.
This information is central to how Inspired Minds serves its communities, allowing them to nurture "the next great global thinkers".
Charlie said: "We are data businesses. Without it, we haven't got a business – or we've got a weakened business.
"Look after it, build it, care for it, clean it, nurture it, treat it with care  – it's the beating heart of your business."
He added: "We've put measures in place to protect our data across every platform that we use. 
"We don't share it – why would we? You wouldn't open your front door and just invite everyone in to take your stuff, so why would you do it with your data?"
The digital transformation seen over the last 18 months has created an explosion in attendee data that is redefining the way organisers understand and shape the communities they serve.
But not all event technology platforms handle this information in the same way.
An organiser-led model sees the organiser own the relationship with their customer as data controller, with the technology platform as the processor for the duration of the contract.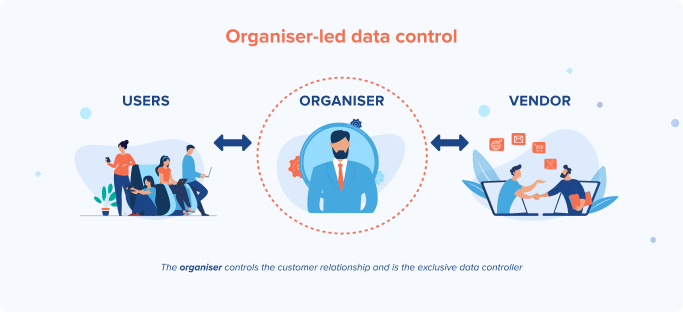 This information can be used for a single event or multiple events in a portfolio to make for a seamless journey.
In a vendor-led model, it is the platform that can own the direct relationship with your customers and potentially launch new services and become a competitor or share data and intelligence with others.
An UFI Connects session in July brought together a panel of world-leading organisers to discuss this topic, raising concerns over data "barbarians" who take control of this information.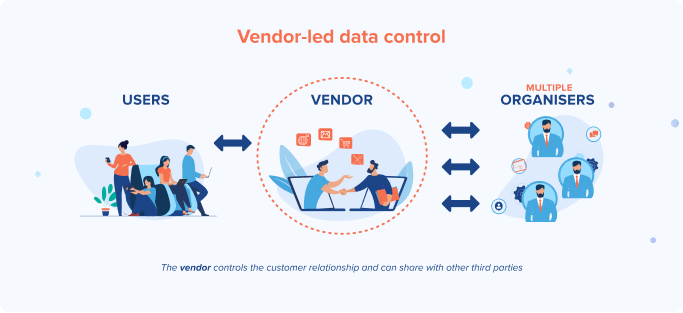 Charlie described that information as central to how their matchmaking operates, so being able to control and understand it is crucial to their business.
He said: "We sit in the heart of a market where without data AI doesn't work, because it revolves around data. 
"Anyone who's dealing with data needs to use it to better understand what they've got. 
"That's probably something historically that has been played with, but really hasn't been delved into to really truly understand how to marry together the data that you then analyse and scrutinise and learn from. 
"So data for us is if we haven't got quality data, we haven't got a business."
Here is our quick summary of the data policies from some of the main event platforms: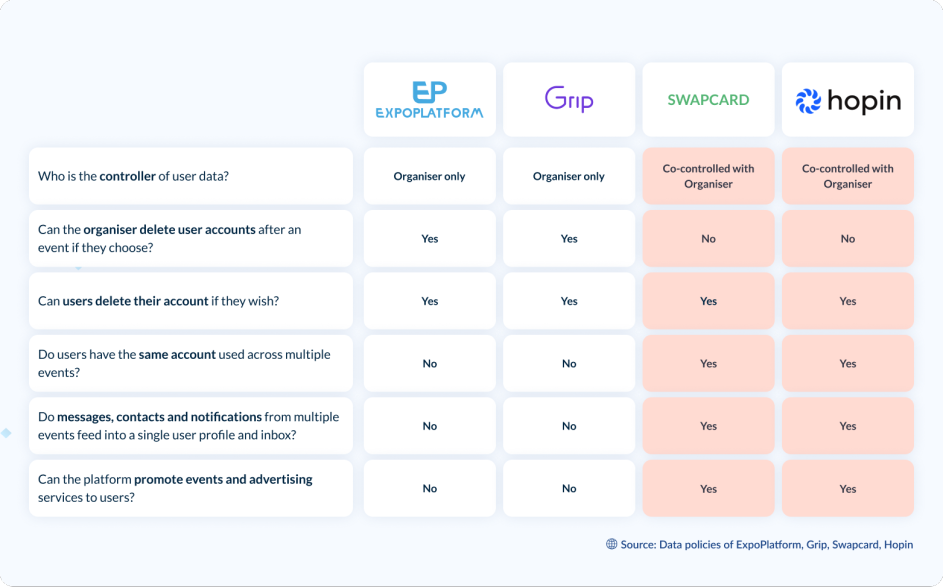 Inspired Minds has recently launched its Mothership project, which allows professionals in the AI industry to connect and access exclusive content which can inform their career development.
Charlie describes this as an "ecosystem" which can facilitate numerous levels of engagement  – from content-led sessions and workshops through to continuing professional development (CPD) and matchmaking between relevant sectors year-round.
It connects enterprise, BigTech, start-ups – scale-ups, investors and academics working within all sectors and "verticals" under one interactive platform.
He said: "Mothership is a community platform and that community platform has purpose built to address engagement. 
"It is a platform for people to engage in the sectors that we support in the verticals and in the horizontal content. 
"In that, we are creating a community of people that can engage with each other. 
"We're creating content that can be absorbed via live, on-demand or a blend of the two . 
"There are meetups that are within that which are community-led, rather than by us, because there are pools of people that want to talk to each other."
This business model has seen a surge in popularity, illustrated by the launch of the Community Leaders Institute.

Furthermore, 28% of start-up founders told a First Round survey that these associations were critical to success – describing them as their business moat.

These groups for like-minded professionals are often referred to as 365 communities and build engagement year-round which can also boost monetisation opportunities.
Charlie said: "Our community's changing – not as in they're not going to events, but the community is far broader than a physical kind of event. 
"So your portfolio or business structure is less about pure play events, it's more about community – and ultimately bringing that community together through different streams."
Mothership offers so-called "citizens" the option to become a member of the community for three, six or 12 months at a time.
This subscription economy model has grown by 437% over nine years with the move in that direction looking like it will keep accelerating, according to Zuora.
Its success can be seen in the rise of companies such as Netflix and Spotify, which sees its customer value outcomes over ownership.
These companies rely on using data gathered from the user's interactions to tailor content suggestions to them.
It makes the consumer experience more personalised and easier to navigate.
Meanwhile, it also allows subscribers the opportunity to engage with content throughout the membership lifecycle as opposed to paying each time they wish to use the platform.
An example can be seen in how Spotify offers its customers almost unlimited music albums to listen to by paying a fee every month, whereas the traditional ownership model would see people pay a similar fee to buy on record.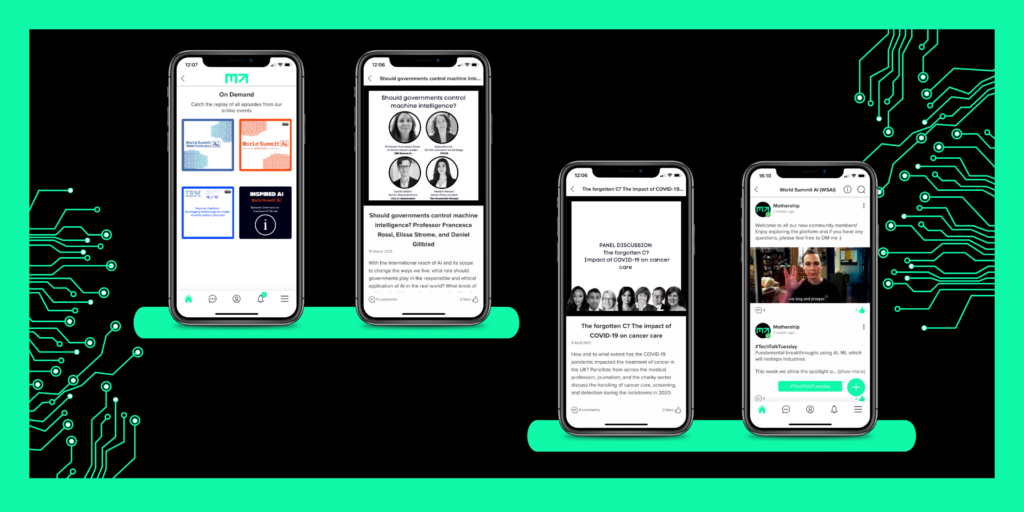 However, Charlie believes the most crucial element of Inspired Mind's success with Mothership  is that it is known to be a community-centred platform which provides useful content to its members.
He added: "We know that there is a common need for people to be there because there's a common issue, challenge, agenda or progress that needs to be made on a certain subject. 
"That's really where having that platform now – and learning and evolving it – ahead of competition puts us ahead of just running events. 
"For us, that is an important part of saying we are community customer orientated – and not just throwing out an event every six months because it's a model that makes money."
Charlie recognises that live shows will be coming back as they have always proved to be a successful business model.
But he believes lessons learned over the last 18 months mean organisers have to show their customers what the value of an in-person show is.
This can be done through data gathered from hybrid events, allowing analysis of attendee behaviour which can inform decisions on future exhibitions or content.
Download ExpoPlatform's Hybrid Blueprint ebook and learn how to make a success of a live and digital mix.
He said: "Digital will continue to grow, I have no doubt about that. 
"There will be a blend between the two. It will be many different shapes for many different people because it isn't a one size fits all approach."
The AI community served by Inspired Minds can be broken down into "vertical sectors" – healthcare, marketing, finance and retail. 
At the bottom of this "ecosystem" are a number of cash start-ups which the company nurtures by connecting them with investors or thought leaders.
'They're the next great global thinkers – and it's exciting'
Inspired Mind's aim is to match companies or professionals with people who can help them get to the next stage of their business journey.
But he believes developing this strategy now also puts his firm ahead of the competition.
Charlie said: "I suppose community's a nice way of putting it, but really we're dealing with the whole ecosystem – and every single part of an ecosystem has varying needs.
"Start-ups are the babies and they need some TLC and care and feeding and direction. 
"Then as they mature, they become some of the businesses that you see today which are the unicorns. 
"They're the next great global thinkers – and it's exciting."
Leading organisers have recognised the need to take a different approach to creating virtual content than they have for live events.
The pandemic forced many to go through a steep learning curve which has seen digital shows develop from being attempts to recreate an in-person show experience by simply live-streaming speakers, to the inclusion of content which is made exclusively for their online offerings.
This requires organisers to bring in fresh talent who understand the new digital landscape, Charlie believes.
He said: "There are people on TikTok and YouTube and Instagram, making businesses out of digital products because they understand how to engage and work and talk – and you can learn it. 
"But it's far better to bring someone in who lives and breathes that, to bring it alive to someone – that someone is a customer."
Transformation Stories gives organisers exclusive insights from industry leaders about the future of events. For more in the series so far, read here: