Digital skills now as important as any to event industry – ETT panel
Digital capabilities are now "as important" to businesses in the event industry as any traditional skillsets, an Exhibition Think Tank panel has said.
Three experts took part in the online discussion on Thursday to give their insights into the importance of being able to use new technologies in our sector.
It was heard the environment in events had changed so much now that data science was crucial to success of businesses.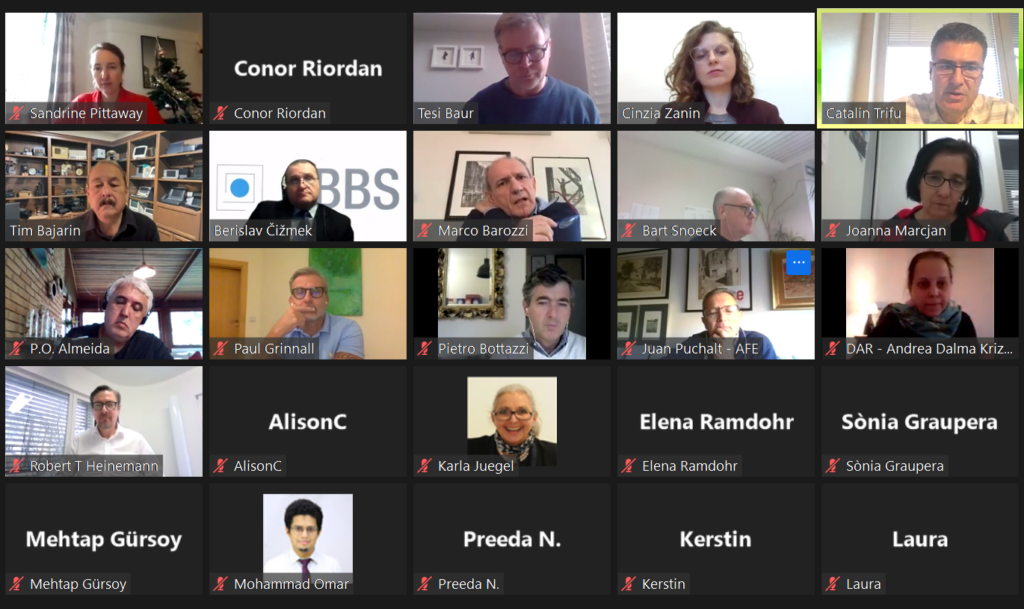 Tim Bajarin, chairman of Creative Strategies, said: "The education system in the US is so driven by the role technology will play in there future.
"There has to be a technology theme to whatever they are doing – whether they're in marketing or sales or whatever.
"Digital skills are as important to this overall (industry) as management, hospitality and events."
He added: "This market is rapidly changing and while you're used to a core audience, you're gonna deal with Gen X and Gen Z  in this younger generation who's going to be the leadership and are going to be your customers over the next 10 years and you don't want to lose them at this stage.
"So you need to be thinking about everything from the role of data analytics.
"Every CEO in this business needs to have a good data analytics team who helps them understand the customer trends, the customer needs and more importantly how best to message them, how best to present to them."
Part of the problem highlighted during the ETT Club session – titled Human Skills Vs Digital Skills – was around being able to attract the right people to the industry.
Many were said to be frustrated with the lack of opportunities to grow and develop.
This was shown to be even more difficult when candidates who have attractive digital skillsets can be drawn to the tech industry who can offer high wages to people leaving university.
More than three-quarters of event professionals believes there is a digital skills shortage when navigating the online transformation of the industry, according to a poll.
The Virtual Events Institute asked its LinkedIn followers whether they agreed that there is a lack of expertise in this area of digital and hybrid formats.
A total of 77% said there was, while 14% disagreed and 9% were unsure.
Robert T Heinemann, CEO of Heinemann Management Consulting, said: "It's up to the companies themselves to show potential candidates that they're great employers and that people have a great chance to perform and develop themselves in the industry.
"It's just simply to explain or show that they are really offering great jobs – not only analogue, but digital jobs."
He added: "That's a matter of trust, in my opinion there's a lack of trust for a lot of people.
"We can see a lot of people leaving the industry – not only young talents, but also experts.
"The greatest challenge for the foreseeable future is to make sure that those still in the industry stay and the industry can attract young people and experts."
Robert believes it now easy for people to move into different industries and progress if they have ambition to improve their digital skillset.
This is partly due to them being able to recruit without the same pressure organisers face that shows may be cancelled due to lockdown restrictions.
He said: "The event industry is not the only industry we have in the world.
"We have the situation where other companies are still employing people and they're looking for talents and they're looking for people with a digital skillset."
Cinzia Zanin, student coordinator at Fondazione Fiera Milano, told the session there had emerged a shift in values which motivated the workforce.
It has now left a situation where some people get drive from improving their performance, whereas others are more attracted to finding a balance between their career and personal life.
She said: "Our society has until now always been based on performance.
"There are a lot of people following the performance society, that's why they look toward digital – because they need skills that are up to date.
"They feel stuck, that's why they're training and upskilling.
"On the other hand we have people that are looking for balance.
"They want to grow professionally but also as people.
"These two groups need purpose."
The benefits brought through opening up new engagement and monetisation channels through digital are clear: better brand awareness, more revenue and a pandemic-proof budget.
Organisers should take advantage of the potential found in this business model by rethinking who they build their company with – while those who don't risk being left behind.
There are two schools of thought for doing this: specialists or generalists.
Specialists: a new generation has grown up online and with social media and know how to use it to reach a targeted audience. Bringing in specialists who know how to utilise emerging technologies could give your business a competitive edge. This can be done on a full-time basis or using freelancers ahead of an event to upsell customers. 
Generalists: Bring together your digital and event sales teams under one umbrella. allows for a unified vision when supporting customers, as well as simplifying things for them by making a sales account manager the single point of contact.
We hope you enjoyed reading this article and found it useful. At ExpoPlatform, we want to help you build better events and communities. Please get in touch and ask for a demo here. Thank you.