Covid-related supply issues put brakes on events schedule
Manufacturing and supply issues linked to coronavirus have put the brakes on a major powersports event series. Informa Markets has decided to suspend dates for IMS 2022 the rest of the year as the industry faces a "crossroads".
But there's good news Down Under as the government announced it would reopen its borders two months early, signalling a boost for our sector. Other stories included in this week's news roundup  includes a guide to building a 365 value proposition, a look at MITEC's new CEO as well as some good news for the Martyn's Law campaign.
NZ borders to reopen two months early
New Zealand will reopen its borders two months ahead of schedule, signalling a boost for the events industry.
Prime Minister Jacinda Ardern's government has operated a zero-Covid policy throughout the pandemic including harsh lockdowns and travel restrictions.
It has now been announced that border rules would be lifted from July 31 for Visa visitors, as well as easing entry for workers in certain sectors.
New Zealand's international border will reopen to all tourists and visa holders from 11.59pm, 31 July 2022.

Online visitor visa applications reopen to Pacific Island Forum countries (excluding Australia) from 16 May. pic.twitter.com/CvNJDWQCse

— Unite against COVID-19 (@covid19nz) May 11, 2022
Business Events Industry Aotearoa (BEIA) chief executive Lisa Hopkins claimed this date delivers confidence to international event organisers to choose New Zealand as their conference, meeting or incentive destination.
She said: "We are pleased the Prime Minister has said she is confident that pre-departure testing will be removed by 31 July, as this will be the last piece in the puzzle for us.
"While New Zealand is still considered to be a highly desirable destination, customers are telling us they hope the Government will dispense with testing soon, as Australia and Singapore have done."
Powersports industry 'at crossroads' as shows halted
A major powersports show has been suspended dates for the rest of the year as the industry faces a "crossroads".
Informa Markets has put the brakes on IMS 2022 amid continued manufacturing and sourcing delays associated with the pandemic.
It is part of the Progressive International Motorcycle Shows series, which has a near 40-year history.
TO OUR IMS FANS: We are saddened to announce that we have made the difficult decision to suspend the IMS events in 2022 and the foreseeable future. Tickets purchased will be refunded within 7 days. For now, we say goodbye and thank you for your attendance over the years.

— Motorcycle Shows (@MotorcycleShows) May 9, 2022
A statement from the organiser said: "After 40 years of producing the International Motorcycle Shows and IMS Outdoors, we have made the difficult decision to suspend the IMS Tour in 2022.
"The powersports industry is at a crossroads with where and how brands promote their products amidst the continued manufacturing and sourcing delays associated with the pandemic.
"These current hurdles that our brand partners are facing would have made it difficult for us to produce an IMS that would meet your and our expectations.
"Therefore, we will not be moving forward with the planned 2022 events, including the Ultimate Builder Custom Bike Show."
The event traditionally offered a weekend of interactive experiences to aid buying decisions, exploration of new products and lifestyles.
Any tickets purchased or Ultimate Builder Custom Bike Show registrations paid for 2022 events will be refunded to the credit card used for purchase.
How to build a 365 Community value proposition
Building a 365 Community is about more than just having the right technology – you need a purpose.
A value proposition should be an easy-to-understand reason why your product meets a customer's needs. Too often the 365 value proposition is simply connecting any type of industry together, but you need to go deeper to find something that resonates.
That's why ExpoPlatform joined with Rob Millar, director at Devonshire & St Andrews, to show how an eventprof can find a route which will benefit them and their audience in a 365 community.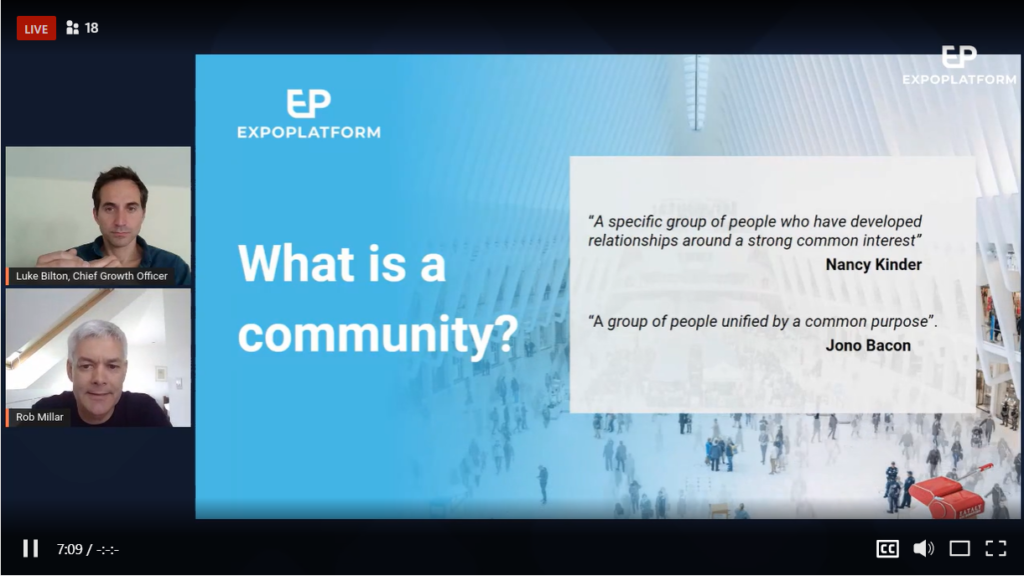 He said: "It's a very big space that we're opening up, particularly if you're an events person. The benefits of having learned a little bit about the digital side is that there's so many other opportunities.
"The point is trying to make sure you're focusing on the ones that your customers need. That's where, if you can get the research piece right, everything else will follow.
"It's just a case of being able to test and learn as you go. Trial those new ways of being able to deal with customers that allow you to build a bigger relationship across the rest of the year. That's where I think there's so much opportunity moving forward with the industry."
This demonstration came was the latest in our Showcase Series on the digital transformation of our industry. You can watch all sessions on-demand here.
MITEC confirms new CEO
Malaysia's largest exhibition centre has confirmed its new CEO who has committed to a focus on "business recovery".
Mala Dorasamy takes up the position at MITEC having been acting in the role since last year. She had previously been director of marketing and sales in Kuala Lumpur since 2017.
Her career in the industry spans more than 30 years and she has some expertise in the opening of new centres; project managing major international co-operation, strategy development and operational management.
She said: "The last two years have taught us to be agile and adapt to the changing environment. Mitec has been the game-changer in the nation's resilient business events industry. We are committed to helping catalyse the local and global business recovery and reform.
"Collaboration and partnership are essential for business recovery. Integrated, creative solutions and resource pooling will result in an effective and efficient turn-around for Malaysian businesses."
Martyn's Law in Queen's Speech
Martyn's Law – which aims to enforce new security measures at venues – was included in the proposed Bills in the Queen's Speech.
The Protect Duty legislation would require certain public locations with the goal of protecting people from terrorist attacks.
Campaigner Figen Murray, whose son Martyn lost his life in the Manchester Arena attack, is mentioned as part of the team developing proposals.
The bombing in 2017 saw 22 people killed as they left an Ariana Grande concert.
There is currently no law forcing organisations or venues to consider security measures at the vast majority of public places.
A consultation launched in February 2021 found that seven in 10 of the 2,755 respondents agreed those responsible for publicly accessible locations should have measures to protect the public from attacks.
We hope you enjoyed reading this article and found it useful. At ExpoPlatform, we want to help you build better events and communities. Please get in touch and ask for a demo here. Thank you.