Community Blueprint sets out 365 business model
Most event organisers agree that being able to bring people together year-round is a clear path to growth – growing audiences, engagement and revenue. So this week marks a major development for eventprofs who want to do just that, with ExpoPlatform launching its Community Blueprint.
Other news this week includes the return of the NAB Show after two years of silence, as well as the return of incentive groups to Victoria for the first time since border restrictions were lifted.
Here's everything you'll find in your event industry news roundup:
The Community Blueprint launched
NAB Show returns after two years
Majority of event venues to recover by 2023
Incentive groups return to Victoria for first time since lockdown
New eventprofs training scheme launched
The Community Blueprint launched
A complete guide to building a 365 Community business model and reaping the benefits has now been released.
The Community Blueprint is ExpoPlatform's latest ebook in the Future of Events series, bringing together exclusive insight from industry experts.
This 47-page in-depth resource contains advice on how to grow engagement, revenue and reach. Download it now for free.
Luke Bilton, Chief Growth Officer, said: "A strong digital community offers organisers the adaptability to steer their business through these challenging times. 
"No less importantly, it presents an opportunity for significant audience and revenue growth.
"Event organisers – with the benefit of their existing relationships with speakers, suppliers and visitors – are in theory perfectly positioned to make the leap into this model. 
"In practice however, many have struggled to generate engagement, finding that the same offering they provided at in-person events does not necessarily translate into a thriving online community.
"The Community Blueprint provides collated best practice advice on how to avoid the tumbleweed and successfully create year-round communities alongside an event portfolio. 
"No two communities are the same, so the most important principle is to take a data-driven approach to finding the areas of whitespace where you can create new value for your industry."
Here are some of the topics covered:
Finding your value proposition – the Three Cs of Community
Key tips for unlocking engagement
How to drive year-round revenue
Case studies from world-leading success stories
Checklist for choosing the right technology supplier
Findings shown  in the ebook highlight how going from an event to a community model can lead to a +300% increase in digital revenue.
The estimates are based on modelling for revenue a community could deliver based on a show of 1,000 exhibitors and extending their participation year-round with a marketplace and some simple upgrades.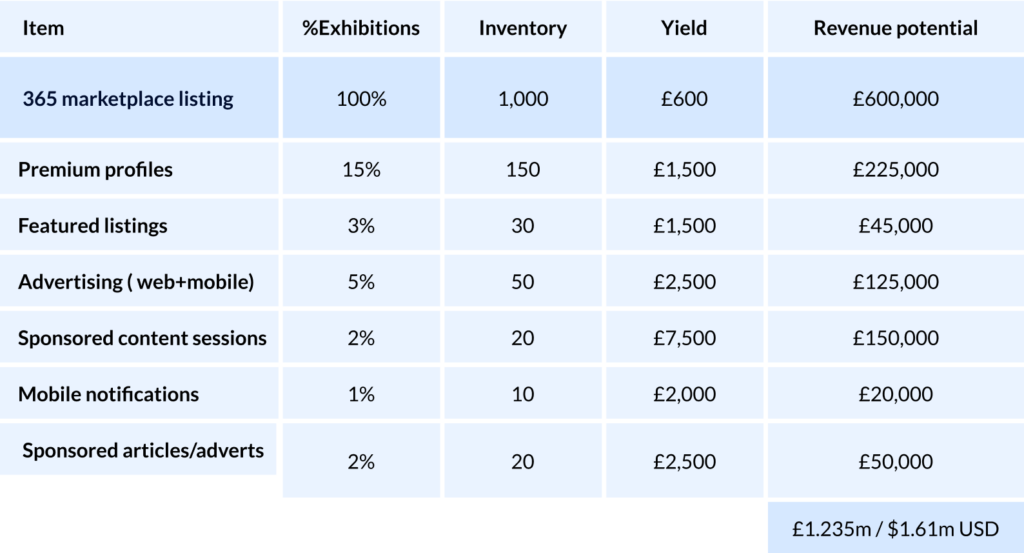 Going from an event to a year-round model can lead to a huge increase in digital revenue, of which annual marketplace listings – basic and premium profiles – can represent 66%.
It also involves building the community around Smart Events – a tech-enhanced in-person show which uses data to increase the value of experiences for all participants.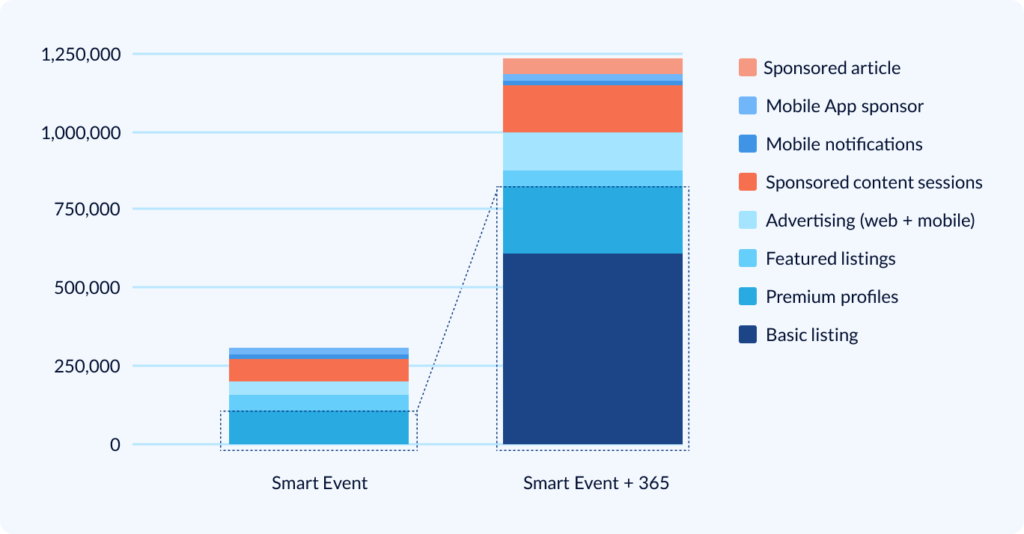 Get in touch with ExpoPlatform's Smart Event Clinic to find out more.
NAB Show returns after two years away
More than 52,000 attendees flocked to Las Vegas for the return of the biggest broadcast and media technology show after two years without an outing.
The National Association of Broadcasters (NAB) has announced preliminary registered attendance of 52,468 for the 2022 NAB Show last week.
It is the world's largest annual convention for broadcasters and the broader media, entertainment and technology industries.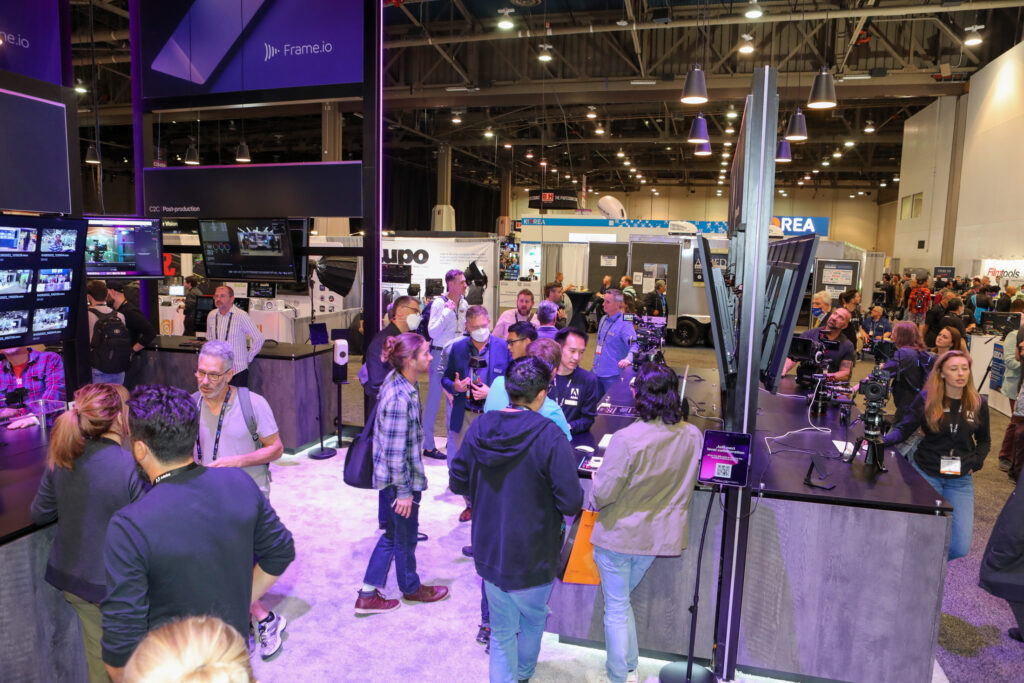 Curtis LeGey, NAB CEO, said: "We are thrilled that our exhibitors, attendees and partners from all corners of the world turned out in force this week in Las Vegas. The enthusiasm and engagement on the show floor, in sessions and throughout the entire event have been invigorating.
"We thank the NAB Show community for making this year's convention an incredible experience as we get back to doing business in person."
Registered attendees: 52,468
International attendees: 11,542
Countries represented: 155
The show has been held in Las Vegas every year since 1991, but was forced to call off the event in 2020 and 2021 due to fears over the pandemic.
Organisers decided to cancel both outings rather than putting on hybrid or virtual offerings, bucking the trend followed by many other large annual conferences. 
Majority of event venues to recover by 2023
Revenue for business event venues is expected to rebound strongly and could reach 2019 levels within the next two years, according to a new study.
Research from IACC's annual Meeting Room of the Future Barometer 2022 shows that two-thirds of respondents say they will reach those levels by 2023.
The findings show average global revenue in 2021 was 45% below 2019, while it is projected to narrow to just 8% in 2022.
IACC surveyed top event venue operators in Americas, Europe and Australia to understand the pace of recovery and level of optimism for a three-week period in March 2022. 
Read our Chart of the Week analysis to find out how event tech can can help most of this in-person comeback.
Incentive groups return to Victoria for first time since lockdown
Six international incentive group have been secured for a region in Australia – marking a first since lockdown.
The delegates for Melbourne Convention Bureau (MCB) come from from Malaysia, Singapore, Indonesia and New Zealand.
It will be the first time the city and regional Victoria welcome back incentive groups since Australia's international borders closed in 2020.
MCB chief executive Julia Swanson described their arrival as encouraging for the Victorian visitor economy following a lengthy hiatus of international travel.
She said: "We're thrilled to once again welcome back international corporate incentive groups – both large and small – to Melbourne. MCB works to boost hotel occupancy in the traditionally quiet shoulder periods with visitors staying mid-week."
Business events are a major driver of regional visitation for Victoria and provide a substantial economic contribution enhancing local communities.
Pre-pandemic, Melbourne attracted on average just over 100 incentive groups with approximately 55,000 international delegates each year spending on average $1019.00 per day, across accommodation, tourist attractions, local shops and cafes.
These latest delegates will visit an array of attractions in the city and Victoria, including some of the region's most popular attractions.
New eventprofs training scheme launched
More than 200 sector-specific training courses have been launched to support budding eventprofs.
The Meetings Industry Association (mia) has announced the move as part of a a strategic partnership with Exceed Global Learning.
Courses include developing skills in general management, revenue management, security and risk, marketing and sales.
Kerrin MacPhie, chief executive of the mia, said: "We're pleased to have joined forces with Exceed Global Learning to provide the sector with easily accessible courses that can immediately increase the skills, confidence and productivity of those working in the sector.
"Thanks to the easy on-demand access, delegates can learn from anywhere and on any device and crucially at a time convenient to them. They will then receive a certificate on completion of each course."
Matthew Stephens, managing director of Exceed Global Learning, said: "The people are what make any business successful, and we look forward to this exciting time in which professionals will be empowered to develop new skillsets that will help us rebuild stronger than ever before."
We hope you enjoyed reading this article and found it useful. At ExpoPlatform, we want to help you build better events and communities. Please get in touch and ask for a demo here. Thank you.