Top benefits of a 365 strategy for events
Events are a great way to connect people, but they're not the only solution. It's important to nurture those relationships all year long, and digital platforms can help.
Live shows play an important role in building trust through in-person meetups, while online communities can reinforce these relationships year-round. Both formats benefit each other.
A 365 strategy is invaluable for event organisers as it helps build trust throughout the year for your brand. As a result, any new competitor has difficulty grabbing a piece of the market share.

Building on year-round engagement provides opportunities to make deeper connections with your audience. There's no drastic dip in engagement once the live show gets over – one can simply continue the conversations on the 365 Community platform.
Read on for five ways a 365 strategy can benefit your events.
Create a bigger, more engaged audience
A total of 95% of B2B buyers begin their search for products and services online, making it crucial to have a strong digital presence. 
Your target audience is online and doesn't have time to always for your next event, so it makes sense to have an always-on approach to steadily grow your database.
This means your potential customers should have access to content, companies and products any time of the year – boosting your community engagement 365 days a year.
Consistently invest in targeted outreach and content marketing initiatives to attract new buyers and followers. 
Increased data, better insights
A study by ExpoPlatform found digital tools provide 20 times more data about a user than without.
This gives key insights into the behavioural patterns and interests of the target audience – allowing you to make more informed content and product decisions.
You can create more personalised buyer experiences in the same way that Netflix, Spotify or Amazon do by creating different user journeys based on their interests. 
Higher revenue
A 365 Community provides opportunities to create alternative revenue streams through multiple digital options. 
For example, you can give a year-round presence to exhibitors and create paid options to set up vendor resources – content libraries, product catalogues and more. 
Special subscription offers for members, sponsored ads, content and webinars will also bring in more money. This helps diversify your income and reduce reliance on physical shows in case of poor sales or cancellation due to unforeseen circumstances.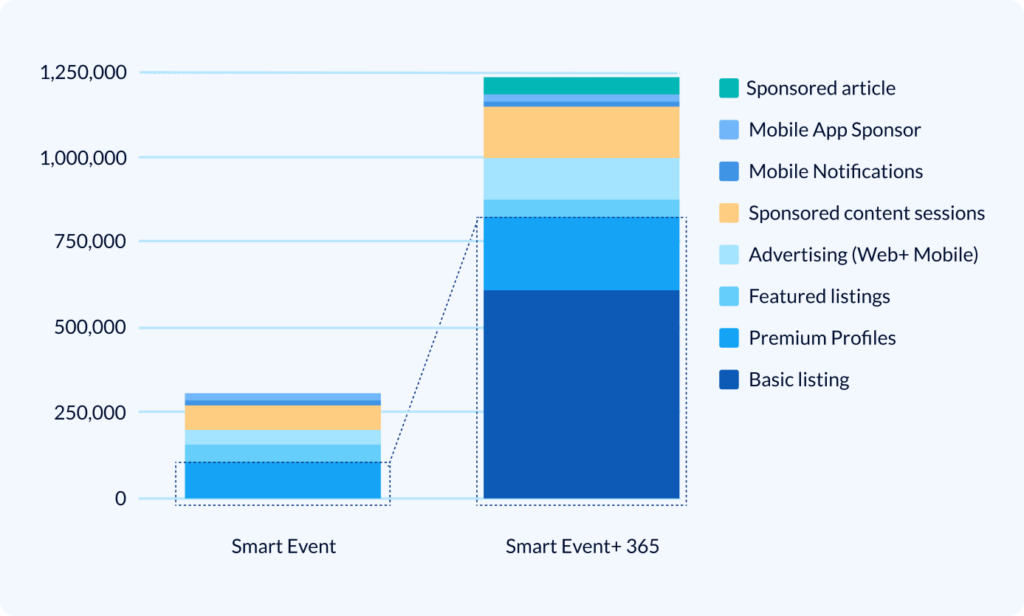 Figures from ExpoPlatform showed a massive increase of 300% in digital revenues when one shift from an events-only approach to a community model.
More than two-thirds of this revenue was generated by annual marketplace listings, which include basic and premium profiles.
Provides flexibility
One of the biggest advantages of a 365 approach is its flexibility. The digital medium is pandemic proof, location-agnostic and allows you to reach a global audience. 
Consider these scenarios: A new variant of the virus appears? Just shift to a virtual event and put the physical show on the back burner. Potential customers are unable to attend the event? Make your sessions on-demand for later viewing.
It's also much easier to pivot to new formats, adjust to changes and communicate to your audience through a 365 community.  
More sustainable
Growing awareness around sustainable events has brought digital tools and platforms like 365 communities to the forefront. 
Organisers are making efforts to reduce the carbon footprint by incorporating online communities in their overall event strategy. 
It increases participation from international audiences and also contributes to sustainability initiatives, including the Net Zero Carbon Pledge for the Events Industry that aims to achieve net zero greenhouse gas emissions by 2050.
We hope you enjoyed reading this article and found it useful. At ExpoPlatform, we want to help you build better events and communities. Please get in touch and ask for a demo here. Thank you.